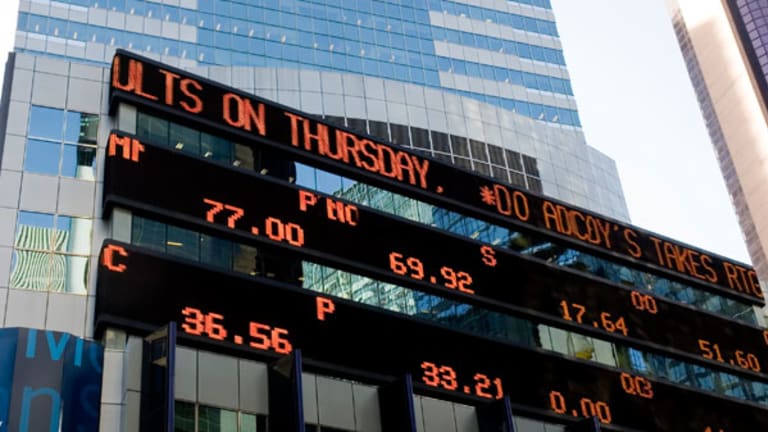 Midterm-Election Stocks to Elect to Your Portfolio
Here's a look at which stocks and sectors deserve your vote ahead of midterm elections.
By Roberto Pedone
WINDERMERE, Florida (
) -- It's about that time of year when U.S. residents can start to get excited about the much-anticipated midterm elections. And regardless of whether you're politically motivated, this time of year could signal important things for the U.S. stock market.
According to the
Stock Trader's Almanac
, there hasn't been a loss in the third-quarter period of the four-year presidential election cycle since 1939, when Nazi Germany invaded Poland. In the five past examples of a first-term Democratic president, the market has gained an average of 21.3%.
I'm anticipating a sharp selloff in stocks in the very near future. I must admit that I was leaning toward a continued bull trend to take us right into November until I
. Retail investors are just getting way too bullish right here -- and whenever they're extremely bullish, the odds of a sharp decline in stocks is probably right around the corner. At this point, I would go as far as saying it's almost a certainty when you consider the extremely bearish technical picture of all the major U.S. indexes.
>>>Also see: Top Weak-Euro Stock Plays
I think the market will drop sharply into November, and then we'll set up for a monster rally once the uncertainty of the elections is behind us. However, that big rally won't happen unless the Republicans take over enough power in the House and Senate to cause some gridlock in Washington. Judging by the bets being made on Intrade, a Dublin-based prediction market, the odds that the Republicans take the House of Representatives is 71%. The current odds for the Republicans to hold 48 or more seats in the Senate are 70%. This bodes well for a Republican victory and greatly increases the probability of a big year-end rally in stocks.
With this in mind,
which sectors and stocks should you buy or sell
ahead of the midterm elections?
One group of stocks that you're going to want to sell -- or maybe even short -- if the Republicans win is U.S.-based alternative energy stocks. I would look for Republicans to target any subsidies or spending in the energy sector not tied to dirty energy such as coal or oil. The simple reason for this is that the dirty energy sectors love to pour money into the Republican campaign coffers just for times like these.
I would avoid or even short the solar energy names such as
First Solar
(FSLR) - Get Free Report
,
SunPower
( SPWRA),
GT Solar
( SOLR) leading up to the midterm elections.
>>>Also see: 4 China Solar Stocks to Watch
The energy sector stocks you're going to want to consider buying ahead of a Republican victory are the big oil companies. The last time the Republicans controlled a large block of the government, oil saw an unbelievable super spike all the way up to $140 a barrel. Oil stocks were some of the best performers under the Bush administration, with big gains seen in names such as
Halliburton
(HAL) - Get Free Report
and
Schlumberger
(SLB) - Get Free Report
. I see no reason why this cycle can't start all over again if the politician landscape changes come November.
You should take a hard look at the big oil names such as
Exxon Mobil
(XOM) - Get Free Report
,
Chevron
(CVX) - Get Free Report
,
ConocoPhillips
(COP) - Get Free Report
and
Hess
(HES) - Get Free Report
.
>>>More on Exxon Mobil: 7 Commodity Plays Set to Surge
Investors are probably going to want to sell gold and gold miner stocks if the Republicans regain control, because Obama should have a much tougher time pushing through any more stimulus packages, at least in the short term. High stimulus spending is seen as inflationary in the markets, so a halt to government spending will weigh on the entire gold complex. I would avoid high-profile gold miners such as
Barrick Gold
(ABX)
,
Newmont Mining
(NEM) - Get Free Report
,
Agnico-Eagle Mines
(AEM) - Get Free Report
and
Goldcorp
(GG)
.
>>>More on Barrick Gold: 30 Stocks That Matter to Hedge Funds
I don't expect the gold stock selloff to last very long, since the longer-term trends for the yellow metal are still in place, such as the new perception of gold as the reserve currency. Also, let's not forget that the Republicans were big spenders under the Bush administration. I think right out of the gate they might take a harder stance on increased government spending to appease their base. Therefore, investors might want to use any dips in the gold complex as longer term buying opportunities.
One company that should be a gigantic winner if the Republicans actually do gain a significant amount of power on Capitol Hill is global investment banking giant
Goldman Sachs Group
(GS) - Get Free Report
. What were once almost daily attacks on Goldman should subside considerably with some big Republican wins. It also won't hurt Goldman that it has donated more money to Republicans this time around than Democrats, according to OpenSecrets.org.
>>>More on Goldman Sachs: 10 Stocks Selling at the Deepest Discoutns
I would expect to see some of the reforms under the banker's bill to be repealed or rewritten so that all the major banks can benefit and thrive under a new Congress. Obama has been relentless with his attacks on Wall Street, so these banks are now positioning themselves to capture influence under a potentially new group of politicos. Some of the big banks that are donating heavily to the Republican Party right now are
Bank of America
(BAC) - Get Free Report
,
Morgan Stanley
(MS) - Get Free Report
and
Wells Fargo
(WFC) - Get Free Report
.
>>>Also see: 5 Credit Card Stocks to Sell
One last group of stocks that could see big benefits if the Republicans gain control are Israeli-based equities. Wall Street has always viewed Republicans as far more friendly to Israel's top political officials and their foreign policies, regardless if it's actually true or not. A few names you might want to consider are
Nice Systems
(NICE) - Get Free Report
,
Teva Pharmaceutical Industries
(TEVA) - Get Free Report
and
Check Point Software
(CHKP) - Get Free Report
.
>>>More on Check Point: 10 Cash-Rich Companies With No Debt
To see more stocks plays for the midterm elections, including
Shaw Group
(SHAW)
and
Cameco
(CCJ) - Get Free Report
, check out the
portfolio on Stockpickr.
-- Written by Roberto Pedone in Winderemere, Fla.
RELATED LINKS:
>>Stocks Increasing Their Dividends
>>Must-See Charts: Visa, Pfizer, China Mobile
>>Fantasy Football Stocks for the 2010 Season
Follow Stockpickr on
and become a fan on
Facebook.
At the time of publication, author had no positions in stocks mentioned.
Roberto Pedone, based out of Windermere, Fla., is an independent trader who focuses on stocks, options, futures, commodities and currencies. He is also an outside contributor to Beconequity.com and maintains the website Maddmoney.net, which he sold to Blue Wave Advisors in 2008. Roberto studied International Business at The Milwaukee School of Engineering, and he spent a year overseas studying business in Lubeck, Germany.
Stockpickr is a wholly owned subsidiary of TheStreet.com.