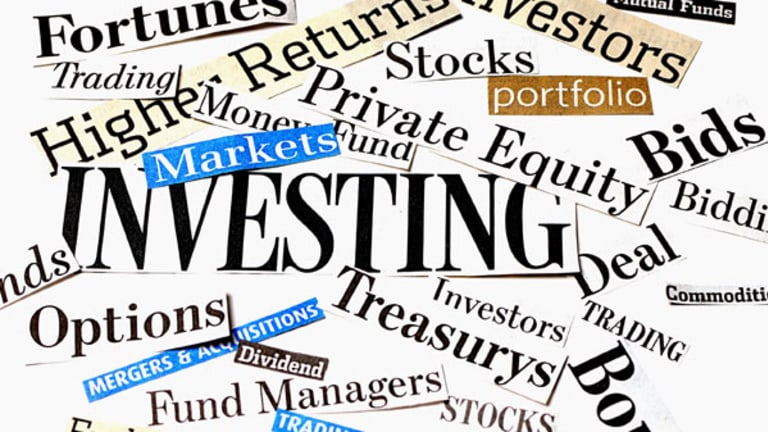 Mid-Cap Short-Squeeze Opportunities
These heavily shorted mid-cap stocks, included Gildan and NVR, could surge on any positive catalyst.
BALTIMORE (Stockpickr) -- Sometimes it pays to be contrarian. Contrarian investors bet against the herd, the justification being that by the time an investment idea becomes conventional wisdom, it's probably already run its course. That's why while most people were investing in tech stocks in 1999 and real estate companies in 2006 and 2007, contrarian investors were betting in the other direction.
One of the best ways to make a contrarian bet is by gunning for a short squeeze, which is the buying frenzy that ensues when a heavily shorted stock starts to look attractive again to investors, causing share price to skyrocket.
One of the best indicators of just how high a short-squeezed stock could go is the short interest ratio, which divides shares short by average daily trading volume in order to get a ballpark estimate of the number of days it would take for short-sellers to cover their positions. The higher the short ratio, the higher the potential profits when the shorts get squeezed.
Each week, Stockpickr creates a portfolio of stocks with high short interest ratios and the catalysts to trigger a squeeze. Here's a look at
, which focus on mid-cap stocks.
If there's ever been an industry that's taken heat from investors in the last two years, it's construction services. With the bursting of the real estate bubble and simultaneous seizing of the credit market, builders across the board saw their businesses slam to a grinding halt in 2008, leading to the industry's nearly 28% drop in the trailing 24 months. (The
S&P 500
index dropped only 18% over that time.)
But with home purchases starting to come back to life in the last several quarters, now's a potentially strong time to invest in homebuilders. And there are few homebuilders trading publicly that have a better fundamental profile than
NVR
, which has a short ratio of 13.7. The company operates using a novel business model that's allowed NVR to keep its land inventories significantly lower than those of its competition. As a result, NVR hasn't had the colossal write-offs that many other builders took in the last two years.
The company has even maintained its profitability despite one of the toughest housing markets is U.S. history. Despite the short-side sentiment behind it, NVR does have its proponents, such as the
Dow Jones U.S. Home Construction Fund
(ITB) - Get iShares U.S. Home Construction ETF Report
, an ETF that counts a stake in NVR as 10.3% of its entire portfolio. The fund's other holdings include
Lennar
(LEN) - Get Lennar Corporation Class A Report
and
Toll Brothers
(TOL) - Get Toll Brothers, Inc. Report
.
Canadian sports apparel company
Gildan Activewear
(GIL) has seen a mind-blowing rally in the last 12 months, with shares rocketing 241%. But that hasn't stopped the short-sellers from taking stakes against shares; the company's short interest ratio currently sits at 17.9.
Gildan is one of the biggest apparel producers in North America. The company's extremely low-cost structure and deep business relationships with mega retailers such as
Wal-Mart
(WMT) - Get Walmart Inc. Report
and
Target
(TGT) - Get Target Corporation Report
give it significant advantages as it competes for hard-earned consumer dollars in the retail marketplace. As the company reaches out into more premium branding, it could see margins improve as a result.
One firm that's hoping so is
, a New York-based hedge fund sponsor. Other Trafelet holdings include
Consol Energy
(CNX) - Get CNX Resources Corporation Report
and
Brandywine Realty Trust
(BDN) - Get Brandywine Realty Trust Report
.
Wholesale power generation company
TransAlta
(TAC) - Get TransAlta Corporation Report
is a highly shorted stock that focuses on the Canadian power generation market. Competition and increased balance sheet leverage have pushed TransAlta's short interest ratio to 17.6.
Despite the investing headwinds TransAlta faces right now, the company has enough fundamental prowess to make this week's short-squeeze list. TransAlta is solidly profitable, with nearly double-digit net margins and increasing demand in its operating area. And with the company's earnings scheduled for today, the chances of seeing an upside breakout are very real.
TransAlta certainly has some big names on its side. One of those is
, the billionaire investor who owns shares of TransAlta through his firm, Soros Fund Management. Other Soros holdings include
PetroBras
(PBR) - Get Petróleo Brasileiro SA Report
and
Monsanto
(MON)
.
For the rest of this week's short-squeeze opportunities, including
McCormick
(MKC) - Get McCormick & Company, Incorporated Report
and
Strayer Education
(STRA) - Get Strategic Education, Inc. Report
, check out the
Mid-Cap Stock Short-Squeeze portfolio
at Stockpickr.And to find short-squeeze plays of your own, be sure to check out the
community for insights and investment ideas.
-- Written by Jonas Elmerraji in Baltimore.
RELATED LINKS:
>>Cramer's Take on Headline Stocks
>>2010 Large-Cap Short Squeezes
>>Technical Setups: Annaly, Mead Johnson
Follow Stockpickr on
and become a fan on
Facebook.
Jonas Elmerraji is the editor and portfolio manager of the
Rhino Stock Report
, a free investment advisory that returned 15% in 2008. He is a contributor to numerous financial outlets, including
Forbes
and
Investopedia
, and has been featured in
Investor's Business Daily
, in
Consumer's Digest
and on
MSNBC.com
.