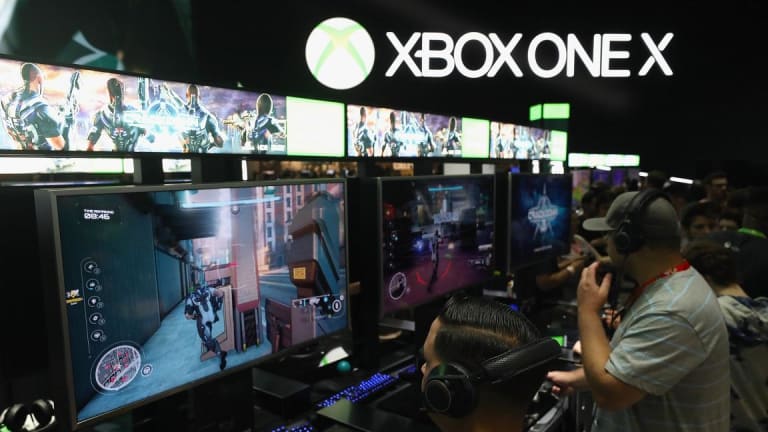 Why Microsoft Is Ratcheting Up Its Hardware and Chip Ambitions
From Xbox to HoloLens to cloud data centers, Microsoft has quite a few hardware and chip projects underway.
From Xbox to HoloLens to cloud data centers, Microsoft has quite a few hardware and chip projects underway.
Busy busy.
Since the company pared back its phone efforts in 2014, it's hard to think of a time when Microsoft's (MSFT) - Get Report  hardware and chip R&D teams had more on their plates than they do now.
Over the last few weeks along, there have been a half-dozen or so announcements and reports about Microsoft hardware and chip efforts. There isn't a single, overarching reason for all this activity. Rather, the motivations behind Microsoft's current hardware and chip efforts broadly fall into one of three categories:
Strengthening large hardware franchises that -- directly or indirectly -- are facing tougher competition.
Commercializing new platforms that Microsoft wants to at least partly monetize via software and/or services.
Making Microsoft's cloud data centers more cost and power-efficient.
The company's reported Xbox and Surface moves fit into category #1. On Sunday, Microsoft disclosed at the E3 gaming conference that it's "deep into architecturing the next Xbox consoles." And on Tuesday, a report from Microsoft news site Thurrott (which has produced many accurate scoops in the past) stated a next-gen Xbox will arrive in 2020 and will be part of a family of devices.
Separately, ZDNet and Bloomberg reported in May that Microsoft plans to launch a set of low-cost Surface tablets that would cost around $400. ZDNet reports hearing the hardware will be unveiled in July; Bloomberg says 4G-capable models will be offered, as will a cheaper keyboard cover accessory.
In addition, ZDNet reported this week that Microsoft is working on a "heavily redesigned" version of its Surface Pro 2-in-1 that will arrive in mid-2019. And that the current Surface Pro and Surface Laptop might be updated this fall to contain 8th-gen Intel (INTC) - Get Report  Core CPUs.
A 2020 Xbox launch would be only three years removed from the launch of the 4K gaming-capable Xbox One X, which in turn was just four years removed from the launch of the original Xbox One. By comparison, eight years elapsed between the launch of the Xbox 360 and the Xbox One. The PC gaming market's rapid growth, and the non-stop hardware advances that are underpinning it, seem to be motivating both Microsoft and Sony  (SNE) - Get Report  to speed the pace of their console launches.
Trading video-game stocks? Watch below for some to tips. 
Likewise, Microsoft's efforts to revamp its costlier Surface notebook and 2-in-1 offerings (the Surface Pro, Laptop and Book) seem driven by how much more competitive the high-end Windows notebook and 2-in-1 space has become. HP (HPQ) - Get Report , Dell, Lenovo and Asus have all rolled out quality offerings in this arena, which like gaming has been a strong point for the PC industry.
On the low-end Chromebook adoption (particularly in the education market) gives Microsoft an incentive to launch a cheaper Surface device. Apple's (AAPL) - Get Report  efforts to grow the iPad's education-market presence might also be on Microsoft's mind.
Fitting within category #2: Microsoft's reported plans to launch a second-generation version of its HoloLens augmented reality (AR) headset, codenamed Sydney, in early 2019. According to a recent Thurrott report, Sydney will be lighter and more comfortable than the original HoloLens, and have better displays. It will also reportedly be much cheaper (the original HoloLens is only available through a $3,000 developer kit); this detail suggests the product might be meant for a broader commercial release.
HoloLens relies on both an Intel CPU and a Microsoft-designed Holographic Processing Unit (HPU), and is meant for indoor use. Microsoft has suggested that driving compelling business/productivity use cases is a priority for the platform. With Apple, Google and Facebook all believed to have their own AR headset projects underway, Microsoft has a strong incentive to launch a commercially-viable version of HoloLens relatively soon.
Should HoloLens take off, Microsoft doesn't necessarily have to monetize the platform via hardware sales alone. It could also make its underlying software and intellectual property available to Windows OEMs in return for a licensing fee, and take a cut on HoloLens app purchases and in-app transactions.
A Monday CNBC story about a new AI/machine learning chip effort fits into category #3. CNBC highlighted three job listings that indicate Microsoft's Azure public cloud unit is developing a custom chip (ASIC) for AI workload acceleration. The effort appears to be separate from Microsoft's previously-disclosed Project Brainwave, which involves the use of programmable Intel chips within Microsoft's data centers to run trained AI models against real-world data (inference).
Based on the job descriptions, Microsoft's new AI chip could -- like Google's Tensor Processing Units (TPUs) -- be used to handle the demanding task of training machine learning algorithms, rather than just inference. This is a market where Nvidia ( (NVDA) - Get Report ) maintains a dominant position. However, like Google, Microsoft could feel it makes economic sense to develop a custom ASIC that's optimized for a limited set of machine learning frameworks.
Also fitting into category #3: Project Natick, an effort to create self-sufficient data centers by (in all seriousness) running them under the sea and having them powered by tidal turbines and wave energy converters. Last week, the Natick team dropped a 40-foot data center containing 864 servers off the coast of Scotland, and claimed it could remain operational without maintenance for up to five years.
Time will tell whether the data center can sustain itself for that long, and also just how scalable and cost-efficient the concept is. 864 servers is (pardon the pun) a drop in the ocean for Microsoft.
However, as is the case in many other hardware fields, Microsoft efforts here certainly don't lack for ambition.
Microsoft, Apple and Nvidia are holdings in Jim Cramer's Action Alerts PLUS member club. Want to be alerted before Jim Cramer buys or sells MSFT, AAPL or NVDA? Learn more now.
This column originally appeared on June 13 on Real Money, our premium site for active traders. Click here to get more great columns like this.