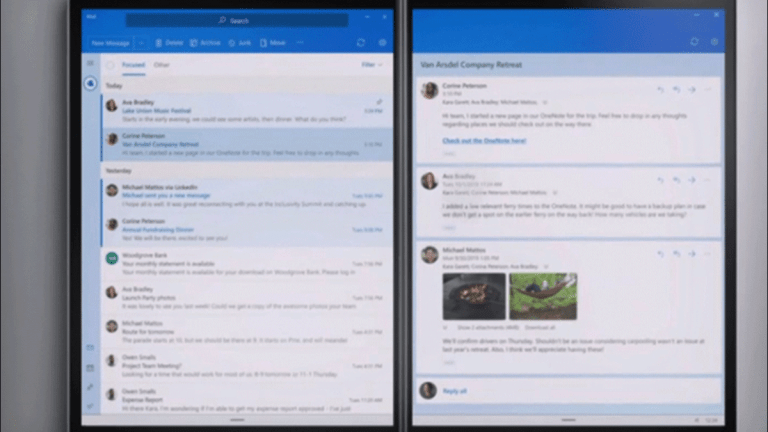 Microsoft's Bold Surface Hardware Event: 5 Key Takeaways
The software giant unveiled big bets on dual-screen devices, while also dialing up the performance delivered by its Surface Pro and Surface Laptop families.
Whether in terms of hardware design, software design or processor choices, Microsoft's (MSFT) - Get Microsoft Corporation (MSFT) Reportlatest Surface event revealed quite the willingness to think outside the box.
At a Wednesday morning event, Microsoft revealed a pair of dual-screen devices that are promised to arrive by the 2020 holiday season: The Surface Duo, a foldable phone that runs on Android, and the Surface Neo, a dual-screen laptop that runs on a new version of Windows known as Windows 10X.
The software giant also refreshed its Surface Laptop and its Surface Pro 2-in-1 device, and  unveiled the Surface Pro X, a 2-in-1 that runs a version of Windows 10 meant for ARM-architecture CPUs. All three of these products will begin shipping over the next few weeks.
Here are some initial thoughts on Microsoft's announcements.
1. Microsoft Is Betting Foldable Phones Give It a Fresh Opening in Smartphones
Though the foldable phone market remains in its infancy, it's easy to see its long-term potential -- if the smartphone market's evolution has shown anything, it's that consumers are eager to get their hands on more screen real estate, just as long as it doesn't make their phones too unwieldy. And with Samsung (SSNLF) , Huawei and other firms betting on foldable phones still needing to do plenty of work before their devices are cheap, durable and user-friendly enough to go mainstream, Microsoft, which has seen its Windows Mobile and Windows Phone platforms thrown into history's dustbin, just might have an opening.
At a minimum, the Surface Duo, which folds open to reveal a pair of 5.6-inch displays that can either be used side-by-side or rotated, looks like a decent first effort. It runs on Android -- Microsoft  (MSFT) - Get Microsoft Corporation (MSFT) Report actually partnered with Alphabet/Google (GOOGL) - Get Alphabet Inc. Class A Report to develop the device -- but it has a custom user interface and will come with plenty of Microsoft apps and services pre-installed. Both the software investments that Microsoft has made for touchscreen Windows devices, as well as its efforts to create versatile and reliable hinges for its Surface hardware, appear to have come in handy here.
That said, Microsoft didn't disclose a price or estimated battery life for the Surface Duo, and it indicated that some design decisions, such as whether the phone will feature a rear camera, haven't been finalized yet. While the Duo looks promising, much is still unknown for now.
2. The Dual-Screen Windows 10X Platform Has a Lot of Potential
Microsoft's Surface Neo laptop has a thing or two in common with the Surface Duo. The Neo folds open to reveal a pair of 9-inch displays that can be placed side-by-side or rotated. If one wishes, one of the displays can be placed flat on a surface to mimic a traditional laptop design. When this is done, users can either rely on a digital keyboard or place a Bluetooth keyboard on top of the display, while also having access to either a digital trackpad or an input area that Microsoft refers to as the WonderBar (echoes of Apple's (AAPL) - Get Apple Inc. (AAPL) Report MacBook Touch Bars).
But whereas the Duo runs on Android, the Neo relies on Windows 10X, a version of Microsoft's PC/tablet OS that was built with dual-screen devices in mind and is promised to support existing Windows apps with the help of app containers. And whereas Microsoft's fortunes in the foldable phone market will likely depend solely on its own hardware launches, PC OEMs such as HP Inc. (HPQ) - Get HP Inc. (HPQ) Report , Dell Technologies (DELL) - Get Dell Technologies Inc Class C Report , Lenovo and Asus plan to launch Windows 10X devices as well.
We still need to see what battery life and pricing look like for the first 10X systems, and also whether there are any hiccups related to the UI or app compatibility. But it's not hard to see how the versatility and extra screen space that 10X systems will deliver could appeal to both consumers and businesses.
Microsoft, Alphabet and Apple are holdings in Jim Cramer's Action Alerts PLUS member club. Want to be alerted before Jim Cramer buys or sells MSFT, GOOGL or AAPL? Learn more now.
3. Microsoft Remains Committed to ARM Windows Laptops, But Questions Linger
Microsoft's Surface Pro X is a sleek, 13-inch, 2-in-1 that starts at $999 and runs on the SQ1, a custom version of Qualcomm's (QCOM) - Get QUALCOMM Incorporated Report Snapdragon 8cx notebook system-on-chip (SoC). Like the 8cx, the SQ1 relies on an advanced, 7-nanometer (7nm), Taiwan Semiconductor  (TSM) - Get Taiwan Semiconductor Manufacturing Co., Ltd. Sponsored ADR Report manufacturing process, contains a 4G modem and has a thermal envelope (TDP) of just 7 watts.
Microsoft asserts the SQ1 delivers three times more performance per watt than the Intel  (INTC) - Get Intel Corporation (INTC) Report processors going inside of the Surface Pro 6 devices that launched last year. The company also promises a battery life of 13-to-13.5 hours for the Surface Pro X, as well as the "always on, always connected" capabilities provided by Qualcomm-powered laptops from other OEMs.
But despite having impressive feature sets, Windows notebooks powered by Snapdragon processors have seen limited traction to date, in part because the number of apps written for ARM-architecture Windows devices remains limited -- while these devices can run apps written for Intel and AMD's (AMD) - Get Advanced Micro Devices, Inc. Report x86 CPUs via emulation software, doing so yields a performance hit. Microsoft did announce on Wednesday that Adobe  (ADBE) - Get Adobe Inc. Report will create versions of its Creative Cloud apps for Windows 10 on ARM, and Google is doing the same for Chrome, but more work is still needed.
Throw in the fact that (unlike, say, Chromebooks) many Windows ARM notebooks feature premium pricing and are thus aimed at more demanding PC-buyers, and the devices might continue facing an uphill battle for now. However, Microsoft does seem committed to making the platform a success over the long run.
4. The Surface Pro 7 and Surface Laptop 3 Are Solid, If Evolutionary, Upgrades
Unlike their predecessors, the Surface Pro 7 and the Surface Laptop 3 come with USB-C ports. And whereas the Surface Laptop 2 was only offered with a 13.5-inch display, the Surface Laptop 3 features both 13.5-inch and 15-inch options (the Surface Pro continues to feature a 12.3-inch display).
Microsoft made a strategic decision to sacrifice a bit of battery life in order to boost performance. The company claims the Surface Pro 7 (starts at $799) will have twice the performance of the Surface Pro 6, while providing 10.5 hours of battery life (down from 13.5 hours). The 13.5-inch Surface Laptop 3 (starts at $999) is promised to have twice the performance of the Surface Laptop 2, and the 15-inch version (starts at $1,199) will be more powerful still. However, promised battery life has dropped to 11.5 hours from 14.5.
Overall, the Surface Pro 7 and Surface Laptop 3 look like solid upgrades for two product families that account for a large percentage of Microsoft's current Surface revenue, which totaled $5.7 billion over the last four quarters. Tech analyst Patrick Moorhead notes that Microsoft's decision to provide a user-removable solid-state drive (SSD) for the Surface Laptop 3 could appeal to government clients and more regulated industries.
5. Microsoft Is Taking Processors Seriously
Intel, AMD and Qualcomm are each supplying processors for Microsoft's latest hardware. The Surface Pro 7 and the 13.5-inch version of the Surface Laptop rely on 10th-gen Intel Core notebook processors based on its new Ice Lake microarchitecture (it relies on Intel's finally-launched 10nm manufacturing process node). The Surface Neo relies on a custom Intel chip based on the company's ultra-low-power, 10nm, Lakefield platform, which in turn leans on an innovative chip-packaging solution known as Foveros.
Meanwhile, the 15-inch Surface Laptop 3 is powered by a custom, 12nm, AMD notebook processor featuring a Ryzen CPU and a powerful integrated GPU. And in addition to supplying the custom SQ1 SoC going inside of the Surface Pro X, Qualcomm is providing the SoC that powers the Surface Duo. For now, the chip in question is the Snapdragon 855, but given the Duo's ETA, it wouldn't be surprising if Qualcomm's next flagship smartphone SoC (expected to be called the Snapdragon 865) ultimately powers the Duo.
Though it hasn't begun putting home-grown processors inside of Surface devices the way that Apple places its A-series SoCs inside of many of its devices, Microsoft is clearly paying a lot of attention to the silicon that powers its hardware.
Save 57% During Our Fall Sale. Join Jim Cramer's Action Alerts PLUS investment club to become a smarter investor. Click here to sign up and save!