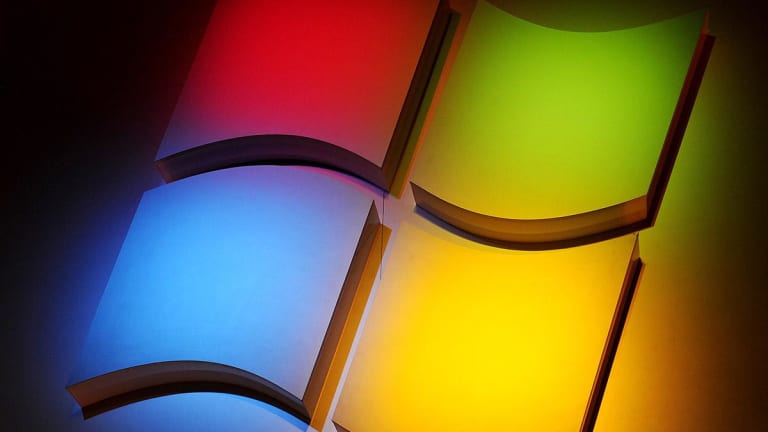 Microsoft's Results Are More of an Opportunity Than a Warning
I saw two negative impacts here that I expect to improve.
Opportunity knocks.As some of our trades have worked out extremely well of late, it's easy to forget that being a a trader in a rising market is well... just plain easy. That said, one of my favored stocks went the wrong way after the close, and to be honest... I think it presents more as opportunity than as warning. Let's get down to the nitty gritty.
Microsoft (MSFT) - Get Free Report reported their fiscal Q2 results after Wednesday's final bell. EPS beat by a penny, while revenue fell a bit short despite increasing by 12.4% year over year. What gives? Well, I'll try to be brief, but there are two impacts here that I believe are either easily correctable, or more precisely... potentially self-correcting. We all know that the cloud is the immediate future of business, and that the planet is still behind the U.S. on broad cloud business integrations. Azure, Microsoft's hybrid cloud solution (the reason for being in this stock), saw it's growth trajectory slow. Slow to 76% in a quarter where businesses obviously drew back from capital spending. Forgive my arrogance, but I am not all that worried about Azure, and I am willing to accept the consequences should I be wrong about this.
I saw two negative impacts here that I expect to improve. One... Windows based revenue declined by 5%. Why is that? Not likely because PCs could not be sold, but more likely due to the semiconductor industry's focus on other types of higher-end chips constrained supply. This hopefully results in some pent up demand. Intel (INTC) - Get Free Report , in their earnings call flat out told us last week that this shortage should be rectified by the end of Q2 2019. Then last night, Microsoft in their call... stated that currency exchange rates if left untouched could negatively impact revenue generation by up to 2%. Uhm... you did see what the FOMC did on Wednesday?
The Chart
Witness the twice tested resistance at a perfect 61.8% retracement of the Q4 2018 selloff. Now witness the 50 day SMA standing as of Wednesday's close only 60 cents above the 50 day SMA. With the opening auction expected to create a last sale below $104.50 on Thursday morning, there stands a good chance that chart watchers will see a death cross, or something very close to one for this name.
My friends... I believe that by allowing the algorithmic response to that death cross to engage prior to reacting ourselves that we can beat the machines. So, let's take those creeps to school, or at least try. Trust me, nothing feels better than knowing you have beaten the algo traders with them being nowhere near cognizant of the fact because they're laughing at YouTube videos while we work. Victory to those who dare to fight.
Microsoft (MSFT)
Target Price: $116
Add: $103
Panic: $99
Thinking... Unable to price MSFT options this early, but if upon weakness, the (Feb 1) $102 puts were to say pay $1.20-ish, and if the (Feb 1) $100 puts were to pay as much as 60 cents... I would think them interesting.
(Microsoft is a holding in Jim Cramer's Action Alerts PLUS member club. Want to be alerted before Jim Cramer buys or sells MSFT? Learn more now.)
(An earlier version of this column appeared at 8:31 a.m. ET on Real Money, our premium site for active traders. Click here to get great columns like this from Stephen "Sarge" Guilfoyle, Jim Cramer and other experts throughout the market day.)
At the time of publication, Stephen Guilfoyle was Long INTC, MSFT, Short INTC.