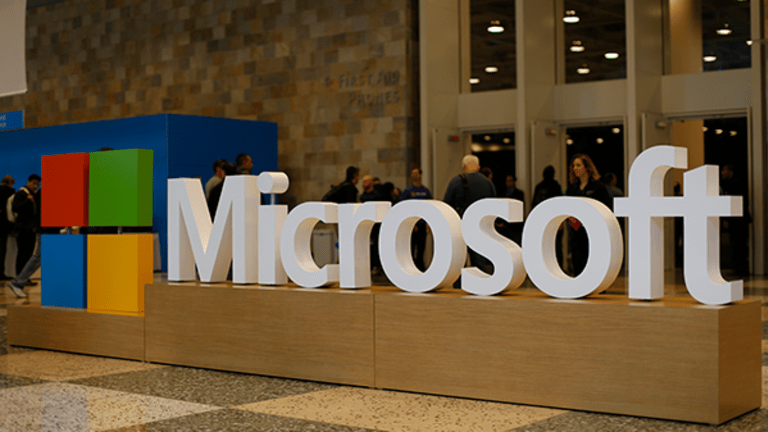 Microsoft Rally Is in Its Late Stages
Stop me if you've heard this: Risk levels should be raised.
Microsoft (MSFT) - Get Free Report looks like it is in the late stage of its advance. Two months ago, we anticipated that MSFT would dip slightly, saying, "MSFT is not showing signs of distribution, but a shallow dip could occur based on the Point and Figure chart. Short-term traders might trim longs on a break below $68, but investors should risk below the rising 200-day moving average line around $64."
Bill Gates did not take my call and MSFT has rallied to new highs for the move up. Because prices never came near my risk points, I will assume traders and investors kept their positions. The price of MSFT is a few dollars higher than back in July, but now our indicators are even weaker. At the risk of being labeled "the boy who cried wolf," I am going to suggest (again) that risk levels should be raised.
Let's check the charts and indicators one more time.
In this updated daily bar chart, above, we can see MSFT has continued higher in price, but take notice of our indicators since the middle of July. The 50-day moving average line moves higher but recently the slope of the line has crested. The slower-to-react 200-day average is still rising.
Now look at the On-Balance-Volume (OBV) line. The OBV line peaks and turns down sharply into August, signaling aggressive selling. Prices move higher but the OBV line remains weak. The 12-day momentum study in the bottom panel shows a high in July and a lower high in September. This is a bearish divergence compared to the price action, which makes higher highs. The weakening momentum picture and the bearish OBV action tell me we are looking at a rally in its late stages.
In this weekly bar chart of MSFT, above, we can see the 40-week moving average line is still rising. The weekly OBV line looks like it peaked in April. Worse is the 12-week momentum study. Since January, the momentum study shows equal highs despite the higher price highs. This long-term bearish divergence vs. prices is not healthy.
In this Point and Figure chart of MSFT, above, there are two things to point out. First is that prices have nearly reached a longer-term price target of $76.63. Second item to note is the volume at price bars on the left. The volume has gotten lighter and lighter as prices have moved higher and higher.
Bottom line: Trends remain in force until there is a reversal. I would raise sell-stop protection for traders to a close below $71.
This column originally appeared Wednesday on Real Money, our premium site for active traders. Click here to get great columns like this from Bruce Kamich, Jim Cramer and other writers even earlier in the trading day.
Employees of TheStreet are restricted from trading individual securities.