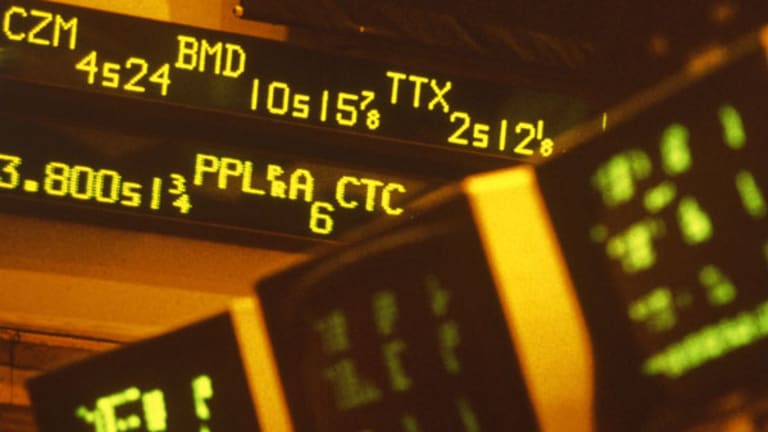 Publish date:
Microsoft, Alliance Data Among Picks for a Rising Rate Cycle
Investors should cast their eye to a horizon of rising rates and adjust strategy accordingly, fund managers warn, pointing to sectors set to benefit from a strengthening economy.
Investors should cast their eye to a horizon of rising rates and adjust strategy accordingly, fund managers warn, pointing to sectors set to benefit from a strengthening economy.
NEW YORK (TheStreet) - Investors should realize interest rates are going to rise sooner rather than later, and look to adjust their strategies accordingly, fund managers warn, pointing to sectors set to benefit from a recovering economy.
While Europe and Japan mull further stimulus, U.S. markets have slid sideways on uncertainty over economic growth as the Federal Reserve winds back bond purchases.
However, many strategists urge American investors not to reduce exposure to domestic stocks, noting equity returns are usually strong in the lead-up to the first rate hike after easing - expected early next year - then slow with each subsequent rise.
James Investment Research notes U.S. rate rises will stem from a return to more normal levels against a strengthening economic backdrop, after a period of abnormally low rates. Director of Research David James says investing in this environment is markedly different from one where rate rises are used to tame inflation. "The question is not so much when will rates rise, but what is the reason for it?" he said.
As such, he recommends small cap stocks - which have higher exposure to the domestic economy, along with cyclical and technology names. Small caps have underperformed the broader market year-to-date, amid concerns over valuations, after the Russell 2000, rallied 33% in 2013. Several fund managers note that small cap biotechs without cashflow have inflated the overall valuation of the index, with opportunity in other sectors. James acknowledged that small caps may not bounce until the anticipated improvement in second-half economic data - though investors may want to catch any bounce before it occurs.
At this point in the cycle, Macquarie Research analysts favor financials, industrials and technology - noting cyclical stocks tend to outperform in any year leading up to a rate hike. They advocate reducing exposure to cyclical stocks in early 2015, prior the first rate hike, suggesting consumer staples, healthcare and property trusts will likely outperform after rates rise. "Investors should cut exposure to interest rate-sensitive cyclical sectors like autos and durables after the first hike and switch from corporate to treasury bonds," they told clients. "[Consumer] discretionary is the one to sell after the Fed starts to hike."
Financial stocks have so far failed to show strong leadership in the U.S. market rally, with traders emphasizing the need for this, if further strong gains are to be had. Many fund managers prefer regional banks to large cap lenders, as they have less regulatory risk and are closely leveraged to the domestic economy. Several brokers see financials as the key sector to own leading into rate hikes and during a rising rate cycle, as earnings are bolstered by higher rates. "Within financials, the key group to own is real estate (because) the market will be placing a rising premium on their defensive earnings due to its bond-like character," Macquarie analysts said. The broker points to mining as a sector to avoid after rate hikes.
Credit Suisse is also more positive on the outlook for cyclical stocks, recently adding to its overweight position. The broker notes that global manufacturing growth appears close to bottoming, with close correlation between this trend and the performance of global cyclicals. In the US, Credit Suisse points to, RDA, Alliance Data (ADS) - Get Report, Lam Research (LRCX) - Get Report, Soufun (SFUN) - Get Report, Microsoft (MFST) , Advanced Auto Parts (AAP) - Get Report and On Semiconductor (ONNN) as cheap cyclical stocks likely to have upward earnings revisions. On a sector basis, the broker likes capital goods but avoids utilities and retail stocks.
More broadly, James and other strategists predict only a slight boost to U.S. markets from any European or Japanese stimulus in the near-term - though companies that export heavily to either region may enjoy a stronger rise. In the U.S., James still expected rising rates to prompt stronger flows into equities.
"We've got a lot of money in the system but it's not chasing anything," he said. "Small cap stocks are the best place to be (when rates rise) and we're looking at those now."
-- By Jane Searle in New York
READ MORE >>
Fragile Five Pose Renewed Opportunity