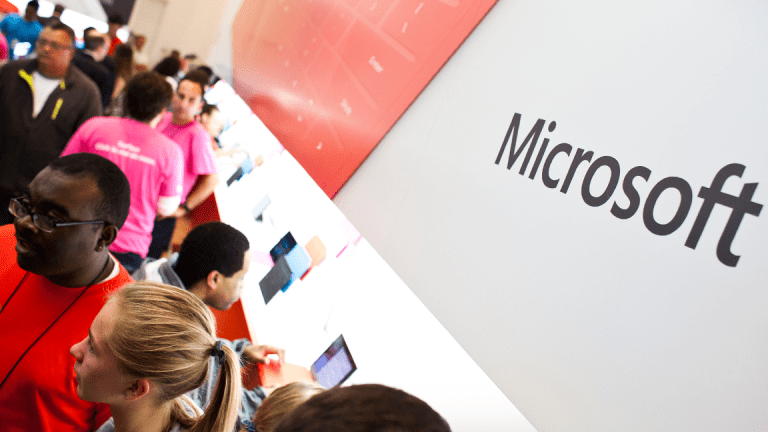 Microsoft: 2 Trades on This Hot Cloud Name Into Earnings
Microsoft has consistently rallied into earnings in recent years. Here is how to play it.
One of my longs is at a point of inflection. I think.
Being a commonly held name, I thought I might mention it. A few of you hold Microsoft (MSFT) - Get Report , right? As soon as you hear it, you think not only of the traditional business lines that brought the firm to national prominence decades ago, but also of the smart decisions to mold those businesses into a subscription model as well as the name's evolution into a leading cloud services firm. A lot to love, truly.
In mid-July, the firm went to the tape with fourth-quarter earnings that beat on both the top and bottom lines. They told you that LinkedIn grew 34%. They told you that commercial revenue grew 35%. They told you that gaming grew 38%. I could go on. Everything grew. We focused on the cloud. Intelligent Cloud was up 20%. Server products and cloud services grew 24%, and wait for it ..... Azure grew a ridiculous 85%.
Fluffy Clouds
The firm raised first quarter revenue guidance to a range of $27.35 billion to $28.05 billion. Consensus had been for something close to $27.4 billion. Huzzah. the stock reacted well -- peaking in late July. Since then... meh.
The firm will put that Q1 data to the tape in late October. Expectations are still in place for significant year-over-year gains for both lines. The balance sheet is no problem. Cash flow is impressive. The name trades at 21.8x forward looking earnings. That is on the cheap side for the industry. So... what's the problem?
View Chart »View in New Window »
Take a look at this. Most obvious is the obedience that Action Alerts Plus holding Microsoft has consistently shown to the lower chamber of the Pitchfork model that starts in November of last year. Am I the last trader using these Pitchforks? I mean, gee wiz... Is it not glaringly obvious that this tool is effective?
One might also see that the lower trend line of said pitchfork is under pressure. I have also place two Fibonacci models on the chart. The blue model begins with the pitchfork. The red model with the most recent obvious move. The levels provided by the red model have already worked twice, most recently at a 38.2% retracement. The blue model has not been tested, but I think I may use it to provide my position with a new panic point.
What I Think
Over the last couple of years, Microsoft has consistently rallied to varying degrees into earnings. This might be our chance to initiate or add, given your current level of exposure. All you need is for this nearly six-month pitchfork to continue on.
Worth the risk? Let's figure this out. July's high printed at $111.15. That's certainly do-able as a target price. I think we can do a little better than that, even if we need the rest of the year to get there.
Microsoft
Target Price: Trade: $111, Investment: $122
Panic/Replenishment Point: $98
Trade Ideas (Minimal Lots)
Trade 1
Trying to make a quick buck ahead of earnings? Try a Buy-Write.
Purchase 100 shares. (last sale: 107.06)
Sell (write) one October 19th $110 call option. (last sale: $1.92)
Possible Outcome:
This will land the trader with a net basis of $105.14. If successful, the trader is committed to sell the shares at $110 in October for a net $4.86.
Trade 2
Looking to invest, but at a discount?
Sell (write) one October 19th $105 put option (last sale: $1.96);
Sell (write) one October 19th $100 put option (last sale: $0.78);
Sell (write) one October 19th $97.50 put option (last sale: $0.50).
Two Possible Outcomes:
(A) The stock rises in price by October 19. The trader pockets $324.
(B) The stock plummets in price by October 19. The trader ends up long 300 shares in the worst case, at a net basis of $99.75, or a 6.8% discount from last night's closing equity price.
Free White Paper: 7 Things All Investors Must Know in 2018. Start the second half off right with our free white paper on seven key things to watch this year. From how much cash to have on hand to the three reasons this bull market might die, our white paper features key takeaways from an all-star panel that TheStreet and Fisher Investments recently hosted in New York. Click here to register for your free online copy.
At the time of publication, Guilfoyle was long MSFT equity.