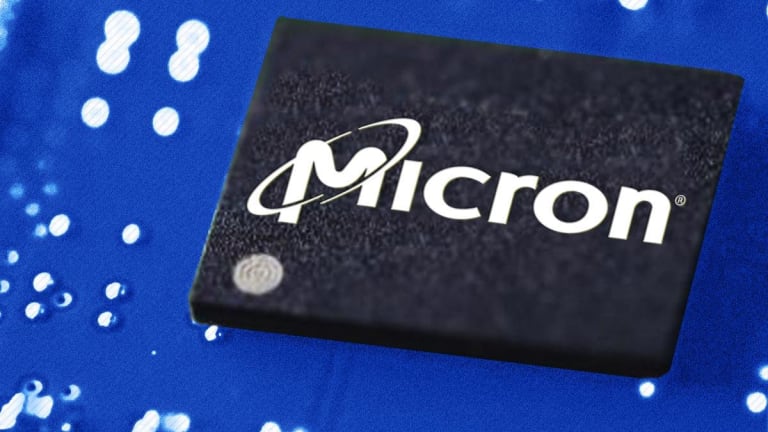 Micron Tumbles After Earnings Forecast Sparks Memory Demand Concerns
Micron shares tumble after the chipmaker cautions that a glut in global semiconductor supplies, along with slowing smartphone demand, would hit current quarter earnings.
Micron Technology Inc. (MU) - Get Report shares tumbled Wednesday after the chipmaker cautioned that a glut in global semiconductor supplies, along with slowing smartphone demand, would hit current quarter earnings.
Micron posted non-GAAP earnings for the three months ending on November 29, the company's fiscal first quarter, of $2.97 per share, just ahead of the Street consensus of $2.96 per share and up 35.6% from the same period last year. Group revenues, Micron said, rose 16% to $7.91 billion but narrowly missed analysts' forecasts of $8.02 billion. Micron also said current quarter sales would slump to between $5.7 billion and $6.3 billion, and noted that gross margins would narrow to between 50% and 53%. 
Watch: Micron's Earnings Day Move Has Major Implications
"We're just going through an air pocket here related to primarily inventory adjustments as well as some seasonal, weak mobile demand, including mobile demand on the high end smartphones that is impacting some of our near-term visibility as well as the near-term outlook," CEO Sanjay Mehrotra told investors on a conference call late Tuesday.
"Over the course of last couple of months, there have been a reduction that have been discussed in the industry, the reductions that you have heard about that manufacturers have talked about, but also, several analysts have indicated those as well," Mehrotra added. "So, I think this is the information that is out there, is what we're using, but we can only talk about ourselves and we can -- we certainly have taken here decisive actions in terms of managing our output growth in line with our demand expectations."
Micron shares fell 2.9% on Wednesday to $33.13.
Micron also said it would be lowering its capex plans in order to match slowing demand for both DRAM and NAND chips to around $9.25 billion for the current fiscal year, down from a prior forecast of around $10.5 billion.
"Our recent memory checks have indicated very poor demand with low visibility into 1H19, and we lowered our Micron estimates last week," said KeyBanc Capital Markets analysts Weston Twigg and James Wang. "However, MU painted a picture even worse than we expected."
"While near-term demand is plunging, nearly all memory companies are actively limiting capacity expansion plans for both DRAM and NAND, which should slow the rate of industry bit growth in 2019," the pair added.
Micron Technology is Real Money's Stock of the Day. Click here to read Real Money's comprehensive coverage of MU throughout the day.