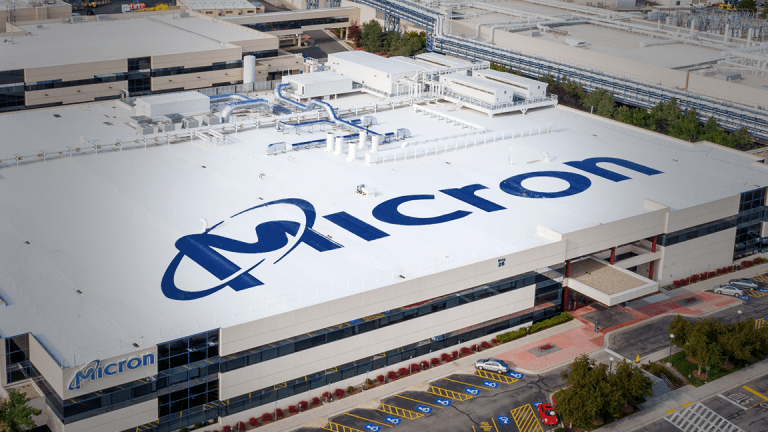 Micron Confirms It's Buying Out Intel in Flash Memory Joint Venture
Micron will pay $1.5 billion to acquire Intel's 49% stake in IM Flash Technologies.
Chipmaker Micron (MU) - Get Micron Technology, Inc. (MU) Report confirmed Monday afternoon after the close that it was exercising its option to buy out Intel's (INTC) - Get Intel Corporation (INTC) Report  share of a joint venture the two companies had to produce flash memory. 
Micron had said in mid-October that it planned to exercise its option to pay $1.5 billion to acquire Intel's 49% stake in IM Flash Technologies.
"The IM Flash acquisition will enable Micron to accelerate our R&D and optimize our manufacturing plan for 3D XPoint," said Micron Technology President and CEO Sanjay Mehrotra in a statement. "The Utah-based facility provides us with the manufacturing flexibility and highly skilled talent to drive 3D XPoint development and innovation, and to deliver on our emerging technology roadmap."
At the close Tuesday, Micron shares were down 1.96% to $33.99, while Intel shares were up 0.52% to $48.60.
In a statement, Intel said that the move would not change any of its plans and that Micron's action "was expected and has been part of our planning for some time now." The company added that "we have a number of manufacturing options available to us and have been shipping a broad portfolio of Intel Optane technology products for more than a year."
Intel's Optane products utilize 3D XPoint, a type of non-volatile computer memory that's faster than NAND but cheaper than DRAM. Micron's move to take over the full joint venture gives it more exposure to a next-gen memory technology that's likely to help it grow its sales of memory meant for use in data centers.
Micron said it had already accounted for the move in its most recent financial statements, and expected that the acquisition would not have any meaningful impact on its overall non-GAAP results, nor on its fiscal 2019 capital expenditures, or long term capex plans.
The transaction will close on a date sometime in the next 6 to 12 months chosen by Intel , according to Micron. Once the deal closes, Micron will eliminate the its IM Flash member debt from its balance sheet, which was $1 billion as of Nov. 29. 2018.