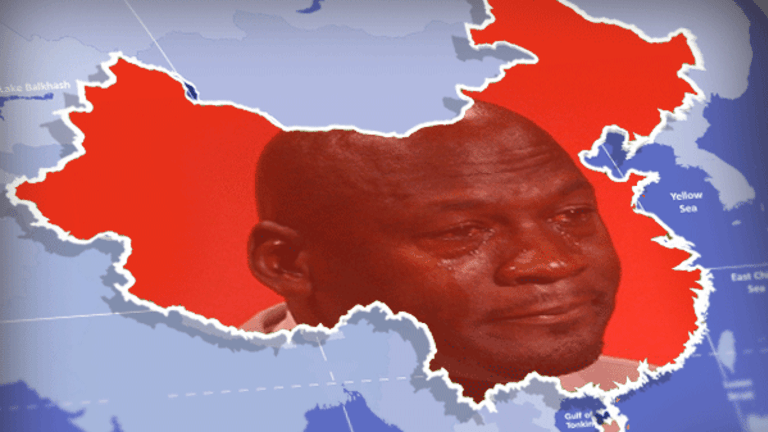 Michael Jordan Gets His Name Back in China With Rare Legal Victory
The Hall-of-Fame basketball star scores a trademark victory in basketball-mad China.
The Hall-of-Fame basketball star scores a trademark victory in basketball-mad China.
The Supreme People's Court in China ruled in favor of Michael Jordan on Thursday, ending a four-year trademark case regarding Qiaodan Sports, a local sportswear-maker that had been using the former NBA star's last name written in Chinese characters.
The top court overturned earlier rulings against the Hall-of-Fame basketball star stemming from an original suit filed against Qiaodan Sports in 2012. The former Chicago Bulls player and current owner of the Charlotte Hornets said Qiaodan Sports had built its business around his Chinese name and jersey number "23" without his permission.
"I am happy that the Supreme People's Court has recognized the right to protect my name through its ruling in the trademark cases," Jordan said in a statement sent to Reuters. "Chinese consumers deserve to know that Qiaodan Sports and its products have no connection to me."
Jordan is one of the most popular NBA basketball stars in China. Air Jordan sells shoes and athletic clothing and is owned by Nike (NKE) - Get Report .
The positive ruling comes as rare but pleasant news for foreign brands in China, which have often lost trademark disputes in the country. In May this year, Action Alerts PLUS holding Apple (AAPL) - Get Report lost a battle for the use of the "iPhone" trademark on leather goods in China when a Beijing court ruled against the company in favor of a local firm Xintong Tiandi that has been using the phrase "iPhone" on its leather goods. Other companies like sportswear firm New Balance and Disney (DIS) - Get Report also came out on the losing end of such trademark court cases in China.
Some experts believe that Jordan's victory might help foreign firms better protect their intellectual property in China, where the court tends to be on the side of whichever company registers a trademark first.
Fujian, China-based Qiaodan Sports registered its trademark nearly two decades ago and will continue to retain the rights to use the name Jordan in its Romanized (or pinyin) form "qiaodan."
This is not the first time the basketball player has sought legal protection over the misuse of his name. Last year, Jordan collected $8.9 million from Pleasanton, Calif.-based grocery chain operator Safeway (SWY) , for the unauthorized use of his name in a 2009 grocery store ad for their now now-defunct Chicago area grocery store chain Dominick's.