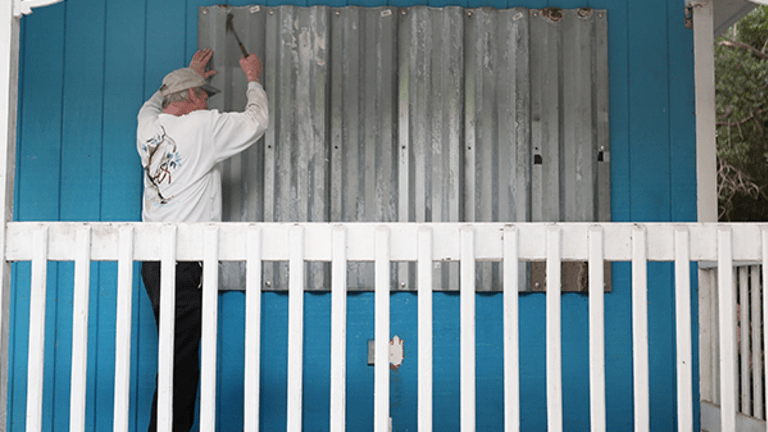 Miami Orders Mandatory Evacuation as Hurricane Irma Bears Down on Florida
National Hurricane Center director calls Irma a "once-in-a-generation" storm as Miami prepares for its biggest evacuation in more than a decade.
The city of Miami is preparing for its largest evacuation in more than a decade Thursday as the U.S. National Hurricane Cents warned that Irma, potentially the most powerful storm to hit the American mainland since 1992, is maintaining its category 5 wind speed as it bears down on the south Florida coast. 
Miami Mayor Carlos Gimenez has issued a mandatory evacuation order for residents in some coastal areas of Dade County, the metropolitan area of Miami, to move inland and order local schools to be closed for the remainder of the week. The evacuation order, which is set to take effect at 7am eastern Thursday, is the first since Hurricane Wilma in 2005 and is expected to affect around 150,000 people.
"Irma remains a strong Category 5 hurricane," Gimenez told reporters at a news conference in the Dade Country emergency. "Significant weakening is not expected."
"All residents are advised to remain calm and to stay tuned to radio and television broadcasts for further advisories," the Mayor's evacuation order read. "Evacuees should move as soon as possible to the homes of friends or family who live outside of evacuation areas."
The NHC said a Hurricane Watch "will likely be required later today for portions of southern Florida and the Florida Keys" in a statement issued at 05:00 am eastern and called Irma the most powerful storm to form in the Atlantic in more than 80 years. Irma, the NHC said, has maintained wind speeds of 180 miles-per-hour as it moves towards the coast of the Dominican Republic, with an estimated landfall in the Florida Keys of early Sunday morning.
Officials from St. Martin confirmed at least six deaths on the Caribbean island territory as a result of Irma's devastating winds, suggesting the toll could rise once damage is assessed on the islands of Barbuda, Antigua and the U.S. territory of Puerto Rico. The Associated Press reported one person having died in Anguilla, taking the storm's total fatalities in the region to 10.
Acting NHC director Ed Rappaport called Irma a "once-in-a-generation" storm during a local television interview, adding that it's "the big one" for Miami residents. 
CLICK HERE FOR ALL OF THESTREET'S COVERAGE OF HURRICANE IRMA
More of What's Trending on TheStreet: