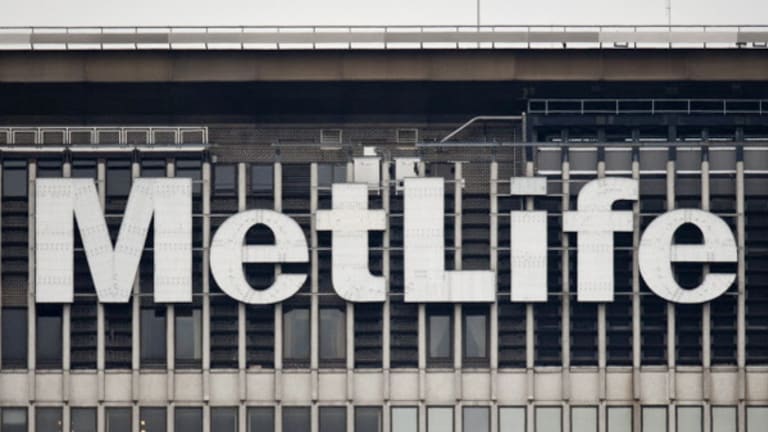 MetLife Misses Earnings Estimates on Weak Hedge Fund Performance
The MetLife earnings disappointment was driven partly by its alternative investments and it follows poor showings for other major insurers with lower results stemming from the asset category
MetLife (MET) - Get MetLife, Inc. Report , embroiled in a high-profile battle to reduce its regulatory burdens, reported a lower than expected profit for the first quarter of 2016. The drop was partly driven by poor returns from hedge fund investments.
The mega-insurer's stock price dropped to $43.93 a share, or by more than 3% in after hours trading on the news.
Specifically, MetLife reported earnings of $1.20 a share, down 17% from the same period a year ago and significantly lower than the consensus estimate per share calculated by FactSet of $1.38 a share. It reported operating earnings of $1.3 billion, down 19% from the first quarter of 2015.
A key difficulty for MetLife was poor returns in its private equity and hedge fund investments, including its so-called variable investment income - investments that include allocations to private equity funds and hedge funds. This category of investment earned $165 million in the first quarter, compared to $371 million in the first quarter of 2015 and the drop was "mostly due to weak hedge fund performance."
The MetLife earnings disappointment follows poor showings for other major retirement, investing and insurance companies including Voya Financial (VOYA) - Get Voya Financial, Inc. Report and American International Group (AIG) - Get American International Group, Inc. Report , both of which missed analyst expectations and had weaker earnings stemming largely from their own lower alternative investment income.
"Private equity and hedge fund performance in the quarter was weak and it impacted MetLife, AIG and Voya Financial among others," said Keefe, Bruyette & Woods analyst Ryan Krueger in an interview. 
The results come as MetLife is in the midst of a major divestiture effort and a related heated battle with the U.S. government over its regulatory burden. MetLife and over 40 other financial institutions were designated by a council of regulators at "Systemically Important Financial Institutions" or SIFIs, a categorization that that comes with a costly and time consuming form of government oversight including tough capital and liquidity rules.
However, MetLife succeeded in convincing a federal court judge last month to order regulators to remove its SIFI status, though the Justice Department has decided to appeal the decision.
In addition, MetLife is moving ahead with plans launched in January to spin off and sell a large part of its U.S. retail business, a move made largely to reduce its regulatory burdens in Washington. In a statement Wednesday, MetLife CEO Steven Kandarian said that the firm continues to make good progress on its initiative to maximize shareholder value including its planned separation of a substantial portion of its U.S. retail business. 
A part of that effort involves MetLife's agreement in February to sell its insurance agent unit known as Premier Client Group to MassMutual Financial in a $300 million deal.
Krueger contends that MetLife's move to separate a large part of its retail business will make it more difficult for regulators to re-designate it as a SIFI later. He added that the move also has a broader strategic objective, which is to increase MetLife's free cash flow business. "These retail businesses tend to generate lower free cash flow," he said.
MetLife plans to provide more details in an analyst conference call Thursday morning. Krueger said he expects Metlife executives won't provide many new details yet about whether they have chosen to conduct an IPO or spin off for the soon to be separated U.S. retail business segment. "They are likely still evaluating the financial implications as well as how shareholders would react to an IPO vs. a spin," Krueger said.
Once the distribution business is sold off, the remaining unit still to be separated will represent roughly 20% of MetLife's overall business, Krueger said, and the assets of the divested unit will be made up of U.S. annuities and life insurance operations sold to individual policyholders.
In addition to its vast international operation, MetLife will retain its entire group insurance business as well as about half of its U.S. annuities and life insurance operations and its institutional products operation.