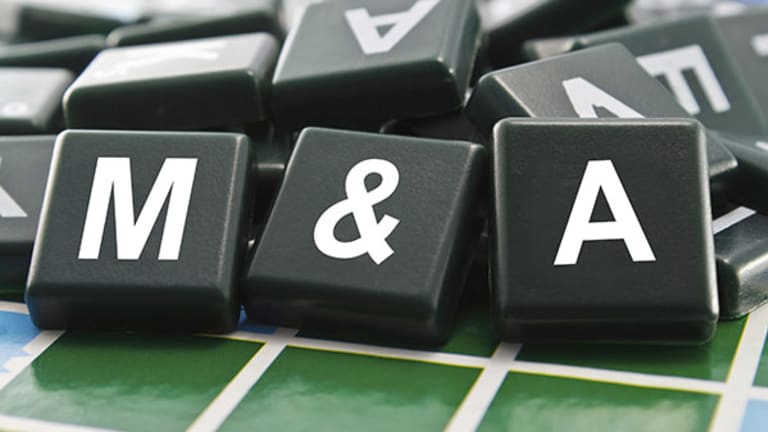 Mergers and Acquisitions Boom Will Keep Rolling as Interest Rates Rise
The first half of 2015 saw a raft of M&A deals, and according to Chris Pultz, portfolio manager for the Kellner Merger Fund, rising rates won't slow that trend down.
NEW YORK (TheStreet) -- Deal flow has been massive in the first half of 2015 from health care to technology to insurance. And in the view of Chris Pultz, portfolio manager for the Kellner Merger Fund, the fact that interest rates are ticking higher is no reason to think merger activity will slow down. 
"The merger arbitrage business has a positive correlation to interest rates, so as interest rates rise, we will see an increase in our rates of return," said Pultz. "We have historically not seen any sort of dip in merger activity as interest rates rise."
The fund Pultz oversees has returned 3.3% so far in 2015. It does not speculate on potential deals, instead waiting until a definitive agreement is announced before jumping in.
"We go long the target and short the acquirer and we lock in a spread. And what that does is give us a rate of return that is uncorrelated to the market. So regardless if the market goes up 20% or down 20%, as long as this deal closes we will lock in that spread," said Pultz who added that he prefers larger deals because they offer more liquidity and the potential for larger spreads.
One particular deal Pultz -- and the rest of the merger arbitrage community -- is closely watching is the tangled dance between generic drugmakersMylan (MYL) - Get Report, Perrigo (PRGO) - Get Report and Teva Pharmaceuticals (TEVA) - Get Report. 
 "I think Mylan is in a good position here," said Pultz. "Perrigo shareholders will probably benefit either from a Mylan deal, and I'm sure Perrigo is out there shopping themselves to other deals as well. And they are probably looking for a higher price from Mylan which I think we probably will get."
A lot of dealmaking is currently taking place in the health care and insurance sectors as a result of the Affordable Care Act. One area that has curiously been lacking in deal flow of late has been the energy sector. Many market watchers expected a lot of action in the oil patch after prices collapsed in the fourth quarter of 2014. But the bounce in oil from $40 to the $60 level has pushed a number of potential shale drilling suitors onto the sidelines.
Pultz expects the larger, well financed energy players to start scooping up cash-strapped shale drillers in the next 12 to 18 months if oil stays at $60.
"Their cost of getting oil out of the ground is closer to $80, so right now, they are producing to cover fixed costs. Sooner or later, they are going to have to raise some money," said Pultz. "They are going to have to go to the debt markets or get taken over. The debt markets are closed to those plays right now because they know that they are in trouble, so their best bet is probably getting taken over at some point in the future if oil hangs out around $60 a barrel."