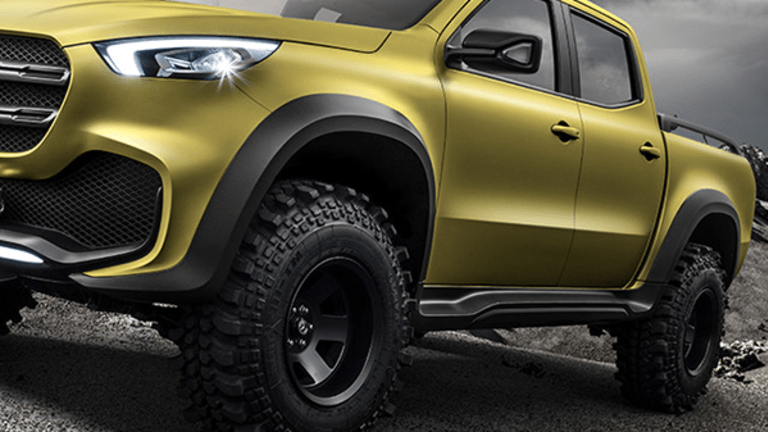 Mercedes-Benz's First Pickup Can Tow a Yacht -- Here's How It Compares to 7 Other Luxury Trucks
It won't be available in the United States, though.
Mercedes-Benz recently unveiled its first-ever pickup truck in South Africa.
The luxury brand owned by Daimler AG (DDAIF)  is introducing the mid-size vehicle to appeal to more consumers, from do-it-yourself-ers to construction contractors, following a three-million automotive recall over concerns of diesel emissions. Mercedes X-Class -- priced at $43,000 in Germany, according to Bloomberg -- will be available by November in its German homeland and other European nations, spreading to Australia and South Africa in early 2018 and Argentina and Brazil by early 2019. It will not be available in the U.S. market.
"With the X-Class, we will open this segment to new customer groups," Chief Executive Officer Dieter Zetsche said in a statement, according to Bloomberg. "Our pickup convinces as a workhorse just as much as a family and lifestyle vehicle.''
Ford Just Revealed a 'Heritage' Themed 2018 Ford GT - Here's What It Looks Like
The X-Class comes in three model variants and has four engine options, including a high-torque V6 diesel to be available in the middle of 2018. The pickup also has driver assistance safety systems such as lane-keep assist, traffic sign recognition and automatic emergency braking as well as access to the brand's internet connected car services.
Just because the vehicle is luxury, however, does not make it limp. Fortune reported that in its bed, the vehicle will be able to haul 2,425 pounds -- or 17 full 50-liter beer barrels, according to the German automaker -- and tow 7,716 pounds, or a 26-foot yacht.
Chevy Just Can't Keep Its $50,000 Crossover Traverse SUV on Dealer Lots
Mercedes said it expects demand for mid-sized trucks to grow by 43% over the next decade, according to Bloomberg. Other pickups from luxury brands, however, have struggled to find success. Autoblog ranked General Motors Co.'s (GM) - Get General Motors Company Report Cadillac Escalade EXT as the 10th worst sold vehicle with 1,972 sales, and Ford Motor Co.  (F) - Get Ford Motor Company Report  produced only 3,356 2002 Lincoln Blackwood in 15 months, according to Autotrader.
"The X-Class is the first genuine pickup with convincing passenger-car characteristics," said Volker Mornhinweg, head of the Mercedes vans unit, which developed the vehicle, Bloomberg reported. "As a result, the X-Class pushes the boundaries of the classic pickup."
Here is the X-Class' other competition.
The Chevy Bolt is no X-Class...