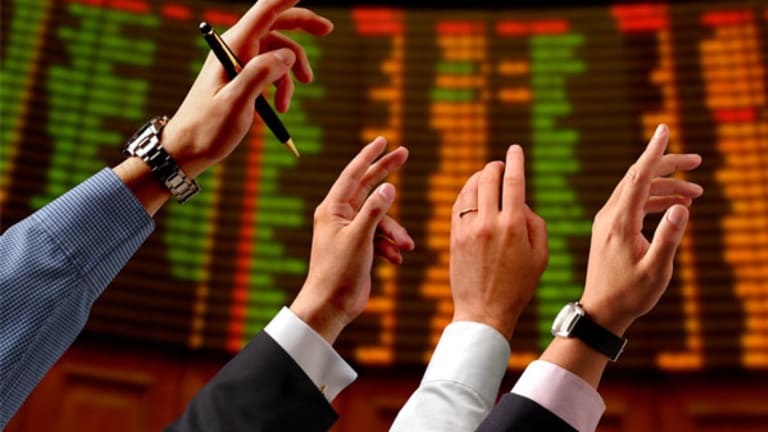 Melvin: Small Bank Stocks to Buy Now
This trade of the decade is still very much a go.
Editor's Note: This article was originally published at 3 p.m. EDT on Real Money on Aug. 2. To see Tim Melvin's latest commentary as it's published, sign up for a free trial of Real Money.
NEW YORK (
) -- I have often heard that the best way to hear from old friends and relatives is to hit the lottery. I have found another way to spark conversations from folks you haven't heard from in a while: Writing a column expressing a negative or cautious opinion on the stock market. It brings people out of the woodwork.
Some just wanted to let me know how foolish I was for not being fully and aggressively invested in a zero-interest-rate world and lots wanted to know what few stocks I was buying. I think I've covered the second question over the past two days, and while I appreciate the intentions of the first group, I will stick with my concerns.
Staying cautious and holding lots of cash just seems to make more sense to me than dancing with the margin clerk or being exposed to a permanent loss of capital.
The third group's question was simply what about small banks. Is the trade of the decade still one? Are you cutting back on these stocks?
The simple answer here is that no, I am not cutting back and the trade of the decade is still very much a go. I have lost a few bank stocks to M&A activity over the past few years, but I have not actually sold a single small bank share for fundamental reasons. If I ever do sell a bank stock that I have suggested on Real Money, it will be stated in either Columnist Conversation or a column.
Older portfolios of bank stocks are currently carrying about a 20% to 25% cash level. Most of the small banks that I want to buy are flirting with the upper end of the buy range, and I am trying to exercise some patience about getting fully invested.
If we get a severe market pullback that creates additional values, I will be fully invested and would even consider using a small amount of leverage to increase my stake in small banks. I have a very high degree of conviction on this group for the next five years and beyond, and I am confident that it will eventually fund my beach house.
There are a few stocks that you can buy if you do not already own them to get established in the trade of the decade. I am not going to break a lot of new ground here, but let me give a quick rundown of stocks that are large enough to discuss and can be purchased right now regardless of market opinions or concerns.
HopFed Bancorp
(HFBC)
remains a strong selection in the small bank space. The bank is located in western Kentucky and middle Tennessee and has recently moved to acquire another smaller bank in the region to expand further.
Given the low returns at HopFed, the proposed acquisition has attracted the ire of noted bank stock activist Joseph Stilwell, who owns about 7.5% of the bank. Other activists also hold smaller positions, so pressure is going to be on the bank to perform well sooner rather than later. At 80% of tangible book value, the stock is cheap and can be bought at this level.
MutualFirst Financial
(MFSF)
is another cheap bank stock that has attracted the presence of activist investors. The Indiana company reported earnings a little over a week ago and showed improvement in both earnings and return on assets, as well as credit quality. There has been a lot of takeover activity in the Muncie area of late, and I am not going to be shocked by a takeover with this bank. The stock is cheap at 80% of tangible book value.
Northfield Bancorp
(NFBK)
in the New York City Borough of Staten Island, completed its second-stage mutual conversion process back in January. The bank is cheap, trading at just 90% of tangible book value, and is awash in cash after raising $356 million in the conversion offering.
Simplicity Bancorp
(SMPL)
in the Los Angeles area is still a buy at a little less than 90% of tangible book value.
So is
Cape Bancorp
(CBNJ)
, a savings bank in southernmost New Jersey, at 85% of book value.
Most of the banks that qualify for immediate purchase in a trade-of-the-decade portfolio are under $50 million in market cap right now. The larger smaller banks have been bid up somewhat with the overall market.
Right now, I find myself hoping that my caution is rewarded and we get a strong selloff. There are more than 250 banks currently trading between 90% and 125% of tangible book value, and a decent decline in stock prices would create a bank stock buying bonanza.
Please note that due to factors including low market capitalization and/or insufficient public float, we consider HFBC, MFSF, SMPL and CBNJ to be small-cap stocks. You should be aware that such stocks are subject to more risk than stocks of larger companies, including greater volatility, lower liquidity and less publicly available information, and that postings such as this one can affect on their stock prices.
At the time of publication, Melvin was long HFBC, MFSF, NFBK, SMPL and CBNJ, although positions may change at any time.
Tim Melvin is a writer from Stevensville, Maryland, who spent 20 years a stockbroker, the last 15 as a Vice President of Investments with a regional firm in the Mid Atlantic area. Under no circumstances does the information in this column represent a recommendation to buy or sell stocks. Melvin appreciates your feedback;
to send him an email.