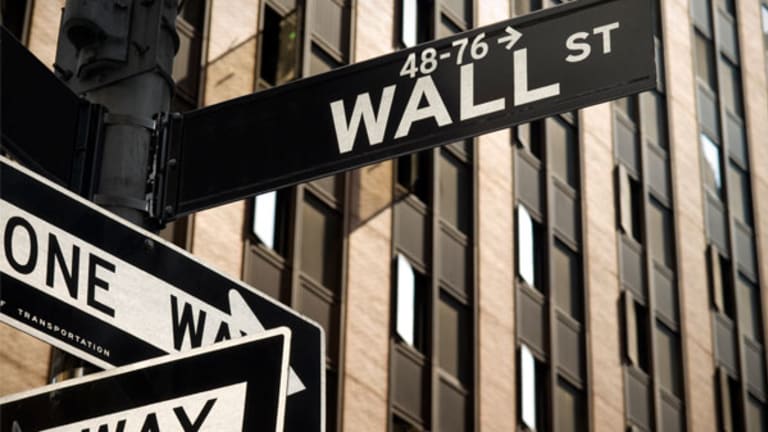 Melvin: An Utterly Frightening Market
I believe this is a time for extreme caution -- and I'm not alone.
I believe this is a time for extreme caution -- and I'm not alone.
OK, kids -- it is time to have the talk. Last night, during a discussion of markets, I gave my usual mantra of "I am more of a bottom-up guy and try not to pay too much attention to the stock market." But my friends were a little pushier than usual, and they got me to talk about the current state of the broad market. I have hinted at this before, with talks of portfolio-pruning and caution, but here's the reality: This is the scariest stock market I have seen in my career. I worry more about the market now that I did in the late 1990s. At least that market had a story and life-changing technology to fuel the excess. This one has nothing but blind faith in the
Federal Reserve
.
One of the biggest lessons I have learned in the past three decades is that fortunes are made buying into a stock-market collapse. If you look at some of the most successful investors of all time, that's how they made their money. John Templeton talked about buying at the point of maximum pessimism. Walter Schloss liked to buy stocks trading at four- or five-year lows. Warren Buffet has a knack for getting into companies like
Goldman Sachs
(GS) - Get Report
when things went bad. Sam Zell made a fortune buying real estate when no one else had been interested and when prices had collapsed. Wilbur Ross buys stuff that would freeze the innards of a less disciplined or patient investor.
U.S. stocks are nowhere near a point of maximum pessimism. For the most part, they are at four-to-five-year highs -- not lows. The market has gone straight up since the 2009 nadir and, at Monday's close, the S&P 500 was at more than 2.5x that level.
The only driver for these gains has been the zero interest rate. Earnings have not been fantastic. Revenues of late have been flat. Much of the profit gain has been driven by cost-cutting, and by financial engineering in such things as share buybacks. The U.S. economy is just drifting along in a "better but no good" mode. It has been a great run, and I have benefited enormously. But the overriding question has to be: How long can money-printing and financial shenanigans support stock prices?
Some of the smarter guys in the investment world are getting as nervous as I am. Sam Zell flatly said that stocks remind him of the 2007 real estate market, and that it's time to sell. At the Milken Conference In April, Leon Black of
Apollo Global Management
(APO) - Get Report
has said that, after market rallies, the firm sells everything that's not nailed down. At that same conference, Wilbur Ross warned of a bubble in junk bonds and said sometimes it is just better to hide. Seth Klarman's recent comments to a private business group have been widely quoted, and are the stuff of sleepless nights. He calls the current economy a house of cards that will eventually implode.
One thing all of these men have in common is that they agree with my basic premise that things are dangerously overinflated, and that the market and the economy are running on an addiction to cheap money and quantitative easing. I have no idea when this silliness will end, or of what may happen between now and then. But I do know that, when it does happen, I don't want to be caught massively long a bunch of overpriced stocks or 5% junk bonds. The red flags are flying if you take your eyes off the screen long enough to look at the window -- and, in my opinion, this is a time for extreme caution.
I put together two new money portfolios the a few weeks, one of which concentrates on just plain ordinary cheap stocks. I ended up finding enough opportunities to become about 35% invested in this portfolio, buying names like
MultiFine Electronics
(MFLX)
.
Arcelor Mittal
(MT) - Get Report
,
Pericom Semiconductor
(PSEM)
and
Volt Scientific
(VISI on the "pink sheets"). The rest is in cash and staying there for now. The same is true of my portfolio of small banks, a sector in which we are able to find enough stocks to get close to 50% invested, based on my strict criteria. Most of these names were well below $50 million in market capitalization.
What if I am wrong? What if all this financial chicanery and money-pumping actually works and reignites the economy? Here is the beauty of the deep-value investing approach. If you look back at the archives, you'll see we own things like steel companies, iron ore producers, coal companies, silver miners and banks, all bought at fractions of book value. We have been buyers of energy companies at a fraction of their net worth. Even with new portfolios at less than 50% invested and older ones at something around 70% invested, we are going to have a monster return from those stocks.
In buying what is too cheap not to own, I've left myself well-positioned even if I am dead wrong with my cautious approach. If things do blow up in the next few years, existing positions will feel some pain, but I will have a lot of cash to take advantage of the point of maximum pessimism.
If you aren't concerned about the markets and the economy right now, I suspect you just aren't paying attention. Rely on caution and value to protect yourself no matter what happens out there.
At the time of publication, Melvin was long PSEM, MFLX, MT and VISI, although positions may change at any time.
Tim Melvin is a writer from Stevensville, Maryland, who spent 20 years a stockbroker, the last 15 as a Vice President of Investments with a regional firm in the Mid Atlantic area. Under no circumstances does the information in this column represent a recommendation to buy or sell stocks. Melvin appreciates your feedback;
to send him an email.