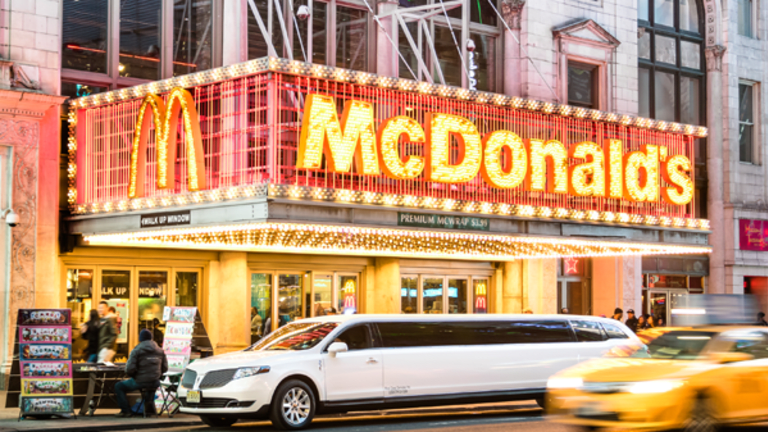 McDonald's Turnaround Needs a New All-Day Push
The fast-food king seems to be in a state of quiet internal chaos.
What is going on at McDonald's (MCD) - Get McDonald's Corporation Report ?
From downplaying the use of the iconic Ronald McDonald (while the company at the same time asks for donations of pocket change for Ronald McDonald House) due to the global outbreak of destructive clowns, to leaked departures (due allegedly to retirement) of senior execs, this isn't the McDonald's that investors warmed up to under CEO Steve Easterbrook. That McDonald's -- whose shares rocketed higher in 2015 -- was seen as firmly on the comeback trail.
There was a clear focus on improving food quality, enhancing marketing messages, getting the drive-thru speedier and putting power back in the hands of franchisees to innovate on the menu. Excitement about all-day breakfast pumped up Wall Street's sales estimates, and there was faint hope for the launch of a transformational global ordering app by later this year. Sprinkle in the move to re-franchise U.S. restaurants and sell off some overseas operations, and McDonald's indeed had a ton of good will on the Street.
Now, McDonald's seems to be in a state of quiet internal chaos. The company will have to replenish the executive ranks and have these new execs -- likely from outside the company -- impress Wall Street.
Moreover, the execs are likely to unveil their own set of initiatives that Wall Street will heavily scrutinize. Chaos, even though McDonald's will strongly deny that is the case. One gets the sense, nonetheless, that McDonald's is tossing in the towel on 2016 -- one chock-full of a full-blown restaurant recession and a trend toward eating at home -- and will look to woo investors again sometime in 2017.
Keep in mind the timing of these announcements, which comes just before third-quarter earnings are released in the view of a lackluster second quarter. The news suggests McDonald's hasn't regained a ton of momentum in the U.S. after its turnaround badly stalled in the second quarter.
Same-store sales in the U.S., its largest market, rose 1.8% from the prior year during the second quarter, badly missing Wall Street forecasts for a 3.2% increase. Of particular concern is that same-store sales growth cooled drastically from a 5.4% increase in the first quarter.
McDonald's promised it will add items to its all-day breakfast menu and enhance its core items this fall in a bid to jump-start sales. These efforts have been met with a snooze by investors and maybe by consumers getting tempted by Chipotle's (CMG) - Get Chipotle Mexican Grill, Inc. Report discounted grub and a barrage of new food offerings from Dunkin' Brands (DNKN) - Get Dunkin' Brands Group, Inc. Report .
And then there is the 1,000-pound gorilla in the space: The new guy leading the all-important U.S. business has a giant hole in his resume. Chris Kempczinski, who will take over Jan. 1 as head of McDonald's U.S. from retiring Mike Andres (who was the architect of the U.S. turnaround), has never held an executive position at a restaurant prior to joining McDonald's.
It's unclear from Kempczinski's LinkedIn profile if he has worked in a restaurant at all during his career. So that makes him a somewhat odd choice to arguably be the No. 2 exec at the world's largest restaurant chain. As is common in the fast-food space, many C-suite level executives have decades of operating experience.
Case in point is the current crop of McDonald's U.S. execs who will report to Kempczinski (for now). Other than Chief Marketing Officer Deborah Wahl, who joined McDonald's in 2014 after spending many years at homebuilder Pulte Group (PHM) - Get PulteGroup, Inc. Report , the entire U.S. executive team has decades of restaurant industry experience, mostly from McDonald's. Chief Restaurant Operations Officer Charlie Robeson, for example, began his career with McDonald's as a crew member in Dayton, Ohio, more than 38 years ago.
Something is going on at McDonald's. It smells as bad as a Big Mac left out in the hot sun for 10 days straight. I suspect we will learn more when the third quarter is delivered.
Editor's Note: This article was originally published at 10 a.m. EDT on Real Money on Oct. 18.