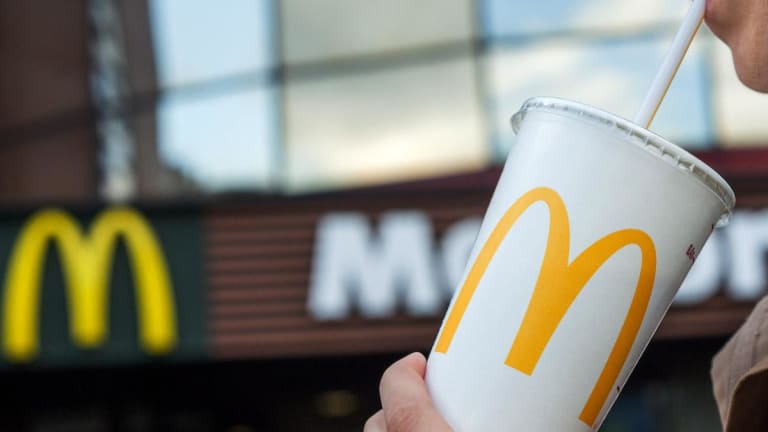 McDonald's Stock Rises on Upgrade and Price Target Hike at Stephens
Analyst praises management's moves and says consensus models leave room for positive surprises.
Stephens Inc. analyst Will Slabaugh upgraded McDonald's Corp. (MCD) - Get Report to overweight from equal weight and raised his price target on the stock to $200 from $180.
The analyst said Tuesday that McDonald's "core U.S. business is accelerating and set to show upside to consensus estimates" for the first quarter and full-year 2019.
His thesis changed based on management's decision to move some of its marketing power to local co-ops, improvements at breakfast [lapping the dollar menu hurt breakfast] ...  and likely increased menu innovation.
"Of note, consensus models a deceleration in 2-year trends throughout 2019, which we believe provides room for positive surprises," Slabaugh said.
The analyst also said that while investor sentiment flipped from "Loved" to "Concerned" prior to its fourth-quarter print, he viewed McDonald's as a "consensus long."
"Last quarter's U.S. result was in-line with expectations, and the int'l markets fared better than expected; however, the initially positive guidance for high-single-digit EPS growth was overshadowed by the Company talking down 2019 expectations on rising D&A expense (due to accelerating EOTF) and lower "other income" that has helped pad the P&L in recent years. After re-examining our model, we believe we appropriately adjust for such headwinds to the point of conservatism if comp growth is as strong as we suspect," he wrote. 
The stock was trading at $180.85, up 0.49%, on Tuesday.
There are 25 buys, eight holds and no sells on the stock, according to Bloomberg.