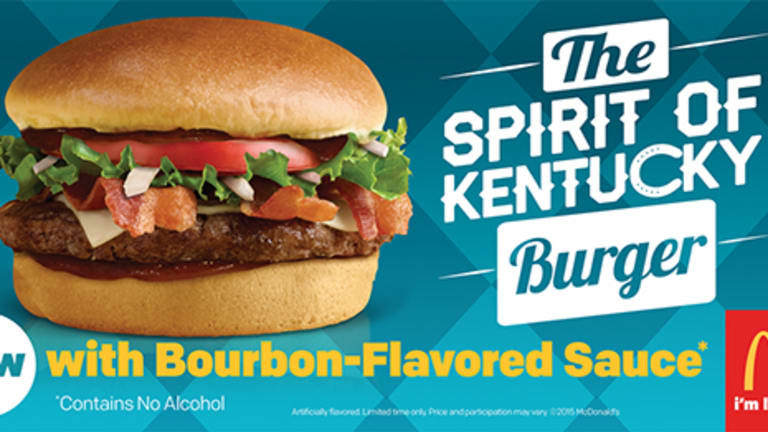 NEW YORK ( TheStreet) -- When McDonald's (MCD) - Get McDonald's Corporation (MCD) Report serves up its first quarter earnings on Wednesday, sagging U.S. sales will highlight one major weakness the burger giant needs to address -- it's moving too slowly to tailor its vast menu to local preferences. 
Nearly 90% of McDonald's 14,000 U.S. restaurants are independently owned and operated under franchise agreements. To improve its soft U.S. sales, McDonald's has to unleash the operating prowess of those franchisees. One way to achieve that is by opening the door for franchisees to be more creative with their menus based on the preferences of local customers.
Franchisee Steve Stratton, who owns six McDonald's locations in Louisville, Ky., said that for the past 30 years, McDonald's has largely had a nationally-focused menu dictated by corporate headquarters.
"I would really go way back to the autonomy that owner operators used to have at McDonald's back in the days of Ray Kroc, where a local owner operator in Pennsylvania developed the Big Mac to compete against a local Big Boys and in Cincinnati, Ohio an operator felt he was losing sales on Fridays, so he developed the Filet O' Fish," Stratton said.
This dynamic has chipped away at McDonald's dominance in local markets, especially over the past five years.
For its part, McDonald's, whose corporate headquarters is in Oak Brook, Ill., says it's mindful that it has to tap into Ray Kroc's entrepreneurial spirit to revive its flagging U.S. sales.
"Innovation at the local level has always been encouraged and celebrated at McDonald's," wrote McDonald's spokeswoman Terri Hickey in an email to TheStreet. "Our local markets know their customers best and customer preferences always play a key role in innovations and menu offerings at the national and local levels."
Hickey noted that the McDonald's culinary team has worked with "entrepreneurial franchisees" to develop new items such as a limited time offer of the Old Bay Filet-O-Fish at select restaurants in the Washington D.C., Maryland, Virginia, West Virginia and Delaware markets. According to Hickey, local or regional offerings are "part of our overall journey to evolve to our customers' changing expectations."
Indeed, Stratton and his fellow operators in the McDonald's region known as "Kentuckiana", which includes 99 McDonald restaurants in Kentucky and Indiana, were recently able to work with the corporate team to quickly develop a new local menu item--the premium-priced "Spirit of Kentucky" burger--in just three months, in time for the May 2 Kentucky Derby horse race. The burger, which features a non-alcoholic bourbon-flavored sauce and thick-cut Applewood smoked bacon, launched on April 6 to considerable media coverage, and will be available until May 30.
According to Stratton, about a year ago, McDonald's U.S. President Mike Andres came in to talk to franchisees to encourage them to develop more local menu items. "He said if you have a Hispanic market and if you think a burrito might work during the regular day part, let's talk", Stratton said. 
The "Spirit of Kentucky" burger emerged out of that discussion, following extensive tests with the folks at spice maker McCormick (MKC) - Get McCormick & Company, Incorporated (MKC) Report. "We got the operators together and went to the restaurants, met to test the burger, test the sauce (and) test the bun, which normally would be done in a test kitchen in Oak Brook," Stratton said.
The Kentuckiana franchisees also ventured to Michigan last year where there was a test undergoing of fresh-baked McCafe muffins. After tests in their own markets, Stratton and his fellow operators quickly developed their own McCafe fresh-baked muffins and have been selling them for the past six months. 
But Stratton and his fellow operators' bottom-up approach don't appear to be happening at McDonald's across the country, which is bad news for the chain's struggling U.S. sales. Wall Street expects McDonald's to report a first-quarter sales decline of about 11.4% year-over-year to $5.93 billion. U.S. same-restaurant sales rose 0.4% in January, but fell by a staggering 4% in February. Analysts are estimating that same-restaurant sales dropped by about 3.5% in March.
"I think there are a lot of people talking -- (but I'm) not sure how much action there is," said Stratton when asked if he was aware of other franchisees working to develop localized menu offerings. 
Of equal concern to Stratton and others is the slow national rollout of McDonald's ballyhooed "Create Your Taste" platform, which will allow customers to customize their burgers with high-quality ingredients. Create Your Taste is currently being tested in a handful of Australian restaurants, with the plan being to roll it out to most of the restaurants there in 2015. In the U.S., Create Your Taste is in about 15 restaurants. McDonald's execs have not set a specific number of U.S. restaurants that will get the new platform. 
"I haven't seen it", said Stratton about Create Your Taste, adding "I haven't been to McDonald's headquarters to try the new offerings, nor touched the technology."

The relationship between McDonald's corporate and its franchisee network has become frayed in recent years, the result of sluggish sales and public outcry on low hourly wages. In a recent survey conducted by Janney Capital Markets, on a scale of one to five, with one being "poor" and five being "excellent," McDonald's operators' six-month outlook averaged 1.81, the lowest score in the history of the investment bank's survey. According to the report, the figure was also lower than the 1.88 score from three months ago.
Only three of the 32 operators surveyed characterized their relationship as "good" with McDonald's, and the vast majority, 16.5, called their relationship "poor," the lowest score on the one-to-five scale. None of the operators surveyed called the relationship "very good" or "excellent."
This article is commentary by an independent contributor. At the time of publication, the author held no positions in the stocks mentioned.