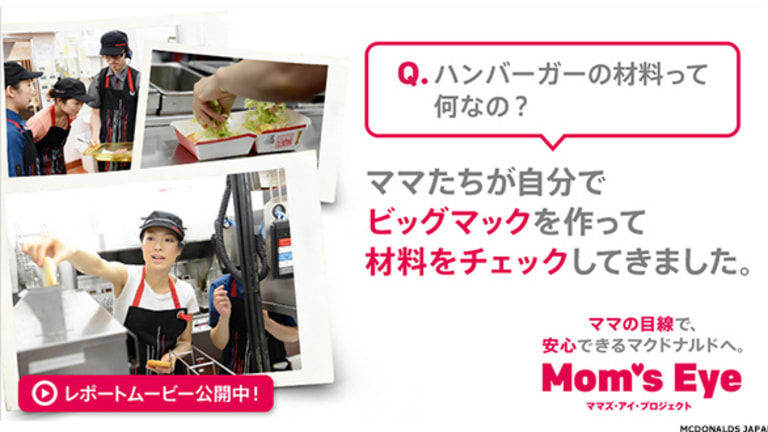 NEW YORK (TheStreet) -- Consumers in Japan are still not McLovin' the Golden Arches.
On Wednesday, McDonald's (MCD) - Get McDonald's Corporation (MCD) Report in Japan reported a 23.4% sales plunge for June. The pace of the sales decline quickened from a 22.2% fall in May.
Although the decline in the number of customers visiting stores in Japan slowed, the drop in per-customer sales accelerated, suggesting Japanese diners are continuing to shun McDonald's menu of boring Big Macs and wraps. 
McDonald's stock recently fell by less than 1% to $96.
For McDonald's Japan, which operates about 3,100 restaurants and is the company's second-largest market behind the U.S., June's results marked a serious setback as it tries to win back customers following a series of high-profile food scares in Asia in 2014. An unusual campaign to allow Japanese children and parents to make burgers in the kitchens of its restaurants, as well as the introduction of several new burgers, appeared to have little impact on results.
Sales in China have recovered somewhat, but in Japan they continue to decline at alarming rates, suggesting deeper problems there. Same-store sales in Japan declined an alarming 32.3% in the first quarter.
"Japan's recovery from the supply issue has not been as strong as China, and subsequent consumer perception issues have further depressed sales and profitability," acknowledged McDonald's CEO Steve Easterbrook on the company's first-quarter earnings call in April.
Easterbrook, who is also trying to turnaround the struggling U.S. business with the introduction of new burgers and the closing of hundreds of locations, cautioned investors to "expect results (in Japan) to continue to be negatively impacted for the foreseeable future."
To right the ship, McDonald's has decided to shutter 350 restaurants racking up losses this year, most of which are in Japan, the U.S. and China. As part of its new reporting structure that began July 1, McDonald's CFO of Asia Ian Borden will assume the responsibility of maximizing the potential of Japan, as well as another 100 markets the company views as "foundational."
This could lead to even more closures of underperforming restaurants in Japan than outlined back in April. Further, McDonald's Japan could make a push to unload locations onto franchisees to lower costs. McDonald's Japan mostly consists of company-operated stores, which carry higher operating costs relative to a franchising model.