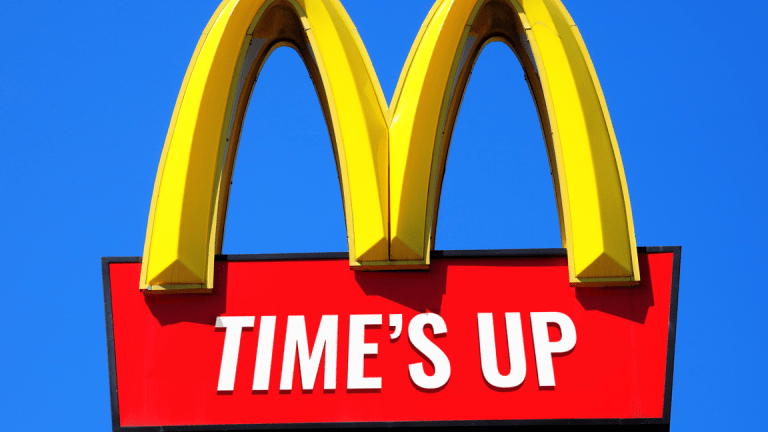 McDonald's Criticized for Not Doing More in Wake of Sexual Harassment Claims
Even though 10 women have filed claims of sexual harassment against McDonald's and franchisees, the company is unlikely to suffer much financial impact, said one analyst.
The TIME'S UP movement has knocked on the door of McDonald's Corp. (MCD) - Get Report .
How the company responds could impact the brand for some time.
Since May 18, 10 claims of sexual harassment have been filed against McDonald's and its franchisees with the federal Equal Employment Opportunity Commission by 10 different women in seven states.
The workers are demanding that McDonald's implement and enforce a zero-tolerance policy against sexual harassment outlined in the company's manual and in its franchisees' policies. They are also asking McDonald's to hold mandatory trainings for managers and employees and to set up a system to receive and respond to complaints.
"At McDonald's Corporation, we are and have been committed to a culture that fosters the respectful treatment of everyone. There is no place for harassment and discrimination of any kind in our workplace," McDonald's responded in a statement. "McDonald's Corporation takes allegations of sexual harassment very seriously and are confident our independent franchisees who own and operate approximately 90% of our 14,000 U.S. restaurants will do the same."
Yet one crisis-management expert criticized McDonald's for shifting the blame to its franchisees, and a marketing executive believes McDonald's response needs to go beyond the immediate situation.
"It's early, but so far I've just seen a corporate response that acknowledges the seriousness of the suit, but seeks to shift responsibility to franchised operators," Dorothy Crenshaw, a principal of Crenshaw Communications in New York City, told TheStreet. "The corporation should shift into high gear in its response and become far more proactive."
Stefania Pomponi, a marketing consultant and founder of the firm CLEVER, based in San Francisco, had this to say: "Whether stores are brand-owned or franchisee-owned, their name is on the restaurant. If they care about standing up for their women employees and fixing this problem, they will ensure all of their restaurant managers have ongoing sexual harassment training, will hold management accountable for issues in their stores and create a culture where anyone who feels harassed or marginalized can speak up and be heard."
McDonald's declined to respond, beyond its corporate statement, to a request by TheStreet about specific actions it may take and the criticism leveled against it.
Analyst Lynne Collier of Cannacord Genuity in Dallas, told TheStreet on Friday, May 25, that while she is sympathetic to the women who filed complaints, she also sees the corporation's side in that these incidents took place at franchisee-run McDonald's that aren't controlled by the corporation. 
But what McDonald's can do, she said, is provide training to employees and managers to counter sexual abuse. Through it all, she added, McDonald's is unlikely to see damage to its reputation or a material impact as a result of the complaints.
Since May 18, the date the first complaint was filed, McDonald's stock has risen by 1.9%. It closed at $163.21 per share on Friday, May 25. McDonald's shares have fallen by nearly 6% so far in 2018.
In late April McDonald's reported first-quarter earnings per share and same-store sales that beat consensus expectations, both in the U.S. and internationally.
Shortly after the earnings report, Jim Cramer, TheStreet's co-founder, praised the company's CEO for "reenergizing the franchisees" and for the company's "tremendous belief in technology."
The complaints against McDonald's and its franchisees include several graphic allegations.At a New Orleans McDonald's, a worker said that after reporting a co-worker had groped her, the manager said she should take it to the "next level" with him. When a second employee tried to sexually assault her in the restaurant's bathroom, she chose not to report it because her first complaint was ignored.
Several of the women who filed complaints with the EEOC said they feared reporting the offensive behavior because it often triggered more harassment and retaliation and they feared losing their jobs.
The TIME'S UP Legal Defense Fund is providing financial support to help defray the costs for the 10 women. The movement TIME'S UP was started by 300 women in Hollywood, including actresses Reese Witherspoon and Natalie Portman and TV producer Shonda Rhimes, in the wake of sexual abuse charges made public in October 2017 against Harvey Weinstein, a once-powerful movie producer. Eventually, dozens of women reported that they were sexually abused by Weinstein. Some 20,000 people have contributed $21 million to the fund aimed at helping mostly low-income workers.
The latest development in the Weinstein story came on Friday as he was charged in New York Criminal Court with rape, a criminal sex act, sexual abuse and sexual misconduct against two women. Weinstein was not required to enter a plea, but Benjamin Brafman, his attorney, said that Weinstein intended to plead not guilty.
In the EEOC cases against McDonald's, TIME'S UP has teamed up with the union-backed Fight for $15 to have McDonald's designated a "joint employer" of workers at McDonald's franchises and thereby liable when its franchisees violate labor laws, according to a Reuters article.
But Reuters reported that "in two earlier labor law cases, federal judges in California have said that McDonald's does not exercise enough control over franchise workers to be considered a joint employer."
If the EEOC deems that the cases have merit, the federal agency would then seek to broker a settlement between the two parties. If that process breaks down, the EEOC could sue directly or issue "right to sue" letters to the workers.
Regardless of what McDonald's chooses to do, one thing is certain. It now sits squarely in the middle of the reckoning on sexual abuse in the workplace, in an industry so rife with such problems that some 40% of workers say they've been sexually harassed on the job.
In the restaurant world, as in politics, business and Hollywood, it is the famous, powerful men who have been called out first for sexual abuse. One involved high-profile New York-based chef Mario Batali for a number of alleged abuses. According to the New York Times, the New York Police Department is investigating one charge of sexual assault by Batali.
In a statement to CNN, Batali said: "I vehemently deny any allegations of sexual assault. My past behavior has been deeply inappropriate and I am sincerely remorseful for my actions."
Working for restaurant owners and influential chefs are armies of waitstaff, cooks, bartenders, sommeliers, bussers, dishwashers and cleaning staff, many of whom are paid poorly and dependent on them for jobs. 
"The best public response is one that represents a real commitment on the part of the company on behalf of its franchisees, too - financial and otherwise," added Crenshaw. "It needs not only to make things right through financial damages paid, but to make a tangible investment in training and accountability."