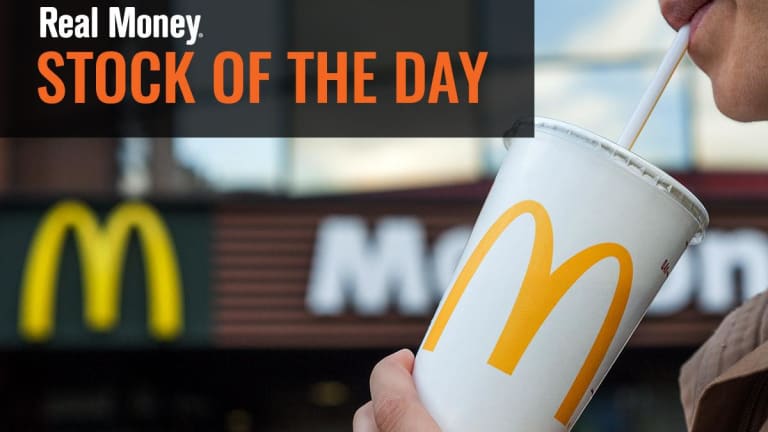 McDonald's Stock Seems a Bit Expensive
Here are 2 trade ideas for MCD.
They Lined up. One after the other. A cynic might start to think that many analysts just copy each other in order to keep from straying too far from consensus. I don't know, but I do look at the names and past performance. Starting with November 20th, when David Palmer of RBC Capital Markets made his call, and culminating with Andy Barish of Jefferies one week ago, seven, count them.... seven analysts as rated by TipRanks as worthy of four stars or more (out of five), either placed or reiterated a "Buy" rating on McDonald's (MCD) - Get Report , and then either juiced or reiterated attractive target prices as well.
What do they say? Morgan Stanley's John Glass seems to be a fan of the chain's efforts to modernize the stores, and expects to see these efforts show up in sales in 2019. Glass referred to MCD as a defensive stock, and he was not too far off as the name has performed more as one might think a Staple might, despite Restaurants and Bars being in my opinion at least, more of a discretionary name. Several other analysts back the idea of this strategic makeover as most likely effective.
Tell You What
Every Sunday night, my family goes to 5 pm Mass. (I'm Irish Catholic. Wanna fight?). It has become our little tradition that on the way home, we stop at our local McDonald's for a meal, before I disappear into my office for the end of weekend cram session as equity index futures crank it into gear for the week. I'll tell you what... that new Quarter-Pounder? That's no joke. Since the firm switched over to fresh beef, on a dollar for dollar basis, their burger is just as good as anyone else's. If you gave up on McDonald's before the switch, then you honestly have no idea.
Some Fundies
The stock seems a little expensive at 22 times forward earnings. Is it worth it? Let's take a look at the balance sheet. Cash Flows are fine. Debt is higher year over year, while cash and equivalents are lower. Makeovers cost money, and both Quick and Current Ratios indicate a firm that will have no problem anytime soon meeting obligations, so we'll chalk that up as understandable. Gross Profit Margin as well as Operating Margin are both considerably higher on a yearly basis. That right there is where the higher valuation comes from.
The integration into the "stay at home" economy through delivery services may cut into that somewhat as the idea further develops. We'll see. The firm did increase the quarterly dividend to $1.16 late this year, now yielding 2.51%. That information is key to potential shareholders. In other words, if an investor buys 100 shares of this stock, even without all of the creative moves that we often make in the options market, that investor's net basis will decrease by $4.64 every year the position is held.
The Chart

Solid Money Flow, don't you think? No sign of the misery that has permeated the marketplace for two months. Relative Strength just that... relatively strong. The daily MACD seems to want to pull the name in a little, but our old pal Fibonacci implies that there is support above 175, which happens to be about a buck beneath the 50 day simple moving average.
What most strikes me is the stock's general obedience to the Pitchfork model since early August, especially the fact that the share price has more or less remained in the upper chamber for nearly six weeks. I want to buy this stock, but I think I can get it cheaper. McDonald's reports on January 28th.
Trade Ideas (minimal lots)
Set It and Forget It
- Purchase 100 shares of MCD at or close to the last sale of $184.33.
- Sell one Jan 2020 $200 call (implied value: $9.68)
Note. The sale of the call drops net basis to $174.65. The four quarterly dividend payments that this investor will be in line for will come to $4.64. That drops net basis further, now down to $170.01. Would you pay $170 for something worth $184, at the risk of having to sell the shares at $200 in a year for 17.6% profit? If the trader still owns the shares in January of 2020, that trader repeats the mission. No thinking for a year.
More Adventurous? (Less Dough to Spend Up Front)
January 25th 2019 $177.50 puts are implied at a value of $2.56. The $175 puts with the same expiration are implied at $2.18. Selling either one of those will put some nice meal money in your pocket, at the risk of having to buy the shares at what looks like support. The drawback here is... no equity ownership unless you get tagged... no dividend.
(An earlier version of this column appeared at 10:53 a.m. ET on Real Money, our premium site for active traders. Click here to get great columns like this from Stephen "Sarge" Guilfoyle, Jim Cramer and other experts throughout the market day.)
At the time of publication, Stephen Guilfoyle had no position in the securities mentioned.