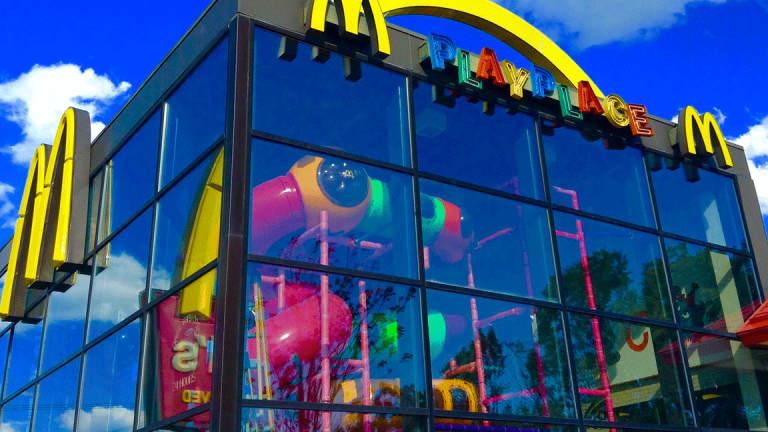 McDonald's Shares Dip as Revenue Falls
Second-quarter revenue falls 12%.
McDonald's Corp. (MCD) - Get McDonald's Corporation Report  beat estimates on the top and bottom line in its second quarter on Thursday, July 26, yet revenue for the period was lower than a year earlier.
Adjusted earnings were $1.99 a share on sales of $5.345 billion vs. versus the Factset estimate of $1.92 on sales of $5.34 billion. Revenue in the quarter was down 12% from $6.049 billion the same time last year, pushing shares down 0.72% to $157.75 after the market's open.
Operating income in the quarter dipped 1% at $2.26 billion vs. $2.29 billion last year. About 40% of the company's operating income was generated outside the U.S.
In the U.S., second-quarter same-store sales rose 2.6%, driven by an uptick in the average check, resulting from both product mix, shifts and menu price increases, according to the company. Analysts expected a 3% increase. Internationally, comparable sales increased 4.9% for the quarter, driven primarily by business in the U.K. and France.
Assuming no change in cost structure, the company said, it expects a 1 percentage point change in comparable sales for either the U.S. or internationally could change annual earnings per share by about 5 or 6 cents. McDonald's also said it expects capital expenditures for 2018 to be about $2.4 billion, of which $1.5 billion is earmarked for the U.S. to speed up the rollout of the Experience of the Future, a modernization of some 1,000 stores with kiosks for ordering and other changes.
 "We've now marked for 12 consecutive quarters of positive comparable sales, and we are confident that we're executing the right strategy to achieve long-term profitable growth," CEO Steve Easterbrook said in a press release.
The Oak Brook, Ill.-based fast food chain also said that about 75% of its grocery bill includes 10 different commodities, which the company said is a "comprehensive way" view its commodity costs. That bill is expected to increase between 1% and 2% in the U.S. and about 2% internationally for the year.