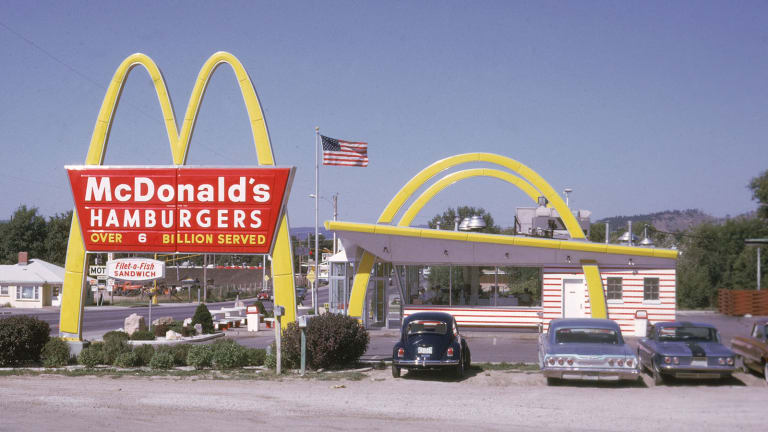 MCD, CMG, VRX, HLF: Jim Cramer's Views
Jim Cramer shares his views on the turn at McDonald's and a stunning decline. McDonald's, Chipotle, Valeant and Herbalife are among the stocks discussed here.
NEW YORK (Real Money) -- Jim Cramer shares his views every day on RealMoney.Click here for a real-time look at his insights and musings.
McDonald's May Be Set Up for Multiyear Move
Posted at 3:13 p.m. EDT on Thursday, Oct. 22, 2015
You know what's the greatest, most remarkable thing about the turn at McDonald's  (MCD) - Get McDonald's Corporation (MCD) Report? It's in the first inning, that's what. It's just beginning, and while I don't like to chase stocks that are up eight points and are at their 52-week high, I think the pinions are in place for a multiyear move.
Here's why.
First, this turn is all about Steve Easterbrook, the chief executive officer, who came in just seven months ago and decided he had to fix the fundamentals, mostly the difficult menu and costly mistakes and long lines at the drive-through. He started removing menu items that gummed up the works and he emphasized that McDonalds would go back to its core mission of inexpensive, good-tasting foods that are convenient and consistent.
Most important, though, behind the scenes, Easterbrook did what many thought to be impossible: He got the buy in of the franchisees, the ones who run the chain day-to-day. He explained to them how he wanted quick change, that he was not going to fall back and say, "I know we are so big that this stuff will take forever to change, but we are going to do so anyway." That had been the excuse for so many failed initiatives.
Instead, he tested the new menu items, including, importantly, more chicken, in April, one month into his tenure, got feedback from the franchisees and millions of customers, then rolled out everything nationally in October. I think that might even be hard for the nimble Chipotle (CMG) - Get Chipotle Mexican Grill, Inc. Report to do, but not too hard for Easterbrook.
Once the franchisees caught the excitement they added to staffs, they started cleaning up better, putting more money in because, in the end, Easterbrook knew that food retailing is a psychological game. You start to see better results, the people who run the stores get energized and they pick up the pace to the point where 98% of the owners had bought in -- a phenomenal turn for an organization that was supposed to be dispirited with angry franchisees who had lost faith in headquarters.
But there are no champagne corks popping at Oak Brook. Sure, they are rolling out all-day breakfast. But, more importantly, they are rolling out technology, such as the computerized self-ordering kiosks used in Australia where you park, you swipe a card and the food is brought to your car, eliminating the car lines. Or increasing the ways you can order, as right now you can only stand in line or pull up by car. The handheld app will hold the key.
I know the focus is on the U.S., which finally has growth. But overlooked in all the good domestic news was the shocking turn in China, where the comparable stores rose an amazing 26.8%, bringing them back to where they were two years ago before some bad publicity knocked them down. I think it's just the beginning of a major turn as the Chinese are flocking back to McDonald's even as they have been staying away from KFC and Taco Bell, at least for now.
I have been a huge fan of Easterbrook ever since he came in because he knew things were broken and he knew he had to get it right and get it right fast, as he had done for Europe. He knew simplification was the key to fixing the fundamentals. He's got that in place. Now it's on to actually improving everything about the experience and making McDonald's fun again, as it was when my kids were little and we didn't go anywhere else.
Count me as a believer. I think we will look back and marvel at how this was just the beginning of the turn. Easterbrook is the real deal and McDonald's is back and just might be bigger than ever.
At the time of publication, Action Alerts PLUS, which Cramer co-manages as a charitable trust, had no positions in the stocks mentioned.
For Valeant, the Selling Is Not Done
Posted at 5:28 a.m. EDT on Thursday, Oct. 22, 2015
When you see rip-your-lungs out declines like that from Valeant  (VRX) , almost cut in half yesterday, you know one thing: the shareholders in these stocks are the worst. They either don't know what they own or they don't believe in it -- including the fact that it is, or purports to be, cash flow positive -- and are just waiting for a couple of up days to unload, days that won't come or are going to be such a rarity, that you would rather sell at any price.
The stunning decline in VRX is one that will be remembered for the ages, one that I have only seen during the dotcom period, or when a very levered company says it simply can't pay the bills, not a company with positive free cash flow. When I saw that stock go from $150 to $88 in just a few hours   on the charges leveled by Citron that it was an out and out fraud, I recognized that there's simply no way the holder had any conviction in this one at all. Sure, it is tough to be able to hold a stock through a trouncing like that stemming from Citron's report that Valeant used a middleman to stuff the channel with product, and calling it Enron Part Deux.
Now, I have seen stocks in my time that have rallied big and then given up a lot of those gains -- but this stock has now retraced a phenomenal 160-point move year over year.
When you see that kind of reversal, you can conclude several things: one is that it should never have been up there to begin with, and was given way too much credit for the acquisitions it made, ones that were then put through the tax inversion to pay the U.S. less in taxes. A second is that it's just a big phony and is going to revisit the intraday levels, unless it can fully address the charges and come out unscathed from the various investigations of the entity. A third is that the shorts have it on the run and the earnings, which were just reported, are now meaningless.
Now, Valeant did itself no favors when it came out earlier this week and said that it was going to start changing its business model and no longer rely on price hikes while doing more research and development. The problem with that approach is that many of the faster money shareholders liked it for precisely the opposite point of view: that it was rationalizing the process and making more money with less.
I don't know how the entire shareholder base doesn't turn over now that the story has changed and the subpoenas are flying. No one who bought this stock on the way up wants to see either happening.
When a company changes stripes like that, you can bet it will be a source of funds for the ages. Unless it can suddenly put a dividend and a buyback in and discuss a steady, well-researched pipeline, I think this is the new normal for this stock, which did trade as low as $76 back in May of 2013, where it sure feels like it is going.
Now, it is true that hedge fund manager Bill Ackman bought two million shares in Valeant yesterday, adding to his already considerable stake of 19 million shares, or slightly more than 5% of the company. But that's not the kind of investor who can put in a bottom. It takes a different kind of holder, a giant mutual fund or two to step up to the plate and buy some. That simply hasn't happened. Oh, and how ironic, isn't it, that the only other time I have seen such a swoon in a stock that I can recall was when Ackman trashed Herbalife (HLF) - Get Herbalife Nutrition Ltd. Report in front of a national television audience.
The result? Despite the actual cash generation of this company, I think the selling's not done. If anything, I expect that we will see those lows again if something negative comes out again that's not a rehash of what has already been out. And given that Valeant had been a leader in the group, believe me when I say that without a sustained advance in this very wounded stock, this group -- and by that I mean health care -- just can't return to any of its former glory, especially not in a world where the hospital stocks, last year's darlings, and the biotechs, now subject to such pricing scrutiny, can't get out of their own way.
At the time of publication, Action Alerts PLUS, which Cramer co-manages as a charitable trust, had no positions in the stocks mentioned.