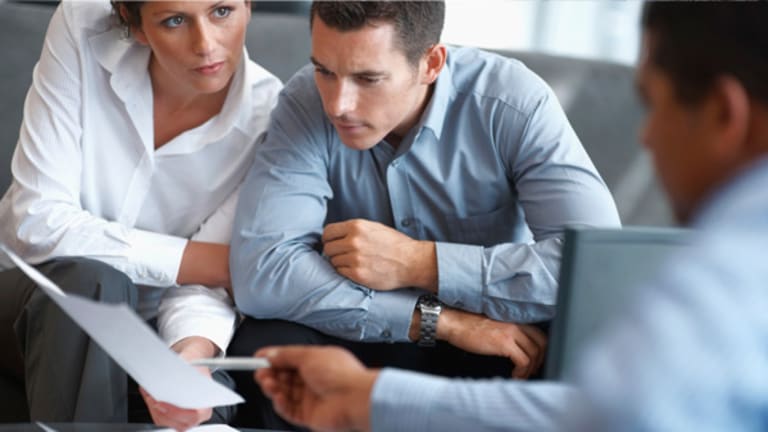 Maximize Results With an Organization Performance Management System
Successful managers use organization performance management as the primary tool to manage their business.
NEW YORK (TheStreet) -- Identifying a successful sales manager is easy. Just ask, "How do you spend your week?" A typical manager will tell you that he is so busy and everyone fights for his time. A successful manager will describe his plan; "On Monday, I conduct 45 minute one-on-one pipeline reviews in the morning. On Tuesday afternoon, I go on customer visits to coach my reps. On Wednesday ..." Many sales managers live a harried life; the business manages them. But the best managers live a relatively calm life; they manage the business. Successful managers use organization performance management as the primary tool to manage their business.
An organization is like a machine. It takes input from somewhere, processes it and produces an output. As with every machine, all parts must work in synchrony. Yet, in my experience, rarely can executive team members even agree on the desired organization output. That's a problem.
If I think customer satisfaction is the organization's main goal I will cut the price low and staff up. If you think profit is the main goal, you will price high and staff down. And we will fight every day. Sure, customer satisfaction and profit are both important, but when it comes to the hundreds of micro decisions we both make every day, my decisions will not align with yours.
An Organization Performance Management System (OPMS) forces a common view of the input, the process and the output. The system comprises two main parts: 1. Setting organization performance measures and 2. Managing organization performance.
SETTING ORGANIZATION PERFORMANCE MEASURES
The first step for setting performance measures is to clarify the organization's output -- "what" the organization must deliver. Let's call these Key Performance Indicators (KPIs).
Every organization has a mission that defines its purpose. Effective KPIs quantify that mission. Look for one overall performance measure -- the main thing the organization must accomplish.
In sports, the one measure may be "winning percentage." Or, it may be how far the team goes in the playoffs. In revenue generating organizations, it may be one measure of profitable growth. In field marketing, it might be closed sales from marketing leads.
Agreeing on the ultimate measure of performance is important for creating alignment. But one measure is rarely enough. Add 4-6 supporting KPIs for a more complete view. It is important to note that too many performance measures dilute focus; and most scoreboards have far too many.
The second step is to define Critical Success Factors (CSFs). CSFs are necessary and (almost) sufficient conditions for success. Theoretically, if the organization performs well on all CSFs, it
will
deliver its KPIs.
The CSF measurement level is where real management takes place. Too many managers try to manage KPIs with "Make your quota!" But that's like a soccer coach yelling, "Score goals!" Good soccer coaches focus on how to score goals. Trying to manage the scoreboard is a losing game.
The third step is to define "key projects." Since CSFs are defined as necessary and sufficient conditions for success, all projects should align to one or more CSFs.
Key projects are new initiatives, not routine work (e.g., closing the books each quarter). When this definition is not followed, executive teams quickly become buried in projects and lose focus on what is truly important to drive performance of each CSF.
KPIs and CSFs are unlikely to change over the fiscal year. But projects will change as the business changes. Thus, the project list should be reviewed/renewed monthly to ensure that all current work remains clearly aligned with changing business needs.
Setting the scoreboard requires the entire management team to come together and have a vigorous debate on what is important. It is a forum to force consensus. You may think that these agreements were finalized during the strategy planning process. Rarely is the strategy process sufficient to create real clarity. Clarity requires continuous attention to strengthening a shared viewpoint.
Don't rush the conversation. And don't set time limits. Work through the issues until you build consensus. Then, do it all over again next quarter.
MANAGING ORGANIZATION PERFORMANCE
The objective of OPMS is to improve organization performance. By itself, a scoreboard cannot improve performance. Improving performance requires real-time feedback through regularly scheduled business reviews.
How frequent are "regularly scheduled" reviews? That depends on the sales/process cycle. For Boeing sales reps with a two-year sales cycle, quarterly reviews might suffice. For call center sales, weekly reviews might be more appropriate.
Several years ago in IBM Japan, an organization design change transformed the sales executive role into a general manager (GM) role. The IBM Asia-Pacific GM asked me to help improve general management skills. My first reaction was to go to a business school and look for training. But I spoke to three of IBM's best GMs and they all gave me the same recommendation -- change the business review. "If you ask for Days Sales Outstanding (DSO) the first month and they don't know, embarrass them. After a several reviews, they'll be GMs." I learned that great reviews are often a more effective development tool than great training programs.
Finally, a common missed step for managing organization performance is broadly communicating results. How much fun would sports be if there was no scoreboard? A scoreboard helps maintain direction and improve employee confidence. Confidence is critical in the success of sports teams. Why would it be any different for business teams?
If you want to increase your success as a manager and run a calm organization, manage your business -- don't let your business manage you. Envision your organization as a machine. Your main task is to continually improve the output of that machine. Such improvements necessitate a highly disciplined organization performance management system. Make organization performance management your first responsibility.
This article is commentary by an independent contributor, separate from TheStreet's regular news coverage.
Hall is managing director of Human Capital Systems (www.humancapitalsystems.com), a firm that designs systems for improving workforce performance. He is also an instructor in Duke Corporate Education's teaching network and author of The New Human Capital Strategy. Hall was formerly a senior vice president at ABN AMRO Bank in Amsterdam and IBM Asia-Pacific's executive in charge of executive leadership and organization effectiveness. During his tenure, IBM was twice ranked No. 1 in the world in
Hewitt/Chief Executive
magazine's "Top Company for Leaders." Hall completed his Ph.D in industrial-organizational psychology at Tulane University, with a dissertation on people management practices of Japanese corporations.