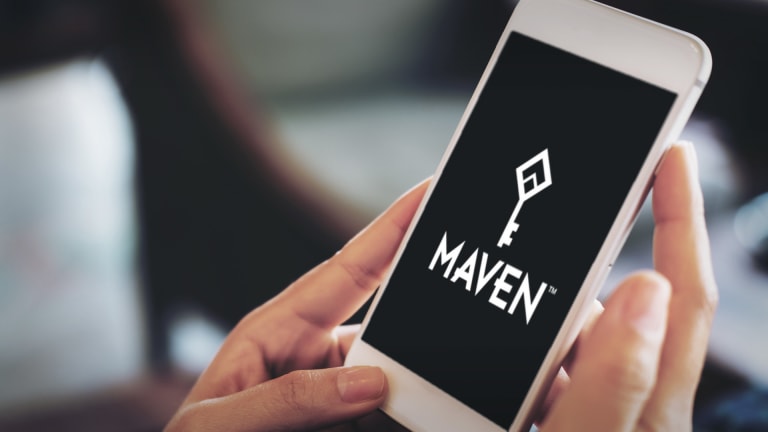 Maven to Lay Off 9% of Staff, Revenue Reduced $30 Million From Pandemic
Maven CEO James Heckman tells employees the company is reducing costs, including cutting jobs, in response to the coronavirus pandemic that has impacted the company's operations.
Maven Media Brands  (MVEN)  said Monday it will be laying off employees and senior management will see a 30% reduction in their salaries as the coronavirus pandemic impacts the company's operations.
CEO James Heckman, in a letter sent to employees, explained the company's loss of revenue and its decision to reduce its operating budget.
Job cuts will be made in all departments, the CEO said.
Maven said it cut more than $4 million in non-payroll costs by merging operating costs of TheStreet, the web site founded by Jim Cramer that it purchased in August 2019, and LiftIgniter, which Maven acquired earlier this month. Part of the savings came from a cut in general vendor agreements.
Maven said Monday it would be cutting only 6% of the editorial department of Sports Illustrated.
Maven entered a long-term partnership with Authentic Brands Group to license and operate the Sports Illustrated media business distribution rights for Sports Illustrated in June 2019.
Here is the full letter from Maven CEO James Heckman:
To Everyone on the Maven Team:



First and foremost, we hope you and your family are safe during this incredibly difficult time as we all face the challenge of the novel coronavirus. Your work has been superb under unprecedented, challenging circumstances and, for many of you, while experiencing wholesale structural changes to your lives and the way you do business. Rallying to deliver outstanding experiences for consumers while working remotely is a testament to your commitment to your profession and fellow team members.

As our normal way of life and doing business has been dramatically disrupted, so has the entire media industry, including advertising budgets. While our unique visitors, engagement, video views, and partner signings are strong and continue to grow efficiently, the industry is seeing a dramatic pullback in "sponsorship" budgets and a 40% decrease in programmatic CPMs. Major events such as March Madness and the Olympic Games, as well as the entire sports season, have been lost.

As a result, and after consulting senior agency executives and analyzing pricing data across the industry and Maven's 300 media properties, we're anticipating a $30 million reduction in revenue for 2020, comprised of a $17 million reduction in sponsorship sales, $10 million reduction in programmatic CPM-driven sales, and $3 million in other revenue initiatives, such as events. As discussed on our recent company call, Maven's model was "built for" the transition of media models from old to new, thus, we believe we are well positioned to grow brands, journalism, and monetization. However, during this accelerated transformation, we must manage our operating budget with care.

And so reluctantly, but appropriately, we're taking decisive steps to ensure stability and long-term sustainability by reducing our annual operating budget by :

• Most planned new hiring has been put on hold

• $4 million-plus cut from non-payroll operating expenses by accelerating efficiencies and reducing duplication from recently merged businesses (TheStreet, SI, LiftIgniter), including print and studio production, circulation, and general vendor agreements

• Workforce reduction of 31 people (from 332), or approximately 9%

-All departments affected, including engineering, finance, editorial, G/A, studio

-Senior management and sales are absorbing two-thirds of the total payroll cuts

-SI journalists represent 6% of the overall cost reduction

-Affected employees receive at least one month of severance; two months of health benefits

• Remaining senior management and high-salaried leaders are reducing their 2020 compensation by 30 percent, amounting to a $4.4 million savings

-These "senior" cuts saved more than 30 jobs, thus avoiding a 20% workforce cutIn addition,

Maven has secured a $12 million credit facility with B. Riley Financial, to provide a financial buffer in case economic matters deteriorate further. We're grateful for their confidence in our business model and more-than-fair terms - pushing out maturity and payments past one year, including current debt - with the goal of helping us to continue to run fast and safe as we run lean.

The hardest, sobering reality is that we are letting go of 31 friends, colleagues, and trusted professionals at the worst possible time for them. Our hearts ache for them and their families. This is especially difficult to digest because of the speed of the global economic downturn. No words can soothe the pain of losing a job, but please reach out to those you know and stay connected.

At the same time, our duty and responsibility is to provide a stable future for our remaining 300 team members and to the future of a business that is sustaining hundreds of struggling media companies and journalists that would be at risk of job loss or insolvency. We have a duty to journalism and to each other to survive and thrive, and that we plan to do.

Our actions today are comprehensive, were carefully planned, and not part of a piecemeal or rushed reaction. We started the process and acted as soon as we saw the crisis escalating. Our revised budget plan is anticipatory, and gets ahead of the curve in a surgical way. We wish we could change the circumstances, but we are now positioned — with a talented, experienced team, diverse revenue streams, and a powerful business platform — to weather the ongoing COVID-19 storm and help independent media companies who are not. I cannot thank each of you enough for your dedication, professionalism, resourcefulness, and passion for the work you do. Please don't hesitate to contact me or your departmental leaders if you have questions or concerns.

Thanks for all you do.

James Heckman

Maven CEO