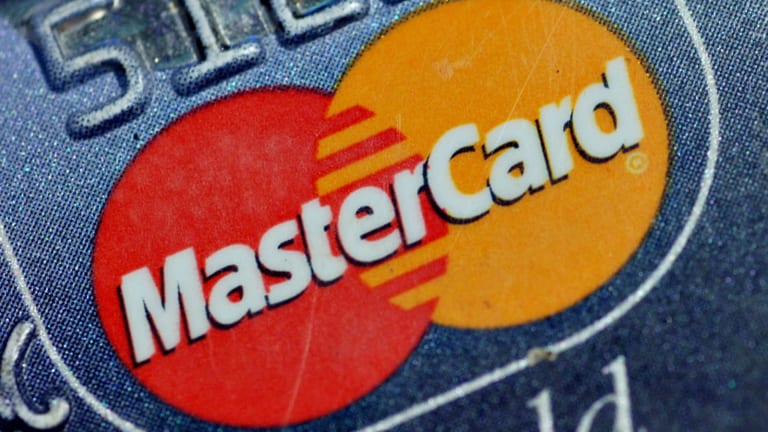 MasterCard 2Q Revenue Growth Compelling Despite Global Concerns
MasterCard topped second-quarter estimates as the company saw a 13% increase in revenue with double-digit growth in international volumes and customer spending.
This article, originally published at 9:32 a.m. on Thursday, July 28, has been updated throughout with comments from analysts and executives.
MasterCard's (MA) - Get Report  shares continued to rise Thursday, after posting better-than-expected second quarter results, as the credit processor said it didn't feel any significant impact from Brexit, is winning deals to expand its market share and is strengthening its international presence. 
"This is a company that's really standing out from a performance perspective with double digit earnings and revenue growth," said Jim Tierney, AllianceBernstein chief investment officer of U.S. concentrated growth, in a phone interview. "This is a company in a really lousy global environment that grew their revenues 13% and grew their earnings 13%."
New and renewed partnerships and acquisitions, along with a strong U.S. economy allowed the credit card processor to be upbeat about the future, while also being cautious about China's new rule regarding payment networks and pending litigation. In June China released its final payment network regulations, allowing Visa and MasterCard to operate in its country, however MasterCard needs more clarification on how to move forward in the new environment.
Purchase, N.Y.-based card-processing network posted adjusted earnings of 96 cents a share, compared with the 90-cent average of estimates in a Bloomberg survey, benefited from strong consumer spending, as purchase and transaction volumes were up by double digits.
Revenue increased 13% from a year ago to $2.7 billion, beating estimates of $2.6 billion, as worldwide transactions climbed 14% to $13.7 billion.
Other revenue, which includes MasterCards's advising and consulting services businesses, was up 25%, mostly due to the newly acquired acquisition of cloud-based analytics provider, Applied Predictive Technologies (APT) in April and its safety and security product offerings, the company said. 
Still, the bottom-line benefits of revenue growth were curbed by a 15% increase in expenses, which reached $1.3 billion as the company invested in strategic initiatives and grappled with increasing legal cost. Net income increased 7% to $983 million, reflecting costs related to legal cases in the U.K., the company said.
In the U.K. retailers said that MasterCard's cross-border interchange fees were "anticompetitive," and the company estimated a settlement of $270 million. In June of 2015, the company paid $61 million to retailer Tesco. 
"The court ordered a portion of the damages it had been seeking and that amount, along with anticipated legal fees and cost, was taken as a charge in the second quarter," Ajay Banga, MasterCard president and CEO said on the conference call.
Also U.K. customers filed a class action lawsuit against MasterCard seeking £19 billion ($24.6 billion) in damages related to fees that they said had been "anticompetitive" and unlawfully high for 16 years. Both Visa (V) - Get Reportand MasterCard are simultaneously facing legal claims from retailers such as Walmart (WMT) - Get Report  and Home Depot (HD) - Get Report . Last month, a federal appeals court overturned an antitrust settlement of $7.25 billion with the card companies, opening the door for potentially higher damages.
But the company touted more good news. Last week MasterCard said that it entered into an agreement to purchase 92.4% of London-based payments company, VocaLink for £700 million (approximately $920 million). 
"With last week's VocaLink announcement, we will expand our capabilities beyond core card-based solutions into a broader set of transactions and payments," Banga said. "The collective technology and experience will provide consumers, businesses and governments more choice and value in how they pay and are paid."
Keefe, Bruyette & Woods rated MasterCard's stock as "outperform" with a target price of $113 following the announcement.
"In light of the high level of speculation that this deal was in the works, we view it as a positive that MasterCard was able make this acquisition of assets with fairly substantial potential, particularly as it relates to gaining a bigger foothold in the U,K. market as well diving deeper into areas such as commercial payments," Sanjay Sakhrani, Keefe, Bruyette & Woods analyst wrote in a note following the deal.
"I think its a smart move by MasterCard," Tierney said of the VocaLink acquisition as this moves MasterCard into the ACH payment arena. " I think its equal parts defensive and offensive."
Tierney highlights that a big concern is whether the payment technology will move away from interchange fees and the the card networks. While he doesn't think it will, he says this certainly gives MasterCard "a say at the table for where technology goes and how the entire infrastructure develops over time."
On Wednesday, MasterCard announced it is extending its 10-year relationship with PayPal (PYPL) - Get Report  with a multi-year extension of its co-branded credit card program in Puerto Rico and the U.S. The company also highlighted co-brand deals with American Airlines (AAL) - Get Report  and Bed Bath and Beyond (BBBY) - Get Report  and a renewed deal with Walmart in Canada.
This comes after Visa and PayPal forged a partnership as PayPal agreed not to encourage customers to link their accounts to checking accounts rather than Visa cards and said the agreement will expand customer options. 
"I think it would be unusual for PayPal to have just a partnership with Visa and not a long-term partnership with MasterCard," Tierney said. While Tierney said PayPal may have a 3 month to a one-year exclusivity contract with Visa, he'd be surprised if "MasterCard was excluded long-term."
The company is also partnering with travel technology company Amadeus to tap the travel payment market. MasterCard is also looking to expand its business-to-business, peer-to-peer, and government payment flows, the company said.
MasterCard's shares closed up $2.26 per share, or 2.41%, to $96.01 on Thursday.
EXCLUSIVE LOOK INSIDE: Visa and PayPal are holdings in Jim Cramer's Action Alerts PLUS charitable trust portfolio. Want to be alerted before he buys or sells these stocks? Learn more now.