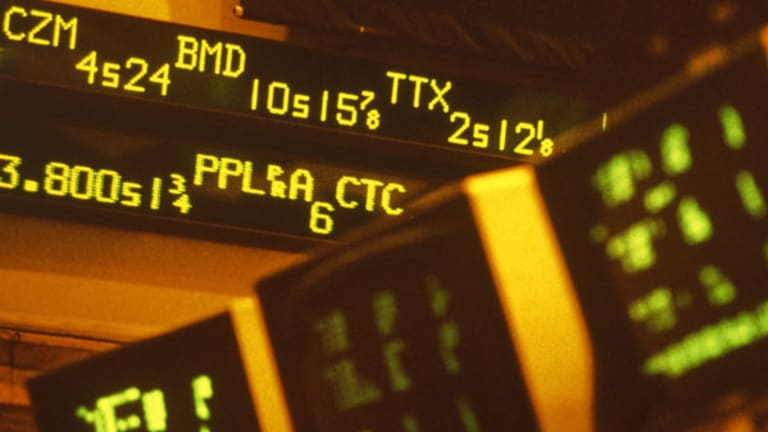 MasterCard Customer Spending Surges 12%, a Good Sign for Visa
Mastercard topped profit estimates, as the processor -- like big retail banks -- benefited from customers using debit and credit cards more often. It's a good sign for rival Visa.
MasterCard (MA) - Get Free Report posted higher quarterly profit than analysts estimated as customers used their cards more often and total purchases -- propelled in part by cheaper gas prices -- climbed 12%.
The Purchase, N.Y.-based company posted earnings of 91 cents a share, excluding a charge from the termination of its U.S. employee pension plan, compared with an average estimate of 88 cents from analysts surveyed by Bloomberg. Net revenue climbed 2% to $2.5 billion.
"Our business is performing well, and you can see that in the strong volume and strong growth," MasterCard CEO Ajay Banga said on Thursday's earnings call. Banga emphasized the successful rollout of new digital products in the U.S. 
Like major U.S. banks such as Wells Fargo (WFC) - Get Free Report and Bank of America (BAC) - Get Free Report , the card processor benefited from shoppers putting more purchases on their debit and credit cards, a good sign for larger rival Visa (V) - Get Free Report , which reports earnings next week.
Purchase volume on MasterCard and Maestro-branded cards grew to $852 billion, with the highest growth in Canada, at 19%, and the largest total in the U.S., at $311 billion, the company said. The number of transactions worldwide increased 16% to 15.3 billion.
"We continue to see double-digit growth in both volume and transactions in most of our regions around the world," Banga said in a statement. Investments in security upgrades such as EMV chips, which store card data in circuits rather than magnetic stripes, and biometric systems "are helping to redefine the way people shop and pay," he said.
Both MasterCard and Visa will need to focus on emerging markets, which still rely heavily on cash transactions, to reap the full benefits of their digital product offerings, according to analysts at William Blair. 
The two firms "remain uniquely positioned to benefit" from a long-term shift toward electronic payments as well as growth of the middle class in emerging markets, William Blair said. "An estimated 85% of global transactions remain cash or check, versus about 40% in the U.S."
William Blair has an "outperform" rating on MasterCard, the equivalent of a buy, with a $97.64 price target.
With digital payment technology, "building acceptance is a relatively long marathon," Banga said on the call, predicting that merchants will add new systems to meet demand from their customers.
"In digital payments and mobile-based payments, a lot of this is going to be about consumer experience," he said. "If it's going to be clunky, then what problem are you trying to solve with that technology that the consumer is feeling today with a card? You're not solving for that experience and for the ease of use."
Overall in the third quarter, MasterCard's net income including the pension charge fell 4% to $977 million, the company said.
Analysts project that competitor Visa, which is slated to announce earnings on Monday, will report profit of 63 cents a share, an increase of 16% from last year, on sales of $3.57 billion.
MasterCard's growth in the three months through September mirrors gains in credit card businesses at the largest U.S. banks, which reported earnings earlier this month.
At San Francisco-based Wells Fargo, credit card balances rose $4 billion, or 14%, from a year ago, benefiting from strong new account growth and more activity, Wells Fargo CFO John Shrewsberry said on an earnings call. Customers charged $18 billion in purchases in the quarter, up 15% from a year earlier, he said.
The U.S. economy demonstrated its resilience in the three months through September, with home and auto sales climbing, Wells Fargo CEO John Stumpf added on that call. "The low energy prices that are negatively impacting certain aspects of the economy provided a welcome boost to consumers," he said, "with many now beginning to redirect their savings into purchasing goods and services."
Bank of America, based in Charlotte, N.C., issued an additional 1.3 million credit cards in the third quarter, CEO Brian Moynihan said on an earnings call. And JPMorgan Chase (JPM) - Get Free Report acknowledged opportunities in its card business, despite increased competition in co-branding that caused the bank to reprice renewed deals with United and Southwest Airlines.
"I've spoken my whole life about good expenses and bad expenses," JPMorgan CEO Jamie Dimon said on the company's earnings call. "We want certain expenses to go up. When we find marketing opportunities in Card, we're going to spend it."