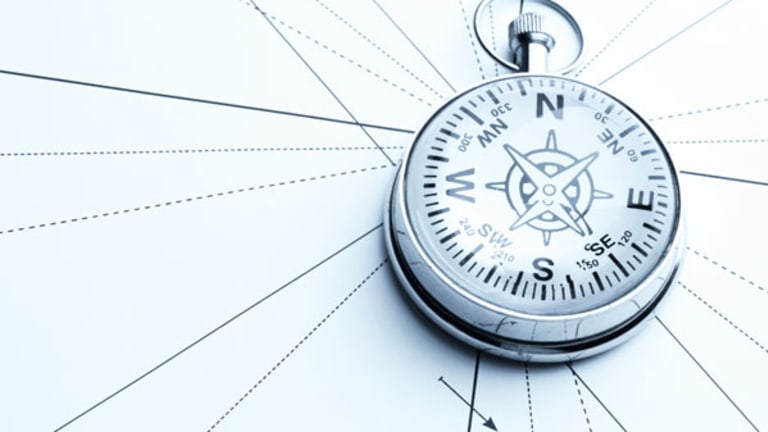 MasterCard Bets on Murphy
MasterCard's Chief Product Officer Tim Murphy is focused on growing the payments firm's existing business lines as the industry continues to experience large growth opportunity.
Editor's note: This story was part of TheStreet's 10-part Top Business Leaders of Tomorrow series.
PURCHASE, N.Y. (
) -
MasterCard
's
(MA) - Get Mastercard Inc. (MA) Report
Chief Product Officer, Tim Murphy, isn't who you would think to be the executive in charge of overseeing the payment firm's major product lines.
Murphy, 43, is a securities lawyer by trade. His first position at MasterCard, back in 2000, was as the firm's senior counsel. Murphy spent his first six years at MasterCard in its legal department, serving in various positions and was intimately involved in the company's successful IPO in 2006.
Tim Murphy, MasterCard's Chief Product Officer
But something happened shortly after that. MasterCard management moved Murphy into more strategic roles. Clearly, Murphy's strong team building skills, ability to be diplomatic as a manager and strong forward-thinking abilities helped his case. In essence, MasterCard placed a large bet on the lawyer. And it seems the bet is paying off.
More Top Leaders: J.C. Penney's Steven Lawrence >>
Among those roles, Murphy was placed as head of the company's U.S. region, where he was in charge of MasterCard's business building in the U.S. He became Chief Product Officer in December 2008, the company says.
The payments industry "continues to be an enormous growth opportunity. Largely because most of the payments made in the world today are still cash," Murphy said in an interview last week with
TheStreet
. "My job is to take the base part of the business, things we've been doing for a long time and just continue to drive them because waves of growth are so strong and the opportunity is so significant ... I think of myself as kind of defending the base and continuing to grow the base."
Murphy continued: "Other colleagues are out trying to do new and different things. My job is to make sure that the revenues coming in today keep coming in and the good news is the trends are so strong globally that the wind's at our back."
Murphy is in charge of MasterCard's core products - in consumer credit, all of the firm's credit products globally, signature and pin-based debit cards, prepaid cards as well as commercial payments, which includes corporate and small business. Murphy is also in charge of MasterCard's Integrated Processing Solutions business. IPS is the firm's debit and prepaid issuer processing platform.
One area that particularly peaks Murphy's interest is the growing prepaid card space.
"Other colleagues are out trying to do new and different things. My job is to make sure that the revenues coming in today keep coming in,"

-- Tim Murphy, MasterCard's chief product officer.
"We see it as a big growth opportunity in the U.S. and around the world," he said. "Generally, people misunderstand prepaid and tend to think of it in gift cards. That's how the industry was developed over the last 10 years or so, but prepaid is increasingly becoming a whole variety of different things way beyond gift. And the growth is really amazing in these new areas."
A study by the
Boston Consulting Group
, which was commissioned by MasterCard this year, estimates that the global prepaid industry could bulge to $840 billion by 2017 from $172 billion at the end of 2009 -- a compound growth rate in the mid-20s, Murphy noted.
Not only is prepaid being marketed to those that are so-called unbanked, to use an industry term, consumers who do not have bank accounts and tend to use pricey check cashing services. But with the advent of reloadable cards, the prepaid card is slowly becoming an alternative to a checking account.
Social Security checks, for instance, are no longer mailed to a receiver's home - they either get direct deposit or a MasterCard prepaid card, Murphy said.
Large corporations that employ consumers that may not have bank accounts are also looking to pay in the form of prepaid cards as well, he added.
"For us it's a critical growth area," he said. "We really are very focused on prepaid. I believe here at MasterCard we have the best team in the industry on it ... and we're just going to go all out at that space."
MasterCard's efforts are likely a lesson learned from its failures in the U.S. debit space. MasterCard's larger rival,
Visa
(V) - Get Visa Inc. Class A Report
, scooped up a large portion of the debit share in the country, as MasterCard continued to focus on its credit products, both at home and internationally. That move proved to be troublesome for MasterCard as the financial crisis hit and consumers and businesses shored up their excessive credit spending.
To be sure, the two big payments firms do not extend loans to customers, however a decline in processed transactions and purchase volume hit MasterCard's bottom line much more so during the worst of the crisis. Visa was able to offset the negatives since it had more exposure to debit cards, which consumers tend to use for non-discretionary items.
MasterCard is also beginning a new chapter these days, one under its new CEO Ajay Banga, a former
Citigroup
(C) - Get Citigroup Inc. Report
executive. Banga, who succeeded longtime MasterCard head Robert Selander officially in July, is already leading the company in a "dynamic" way, particularly in Asia, Murphy said.
"In so many emerging markets consumers actually have cards in their wallet, but use them to go to the ATM once a month when they get paid and then walk around with a big pile of cash in their pockets. One of our jobs is to train consumers not to do that,"

-- Tim Murphy, MasterCard's chief product officer.
MasterCard is now winning business in the U.S. debit space - earlier this year it announced a major conversion of
SunTrust Banks'
(STI) - Get SunTrust Banks, Inc. Report
debit platform to MasterCard from Visa. Also during third-quarter earnings, the company said it had also garnered
Banco Santander's
(STD)
U.S. franchise, Sovereign Bank, for debit business. But the smaller platform is still far behind Visa in debit.
"It's important to bring into the market a stream of innovation that is different from what the other guy has that are enough to get customers - whether it's a merchant of a bank - interested in working with us," Murphy says. "Frankly, I think we've done a better job than we've been given credit for over the years in that, but we have not done nearly as good a job as we could and there is so much further opportunity to differentiate and that's my job."
On the other hand, more than half of MasterCard's revenue, despite being more credit-focused vs. Visa, is garnered from regions outside the U.S. - a large contributor to the firm's overall strong growth rates and one that will continue to do so.
"In so many emerging markets consumers actually have cards in their wallet, but use them to go to the ATM once a month when they get paid and take money out and then walk around with a big pile of cash in their pockets," Murphy says anecdotally. "One of our jobs is to train consumers not to do that -- not to use them for just ATM withdrawals, but to use them at the point of sale. It's more profitable for our banks, it's more business for merchants, and it's more secure and safe for consumers.."
For more mature markets, like the U.S., where cards are ubiquitous as payment forms, Murphy said customers are looking to increasingly interact with their cards, with additional features and services, such as alerts and discounts and retail offerings.
But a central question remains for MasterCard and other payments firms, particularly as platforms including mobile payments and
Apple's
undefined
iPad take off in popularity, what will the credit/debit card of the future look like?
Murphy gave several predictions:
¿ Physical cards will continue;
¿ However, cards will shift from a "plastic box" into mobile devices, for example. Consumers will be able to put their card functionality on their phones and other smart devices and be offered a greater set of interaction experiences;
¿ Prepaid cards will become the "light checking account" for a segment of consumers; and
¿ For affluent customers, continued innovation by the payments industry to build "rich consumer value propositions, focused on travel and travel benefits on their cards."
-- Written by Laurie Kulikowski in New York.
To contact the writer of this article, click here:
Laurie Kulikowski
.
To submit a news tip, send an email to:
.
Top Business Leaders of Tomorrow:
United Guaranty's Eric Martinez
Disclosure: TheStreet's editorial policy prohibits staff editors, reporters and analysts from holding positions in any individual stocks.