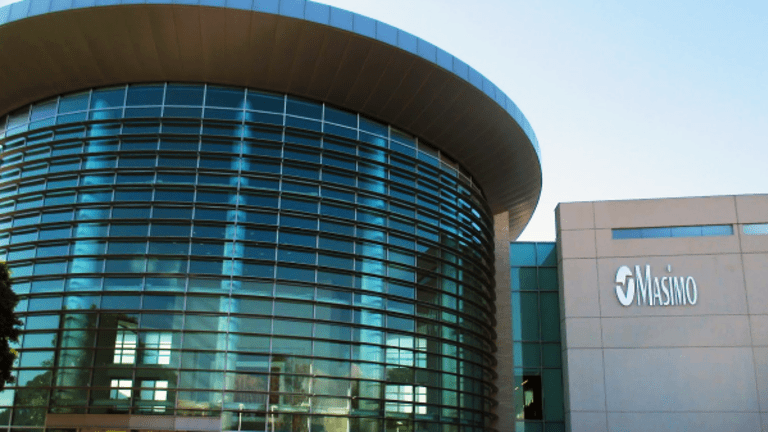 Publish date:
Masimo's Stock Is a Great Buy Right Now
This patient-monitoring device-maker has plenty of room for growth.
This patient-monitoring device-maker has plenty of room for growth.
As medical technology rapidly plows through new territories, non-invasive treatments are quickly gaining traction.
Masimo Corp (MASI) - Get Report is a recognized expert in the sector, known for manufacturing innovative patient monitoring technologies and pushing the boundaries of modern health care.
Up nearly 35% already this year, the stock is an outright investor favorite, at a time when peers like Abiomed (ABMD) - Get Report , NuVasive (NUVA) - Get Report and Cantel Medical (CMD) - Get Report are driving only moderate gains.
We believe Masimo's strong financial situation, robust earnings scorecard, and bounty from its legal settlement with Koninklijke Philips (PHG) - Get Report is behind the company's meteoric rise over the last two years.
The company's rich product portfolio is marked by a few stand-out offerings: Masimo SET pulse oximetry, Masimo Rainbow Pulse CO-Oximetry and the new Masimo noninvasive and continuous total hemoglobin monitoring technology.
CEO Joe Kiani's once simple plan for Masimo, which was founded in 1989 in a garage, has taken a fuller shape.
Further, licensing and OEM agreements with leading patient monitoring manufacturers like Atom, General Electric (GE) - Get Report Medical, Medtronic (MDT) - Get Report , Philips, and Zoll will help Masimo secure more revenue streams.
The company's stock has gained more than 420% over the last 3 years, and is currently trading at all-time high levels above $90.
This rally is driven by the company's solid earnings track record. In the fourth quarter total revenues for Masimo, including royalties, rose 9.5% to $183.2 million. Importantly, product revenue rose 10.0% to $175.7 million. For fiscal year 2016, total revenue grew 11.5% to $694.6 million and product revenue increased 11% to $664 million.
Continued product margin expansion and controlled operating expenses are also propelling the highest quarterly operating income in Masimo's history.
There's also an air of optimism from the company's SET Pulse oximeters, which continue to show increasing user growth.
As mentioned earlier, the $300 million settlement from Koninklijke Philips also finds resonance in the results.
With Masimo's management now providing revenue guidance of $752 million for 2017, the stage is all set for another solid year. Analysts project 6.4% earnings per share growth in 2017, and a five-year run-rate of 15%. This long-term earnings growth outlook is much faster than the 8.9% S&P 500 benchmark, as well as the company's larger rivals like Medtronic and Boston Scientific (BSX) - Get Report .
Things look solid for Masimo. The almost debt-free balance sheet and over $300 million in cash provide a solid foundation for the company to continue its exceptional trajectory. Investors can look forward to further growth from this turbo-charged stock.
---
If you walked by this guy on the street, you would not think "millionaire"
You would probably think "accountant" or "average cubicle guy." Actually, he was a lawyer until he unlocked this secret that made him $5 million. How does he do it? We'll warn you... it's about as exciting as a ham sandwich. But it's turning regular readers into six-figure income machines.Get the details by clicking here.
The author is an independent contributor who at the time of publication owned none of the stocks mentioned.