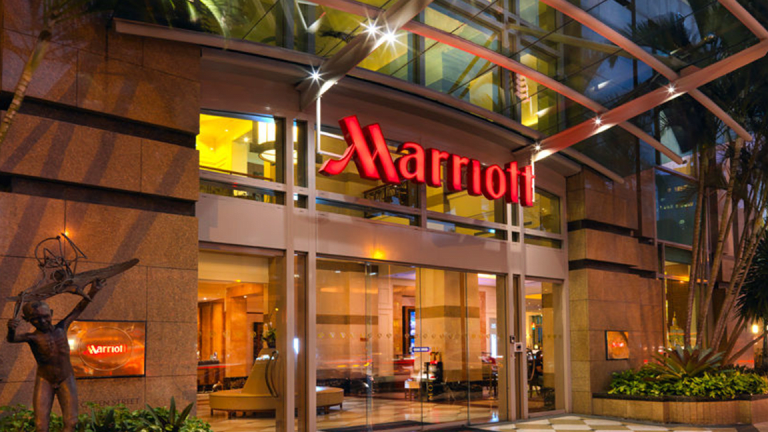 Marriott Joins Effort to Eliminate Single-Use Plastic Hygiene Bottles
Marriott has a plan to eliminate about 500 million tiny plastic bottles each year, or 1.7 million pounds of plastic.
Marriott International (MAR)  , the world's largest hotel chain, said it plans to stop supplying those tiny free bottles of shower gel, shampoo and conditioner at its hotels.
By December 2020, the company plans to replace those small single-use bottles either with larger tamper-resistant bottles or wall-mounted dispensers, depending on the hotel, President and CEO Arne Sorenson told the Associated Press.
The move by Marriott follows a growing trend that environmentalists want other large corporations to take part.
Angelou Ezeilo, founder and CEO of Greening Youth Foundation, an international environmental non-profit based in Atlanta since 2007, cheered Marriott's move.
"It is absolutely critical that Americans change their social behavior and ban the culture of single-use plastic. Going at this current pace, there will be more plastic in our oceans than fish in 2040," Ezeilo said. "We are working tirelessly to provide access to the next generation of young diverse environmental leaders - they are our hope."
In July, IHG, owner of Holiday Inn, Kimpton and others, said it plans to eliminate about 200 million tiny bottles each year by 2021, according to the Associated Press. Meanwhile, Walt Disney's (DIS) resorts and cruise ships, along with rival Hyatt Hotels (H) , announced plans to find alternative ways to dispense hygiene products.
"There are just too many of them,  and they're difficult to recycle because of the time it takes to clean them out," Sorenson said.
Bethesda, Md.-based Marriott has more than 7,000 hotels operating under brands including the Courtyard, SpringHill Suites, Residence Inn, Sheraton and Ritz-Carlton. The move should eliminate about 500 million small plastic bottles each year, or 1.7 million pounds of plastic.
So far, 1,000 of its hotels have large bottles or pump dispensers that are hooked to the shower wall.
Labor Day Sale: Join Jim Cramer's Club for Investors and Save. Get 57% off on your membership to Jim's Action Alerts PLUS club for investors.