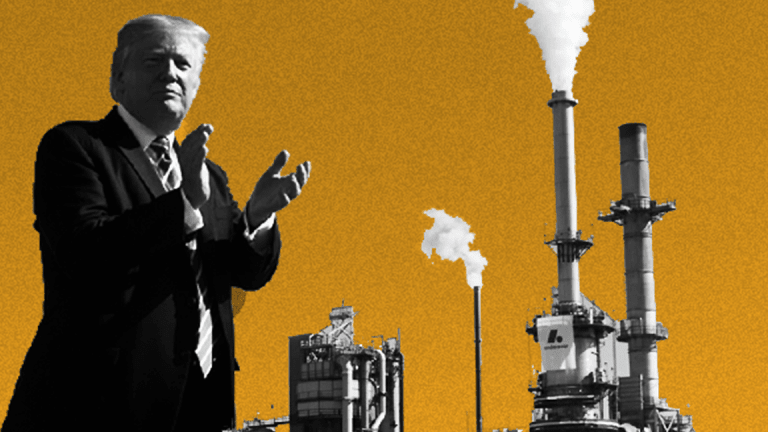 Markets Soar to Records Just as Long as President Keeps His Job
The market's gains depend on his staying in office, President Trump said this week.
Well, it could have been worse. 
It was another good week for U.S. equity investors as the bull market extended its record run, with the Standard & Poor's 500 I:GSPC closing at a record on Friday, the Nasdaq Composite I:IXIC reaching intraday highs and the Dow Jones Industrial Average I:DJI gaining to within about 800 points of the highs it reached in January.
The higher prices were supported by remarks by Federal Reserve Chairman Jerome Powell, who said on Friday that a "gradual process" of interest rate increases "remains appropriate" as the U.S. economy heats up and the labor market tightens.
The economy is poised to maintain its recent strength, especially with the U.S. unemployment rate, now at 3.9%, close to an 18-year low. President Donald Trump's tax cuts have stimulated the economy and bolstered the stock market, though at the expense of a national debt that's rapidly ballooning past $21 trillion.
"The economy is strong," Powell said. "Inflation is near our 2 percent objective and most people who want a job are finding one. We are setting policy to do what monetary policy can do to support continued growth, a strong labor market and inflation near 2 percent."
Stock market investors cheered Powell's remarks about the economy as well as the message that the Fed will stick with a gradual pace of rate hikes.
Earlier in the week, though, the most powerful person on the planet expressed unhappiness with the Fed's plan to raise rates perhaps as many as two more times this year. President Trump has complained that the Fed's tightening of credit could threaten the continued strong growth he aims to achieve through the tax cuts enacted late last year, a pullback of regulations and a rewriting of trade deals.
"I'm not thrilled," Trump said in an interview with Reuters. "Because we go up and every time you go up they want to raise rates again. I don't really - I am not happy about it. But at the same time I'm letting them do what they feel is best."
That's not the only thing the President wasn't thrilled with this week, though it must be said his attention may have been largely consumed by the felony conviction of his former campaign chairman and the confession to felonies by his former personal lawyer, who said under oath that Trump while a candidate directed him to pay hush money to a porn actress and a former Playboy model so as to influence the election. If true, that's a federal crime as well.
So the president was musing somewhat about his future, which he now seems to think may include impeachment and his removal from office. If so, he had a message for investors:
"I'll tell you what, if I ever got impeached, I think the market would crash," he told Fox & Friends on Thursday. "I think everybody would be very poor, because without this thinking, you would see numbers that you wouldn't believe, in reverse.'
Experts TheStreet talked with on that one don't agree with Trump.
So that's something for investors to keep in mind, even though it's clear that the strengths of the current economy stem from trends that began during the previous president's administration.
Impeachment also might prompt a national uprising, according to the president's lawyer, Rudy Giuliani.
"You could only impeach him for political reasons and the American people would revolt against that," Giuliani said from a golf cart in Scotland, where has been vacationing, according to Sky News.
As the president likes to say, we'll just have to see.