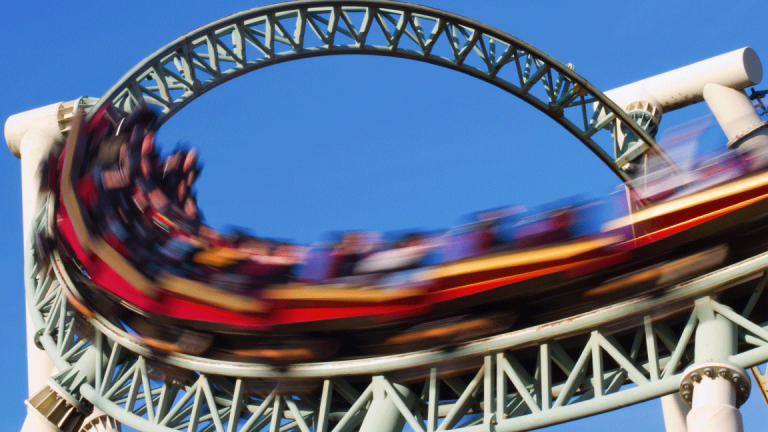 Market Volatility Sparks Anxiety in Many Investors: Study
But some calls to financial advisers are about finding ways to take advantage of market swings.
The impact of market volatility on clients is a matter of debate among financial planners.
Some planners say the key is to train clients to take a dispassionate, long-term view of when it comes to investing in the financial markets. If that is done successfully, then a planner should not have to worry about fielding lots of panicky calls.
Still, other planners note that dealing with anxiety fueled by big market swings is simply a fact of life. There are always a few clients ready to panic, regardless of how much effort you put into teaching them the importance of taking a long-term view.
The latter view recently got a boost with Eaton Vance's release of its Spring 2019 Advisor Top-of-Mind Index (ATOMIX) survey.
The survey found 95% of 600 financial planners from a range of firms reported increased interest by clients is making changes to their investment portfolios to buffer against, or take advantage of, stock market volatility.
"Volatility is so hard on clients and helping people navigate their emotions and stay on target to meet their goals is one of the most important tasks an adviser does," said Sarah Carlson, a certified financial planner and founder and private wealth advisor at Fulcrum Financial Group in Spokane, Wash. "Volatility is here to stay."
High anxiety
Anxiety among clients has soared since the stock market began its roller coaster ride last October, according to the Eaton Vance survey. It is a period in which equity prices dropped through the floor during the last two months of 2018 before staging a bumpy comeback.
Three quarters of advisors surveyed by Eaton said "fear" is the "primary current motivator" for their clients, an increase of 74% from October.
The political environment has also unsettled clients, with nearly 9 out of 10 advisors saying it is a "key part of client conversations."
Advisors, in turn, are focusing on tax efficiency strategies to help turn losses into tax gold.
A quarter of advisors report using tax-loss harvesting to help reduce their clients bills, with 37% citing municipal (bond) strategies and 32% opting for tax-managed equity strategies, the study found.
Some planners are also moving their more anxious clients -- and those closest to retirement -- to less riskier investment assets.
Dennis Nolte, a vice president and financial advisor at Seacoast National Bank in Florida and a CFP, said his team has mostly managed to head off volatility anxiety among their clients.
However, for two clients who felt they could not "stomach any risk," Nolte and his team at Seacoast moved their assets into 3+% CD in the last two months of 2018.
Nolte also moved some assets of other clients -- all within a year of retirement -- into the same CDs, and has been lightening up overall on equities in the portfolios of clients as a whole to cut down on "risk to principal."
Other clients, he noted, opted to ride out the storm and rebalance their portfolios after the market recovered, as happened in the first quarter.
"We've been addressing the volatility issue proactively since October," Nolte said.
Still, the market slump at the end of the year, followed by the market recovery has been good for clients in one respect, said Tracy Sherwood, a senior financial advisor and a CFP at Ogorek Wealth Management in the Buffalo area.
The 20% decline in the last two months of 2018 followed by the 20% rebound in the first quarter has helped clients get a gauge on their own risk tolerance when it to comes to investing, Sherwood said.
"This has presented an excellent opportunity for investors to assess their risk tolerance; a "free" demonstration of what volatility feels like and how their portfolio responded given their current asset allocation," Sherwood said.
Allan Katz, owner and founder of Comprehensive Wealth Management Group on Staten Island and a CFP, contends that clients "always react to volatility" and that "their reactions are always emotional."
It's the financial planner's job, though, to keep clients on an even keel, removing emotion and bringing "logic to the decision making," Katz said.
Katz noted his clients certainly "felt the panic" in December when the "financial media turned a few headlines into a sky-is-falling rhetoric."
But they also knew to call him to get some explanations for the market's moves and advice on the best course of action, Katz noted.
"All stayed pat and some even invested more and by the end of the first quarter were rewarded," Katz said.
But Jon Ten Haagen, founder and principal of Ten Haagen Financial Group in Huntington, N.Y. and a CFP, said he thought the numbers of clients cited by the study as being anxious about market volatility seemed high, at least from his perspective.
"What clients are they speaking to? If I get one or two clients talking about the market's volatility that is a lot," Haagen said.
It all goes to educating and training your clients up front, he noted.
"If you educate and train your clients up front, then they will understand the ups and downs and not call with concerns all the time," Haagen said. "My clients are properly diversified with a good asset allocation so they are fine."