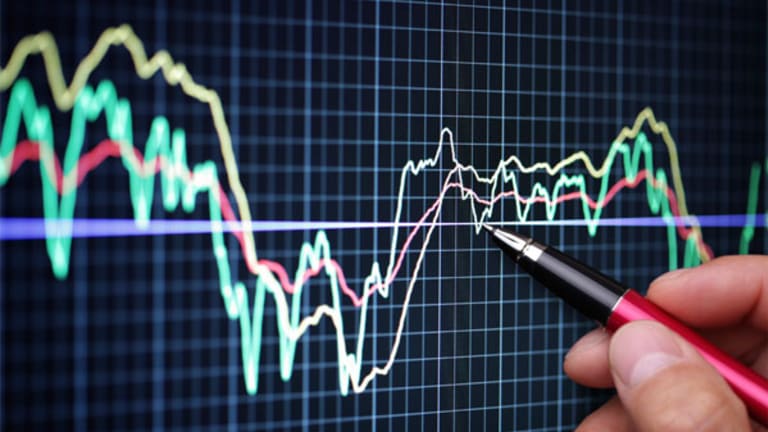 Market Not Laced With Kool-Aid; Apple Could Become a Consumer-Products Company: Jim Cramer's View
Cramer shares his views on how tired he is of hearing about Kool-Aid, and wonders if Apple could be valued as a consumer-products company one day.
Jim Cramer shares his views every day on RealMoney. Click here for a real-time look at his insights and musings.
Cramer: If You Think I'm Drinking the Kool-Aid, Swallow This
Posted at 3:34 p.m. on Wednesday, Feb. 15, 2017
I'm tired of hearing about the Kool-Aid, as in "Cramer's drinking the Kool-Aid again about this market." I am tired of it on a day like today because, darn it, I know what the Kool-Aid looks like and this ain't it.
First, I actually covered the event where the phrase "drank the Kool-Aid" came from. That's right, back then, in 1978, I was working for the late and lamented Los Angeles Herald Examiner and I was assigned the Jim Jones case, yep, the man who lured 900 followers to their deaths in Guyana because they did drink the Kool-Aid. That concoction was laced with cyanide. This market? I think it's laced with some principles that many of you might find to be tried-and-true but are upended by the rhetoric that has those who praise the market next in line for the Peoples Temple potion.
So what are some old-fashioned, concrete methods that can call the poisonous tonic into question?
Let's start with the transports. It's one of the oldest theories when it comes to stocks that the transports have to confirm the Dow before you can trust a market, meaning that the transports have to make a new high along with the Dow before you can believe there's some solid grounding.
Well, guess what, Jim Jones callers, that's exactly what's happening. The stocks of the rails, the truckers, the freight forwarders and the airlines are leading the way and that shows the rally is backed by a burst in commerce. Remember my theory: I totally agree that there have been some animal spirits unleashed by our pro-business president, but it's the numbers themselves, not the hoped-for tax relief, that's driving things.
You can pick apart some of these. CSX (CSX) - Get CSX Corporation Report is going higher because of the possibility of a new CEO hell-bent on bringing out value, not that the old CEO was a slouch. Federal Express (FDX) - Get FedEx Corporation Report is benefiting from Amazon's (AMZN) - Get Amazon.com, Inc. Report business. The truckers have lagged. (Amazon is part of TheStreet's Growth Seeker portfolio.)
I don't like to look through these matters because the texts say you don't need to validate the components individually.
But let's say you are a stickler. You still think it's Kool-Aid or at least Hawaiian Punch and you don't want to get hit. Then look at who is buying the stocks of all these airlines. None other than Warren Buffett. When was the last time you doubted his judgment. Yeah, I know, maybe he likes the stock of Coca-Cola (KO) - Get Coca-Cola Company Report too much and is wedded to IBM (IBM) - Get International Business Machines (IBM) Report and American Express (AXP) - Get American Express Company Report . I come back and say you don't get to be the Oracle of Omaha by rationalizing purchases to keep up with the averages and fellow money managers. Buffett's a buyer because he thinks there is value in the airlines. They are very inexpensive stocks relative to the rest of the market and because of structural changes in the industry they are wildly profitable.
Value is something that most don't ascribe to any part of this market. Yet, if Buffett's a buyer, am I going to sniff that he's some sort of yahoo who should be checking what he's imbibing?
Or how about the leadership? Do you know how many times we used to castigate this stock market because it was led by Facebook (FB) - Get Facebook, Inc. Class A Report , Amazon, Netflix (NFLX) - Get Netflix, Inc. (NFLX) Report , Alphabet ( (GOOGL) - Get Alphabet Inc. Class A Report and a couple of small cloud companies as well as the higher-yielding consumer-products stocks and a handful of biotechs? (Facebook and Alphabet are part of TheStreet's Action Alerts PLUS portfolio.)
This market is the exact opposite of that. First, the best-acting group is the financials, especially the banks. There is no leadership better than the banks because these companies represent the gasoline to the system. If the bank stocks are going higher, it's a sign they are taking your deposits and either lending them out at good rates or buying Treasuries and buying back stocks and paying higher dividends than they currently do. Or both.
I think that with President Trump it might be both. The economy is heating up, the consumer price index came in hot today. A lot of that was the increase in the price of gasoline, which, believe it or not, is beginning to be a story about the massive exports of gasoline to Mexico and Latin America.
Doesn't matter because it's going to force the Fed's hand to raise rates a bunch of times. That's fantastic for the banks, as is the potential for deregulation that doesn't need congressional approval. Yes, a really healthy economy needs more lending, not banks just rewarding shareholders, but I can tell you that when I have seen the bank stocks go higher and be good investments, then commercial lending and economic expansion aren't far behind.
Now it would be one thing if we just had the banks leading. But the industrials remain on the new-high list pretty consistently. That's a sign of worldwide growth, not just domestic, and while the stocks are beginning to get expensive they won't be if the growth I am counting on overseas, reflected by all these markets flying high, comes through.
You know what else would support traditional benchmarks of reasonable valuation? The techs and the biotechs that have sat out for years and have actually become undervalued on actual earnings are doing the leading. Stocks like a Celgene  (CELG) - Get Celgene Corporation Report or an Amgen (AMGN) - Get Amgen Inc. Report or a Gilead (GILD) - Get Gilead Sciences, Inc. (GILD) Report or total Cramer fave Analog Devices  (ADI) - Get Analog Devices, Inc. Report , which reported a fantastic quarter today. These are the left-behinds that have bided their time and now sell at levels even or only slightly elevated to the average stock in the market.
The housing stocks are doing fine, something that wouldn't be happening if the rates that are going higher were really knocking that industry for a loop.
Finally, the ultimate in undervaluation is when we have our prices validated by shrewd investors who take stakes in companies to bring out more worth or buy them wholesale. Last night we learned that Nelson Peltz and his vehicle, Trian, purchased an immense stake in Procter & Gamble, where I am confident he will be his usual engaged self and offer a reasonable blueprint to higher prices. Remember, in our research for all big funds that took stakes in companies and then agitated for change, only Peltz offered you coattails that beat the market, meaning that if you bought the stock of Procter after the announcement of the stake, history dictates you will make money.
Then we had Softbank, the huge and visionary Japanese investment firm, buying private-equity money manager Fortress Investment Group, giving you a 30% premium to yesterday's closing price. I think many people in this market might have thought Fortress was overvalued given how little we know of what it owns. Well, Softbank solved that valuation conundrum.
Look, I totally get that the Kool-Aid chanters are beginning to drown out my other followers in my Twitter feed even as many of them are probably too young to even know where the phrase comes from. What I have to say, though, is there are some classic metrics and signposts that would have you thinking that maybe, just maybe, the drink in my glass is Gatorade, the kind you drink when you are running a marathon, not a sprint, and it's spiked all right, not with cyanide but electrolytes that give you more power than any bear would ever expect.
Action Alerts PLUS, which Cramer manages as a charitable trust, is long FB and GOOGL.
Posted at 2:21 p.m. on Wednesday, Feb. 15, 2017

Cramer: Could Apple Be on the Razor's Edge?
Ponder this: Could Apple (AAPL) - Get Apple Inc. (AAPL) Report be valued as a consumer-products company someday? Could it be valued as a device business with a never-ending stream of merchandise running through it?
Yesterday we learned that Trian, the investment firm run by Nelson Peltz, took a hefty stake in Procter & Gamble (PG) - Get Procter & Gamble Company Report , the world's foremost consumer packaged-goods company, with its star being Gillette. Why do we like Gillette so much? Because when you study businesses, the ultimate model, the one so many want to emulate, is the razor-blade business where you pay once for a device and then you spend a fortune over a lifetime buying blades, the only break being when a new device comes out that forces you to buy even more expensive blades.
P&G with its steady stream of consumer products with huge market share deserves to sell at a premium price-to-earnings multiple. Its business is pretty impervious to economic slings and arrows. It has a fabulous dividend and buyback record. It's got competitors nipping but it's a dominant player.
Isn't that what Apple is, though? It produces a device with a built-in steady stream of revenue that grows and grows and grows.
Yet it sells at a paltry 15x earnings, better than the 13x earnings it sat at when CEO Tim Cook came to Mad Money two quarters ago when so many analysts had written it off.
It's ironic that Peltz goes after PG given its high multiple versus, say, an Apple, but then again Peltz knows more than anyone I have ever met about how to get engaged and produce real cost savings, as many of these big, old-line companies haven't given nearly the thought to expense control and unallocated costs in particular.
Still, in keeping with this notion of the consumer-products company, something I first read about in a terrific Eric Jhonsa column in TheStreet, you have to wonder why the discount. I think the answer is the analyst coverage. If you were to move Apple over to those who cover Clorox (CLX) - Get Clorox Company Report and Procter & Gamble and Kimberly Clark (KMB) - Get Kimberly-Clark Corporation (KMB) Report , or perhaps more likely, those who opine on Newell (NWL) - Get Newell Brands Inc. (NWL) Report or Masco (MAS) - Get Masco Corporation (MAS) Report or Stanley Black & Decker (SWK) - Get Stanley Black & Decker, Inc. Report , other household-products companies with nowhere near the service revenue stream that Apple has, yet all of which sell at a much higher price-to-earnings multiple, you would have analysts salivating to throw a buy on it.
Instead, Apple gets covered by people who follow social, mobile and cloud companies or communication companies, where it is lumped into much faster-growing but, I would argue, less consistent companies as the service revenue stream takes on a bigger and bigger portion of the company's earnings profile.
This isn't just an Apple problem. Facebook (FB) - Get Facebook, Inc. Class A Report and Alphabet (GOOGL) - Get Alphabet Inc. Class A Report have seen their stocks trapped by the four walls of advertising. They aren't thought of as much more than that. Yet I think Facebook could easily become the world's largest entertainment company, worthy of a far higher multiple than it gets -- and that, frankly, is using the most prosaic of visions for that beast of a company with incredible gross margins. Alphabet? It's a data center and cloud company that's great at ad-sponsored search but even better at self-driving cars, which we may all be in a few years from now. I seriously wonder if we don't have to start factoring the numbers from autonomous vehicles into the out-year projections. Why not? If you are investing for the long term, it would be silly not to. (Apple, Newell, Facebook and Alphabet are part of TheStreet's Action Alerts PLUS portfolio.)
Sometimes it's just about storytelling. Those scribes who tell the story of Apple are looking at it as a dead end, an innovative cul de sac. But if we looked at it as Gillette, it might very well be the best stock a man can get.
Action Alerts PLUS, which Cramer manages as a charitable trust, is long AAPL, NWL, FB and GOOGL.
Action Alerts PLUS, which Cramer manages as a charitable trust, is long AAPL, NWL, FB and GOOGL.