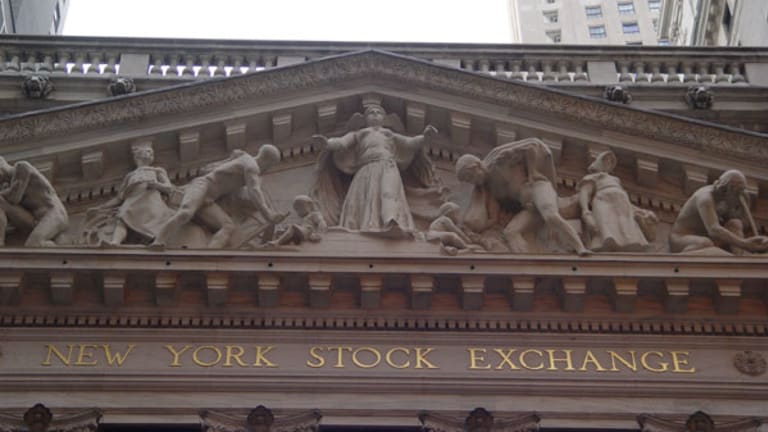 Publish date:
Exxon Gets Crushed; Facebook Not Yet Expensive: Jim Cramer's Best Blogs
Jim Cramer ponders if Exxon's problems indicate the bottom for oil, and how Facebook isn't expensive. Yet.
Jim Cramer ponders if Exxon's problems indicate the bottom for oil, and how Facebook isn't expensive. Yet.
Jim Cramer fills his blog on RealMoney every day with his up-to-the-minute reactions to what's happening in the market and his legendary ahead-of-the-crowd ideas. This week he blogged on:
How nothing makes a dent in this current market
How Facebook is still not yet expensive
Click here for information on RealMoney, where you can see all the blogs, including Jim Cramer's -- and reader comments -- in real time.
Cramer: Does the Bottom Beckon for Oil?
Posted on July 29 at 2:30 p.m. EDT
What happens if oil does bottom here? Just like at $50, it seems like there is universal opinion in one direction. Then it was up. Now it is down.
I know that investing in irony is a sucker's bet, but it is compelling to watch Exxon (XOM) - Get Report , the strongest in the group, finally get crushed. You have to ask, could that be the bottom?
Listening to most of the analysts who are on, I get the sense they think the slide is just beginning, even as it is down 20% in a heartbeat. They are basing it on the current glut.
But Schlumberger (SLB) - Get Report , which called the downturn and was the first to have mass layoffs soon after the peak, called the bottom this quarter based on a pretty unassailable thesis: the tremendous decline in capital expenditures, like that of Exxon, which cut capex by 38%. That's a lot of money not to spend, and it's a sign that production's going to drop pretty soon.
Those who say Schlumberger isn't taking into account Iran or the missing global barrels, the ones that aren't being counted -- the Morgan Stanley thesis -- seem to think SLB wouldn't know these kinds of stats. But you really can't bring out big oil without SLB. Fact of life. Its tentacles are in every place in the world. The technology is proprietary and everyone from Iran to the outcasts in Venezuela (who have been cut off for nonpayment) knows it.
The glitch in SLB's theory has to do with possible demand-side weakness but, as much as I am concerned to see the Baltic Freight go down pretty relentlessly here, I am not willing to call a top in demand.
I would rather call a bottom based on supply.
As I mentioned, resilience is the watchword: Look at Chevron (CVX) - Get Report , look at Schlumberger.
Those are statements.
At the time of publication, Jim Cramer's charitable trust Action Alerts PLUS is long SLB.
Cramer: Market Is Bloodied but Unbowed
Posted on July 29 at 12:22 p.m. EDT
The resilience of this market is quite stunning. Think about it. We have had a 20% decline in oil, a genuine bear market, something that would have sent the entire stock market into paroxysms of pain just a month ago.
Not even a glancing blow.
We have had Brexit.
We have had terrorism.
We have had tremendously strong antitrust activity.
We have seen the Baltic Freight peak and go down.
We have two presidential candidates talk about soaking the rich, and one of them is against globalization that, for better or definitely for worse for the working person, would be terrible for profits.
We have seen smart people say housing and autos are peaking, something that Ford (F) - Get Report sure didn't dispel with yesterday's vicious shortfall. (Ford is part of TheStreet's Dividend Stock Advisor portfolio.)
And yet, as I was going back and forth on this issue with Matt Horween, my writing colleague, we do not cave in. We bounce. We find buyers underneath. We get tremendous interest when we are hit.
Plus, the Fed is on hold.
It's kind of like what I wrote Thursday about the consumer. There's enough negative out there that it balances the positive. You get a weak GDP but a strong PMI. There's the pattern.
Later on, I will have some examples of this resilience, but I wanted to call it out now just to remark on how amazing it is.
Action Alerts PLUS, which Cramer co-manages as a charitable trust, has no positions in the stocks mentioned.
Cramer: Facebook Isn't Expensive -- Yet
Posted on July 29 at 11:22 a.m. EDT
Looks like Facebook (FB) - Get Report , Amazon (AMZN) - Get Report and Alphabet (GOOGL) - Get Report are acting more as we would have expected given the blowouts. That's good news because as Andrew Left told the Fill or Kill team Thursday, if this is all Facebook gives you after the best quarter of the year, then the short risk-reward is definitely on the side of the bears.
I remain steadfast that Facebook isn't expensive until it gets to $160, but that Google could go to $1,000 after this accelerating revenue. I am not sure about Amazon, which I think needs a rest because of how expensive it is. That said, I totally understand how Amazon Web Services is an undervalued gem. (Amazon is part of TheStreet's Growth Seeker portfolio.)
Speaking of steadfast, it's been a big week for Apple (AAPL) - Get Report , but I want to circle back to it with a reminder that Cirrus Logic (CRUS) - Get Report gave you a pretty good insight that Apple's gearing up to do something special with sound and the not-much-anticipated iPhone 7. 
Just pointing out that Apple remains under-owned and, I think, has some good upside even as tech has been the standout this winding-down month.
It did turn out to be pretty extraordinary on a takeover basis, too: Arm Holdings (ARMH) , Yahoo! (YHOO) , Linear (LLTC) and then,Thursday, Netsuite (N) (great piece by Eric Johnsa on the latter).
Plus, I think we are early on in the takeover game for tech. Way too many semi names. Way too many software companies. Way too many everything!
At the time of publication, Jim Cramer's charitable trust Action Alerts PLUS is long FB, GOOGL and AAPL.
At the time of publication, Jim Cramer's charitable trust Action Alerts PLUS is long SLB, FB, GOOGL and AAPL
.