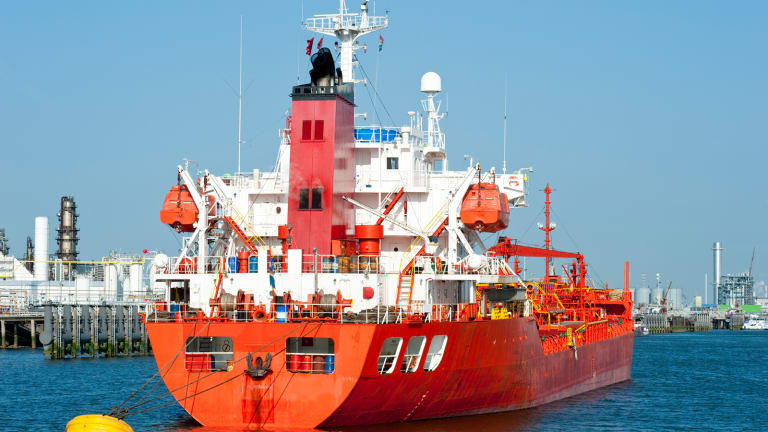 Maritime Shippers Manic Stock Run May Be Driven by Day Traders, Hope for Trump Trade
Having resumed trading, DryShips stock surrendered 70%, and the antic gains and spikes in volume of the sector seem to abate.
Some of the wind is coming out of the sails of the maritime shipping group, suggesting a restoration of sanity in the group's trading patterns after just over a week of manic action.
The stock of DryShips (DRYS) - Get DryShips Inc. Report  -- the poster child for trading in the sector following a one-week surge that drove shares up more than 1500% at its high -- on Thursday gave back more than 60% of Tuesday's closing price of $73 a share. The stock had been halted for trading on Wednesday by the Nasdaq Stock Market in a bid for additional information. When it resumed trading at 10:30 a.m. ET Thursday, shares plunged $45 to just under $27 a share.
It's not the only stock playing a melody of "stop the insanity." Shares of Euroseas (ESEA) - Get Euroseas Ltd. Report , which almost tripled in the days following the presidential election to $8 a share at Wednesday's highs, backed off to $3 a share on Thursday.
The wild performance of stocks in the sector has been reflected not only in the extreme volatility of the stock values, but in the trading volume, as well. Diana Containerships (DCIX) - Get Performance Shipping Inc. Report , which has about 3.2 million shares outstanding, typically trades about 400,000 shares a day. Over the last week, though, that volume total surged by a factor of 10 times, and on Wednesday ramped up to 19 million shares.
As Wells Fargo researchers said in a Wednesday note: "Yo - What The Heck Is Going On?"
The authors of the report, commenting on the sheer magnitude and velocity of the pricing moves, characterized the performance as "transitory."
If so, it may be at the expense of individual investors, as more than half the volume seemed to be coming off of trading platforms utilized by retail, not institutional, investors, according to one sector analyst. Chances are there was a spike in the number of wanna-be day traders thinking they could successfully maneuver around an exceptional trading opportunity.
"Dryships recent trading has been a multi-day spiraling and intra-day bull momentum play," Ihor Dusaniwsky, head of research at S3 Partners, a financial analytics firm, said in a note on Wednesday.
The most natural conclusion that commentators on both social media and the business press - including The Street in recent sessions - is that maritime shipping names, including and especially DryShips, had moved into some kind of virtually unprecedented short squeeze. That's a suggestion that Dusaniwsky disputed, arguing that the short interest on Tuesday amounted to no more than 130,700 shares. That's about half of one percentage point of the trading volume that was tabulated during DryShips' four day rally.
S3 maintains a data tool that could be compared to a Richter scale of short activity, such that a reading of, say, zero to five, the ground is shaking under a stock, while a reading of five to 10 suggests an earthquake. With DryShips this week, he said - nothing. "I didn't see anything on the short side of the ledger."
So then ....? "It was just long day traders going ahead and trading the day away," Dusaniwsky said in an interview Thursday. Those traders saw the jump in DryShips and wanted to participate. When that stock got into nosebleed territory, they moved into other names in the sector, he added.
Does DryShips, which, even with Thursday's decline, is still trading at about five times where it was when the month began, inevitably go back to the $4 a share it was changing hands at Nov. 1? Will all of the stocks in the maritime shipping group experience that reversion to the mean?
The answer is: maybe not fully. Perception can become reality in investing circles. And the perception may be that Donald Trump's presidency will be beneficial to global trade, even though he has called for the U.S. impose tariffs on China and Mexico and threatened to scrap trade pacts such as Nafta. 
Still, there there have been some fundamental improvements in maritime shipping trends. The Baltic Dry Index, a measure of the prices that shippers command to move commodities around the globe has staged a rebound. It sank to an all-time low in February of this year at a reading of 280; by the end of October, it got back to 800. On Wednesday it was trading at 1145, a 43% improvement in just over two weeks.
Is DryShips, which has become the poster child for the antic behavior of shippers, going to benefit from the improvements? Chances are it shouldn't. It's been selling vessels to meet its credit obligations. That means less leverage to the fundamentals. Right now it could be described as being in survival mode, but a stock that's trading with a growth play multiple probably doesn't merit so lofty a valuation.