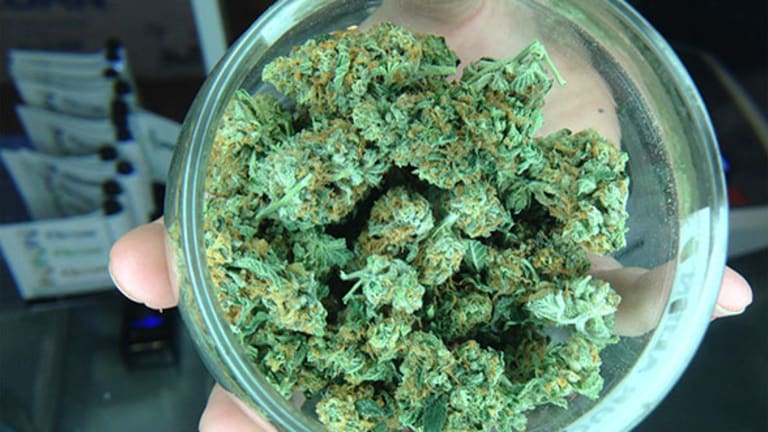 Marijuana Companies Evolving and Scaling to List on Nasdaq, Attract Investors
The burgeoning marijuana industry is ramping up its efforts to attract both institutional and typical investors by attempting to list on the Nasdaq and through crowdsourcing.
The burgeoning marijuana industry is ramping up its efforts to attract both institutional and typical investors by attempting to list on the Nasdaq and through crowdsourcing.
The businesses are scaling as part of a greater plan to legitimize these companies as the budding sector rebrands itself to attract mainstream customers and investors, striving to set themselves apart from startups with lackluster revenue.
Companies are seeking alternate options for mainstream investors to participate in the evolving, yet nascent sector ranging from listing on the Nasdaq where companies undergo greater scrutiny by shareholders and regulators to crowdsourcing where nominal investments are made. MassRoots, a Denver–based social networking company for cannabis users, is attempting to list on the Nasdaq again. Med-X, a Canoga Park, Calif.-based enterprise is the first cannabis-related company to utilize crowdsourcing to expand.
The legal marijuana markets generated $5.7 billion in revenue in 2015, an increase from $4.6 billion in 2014 in revenue and are estimated to reach $22 billion by 2020, according to The ArcView Group, a cannabis investment and research firm based in San Francisco.
More states are set to legalize adult or recreational use this fall. Four states have approved the use of them recreationally and 25 states passed the use of them for medical purposes. Currently, 86% of Americans live in a state which allows some level of legal marijuana use, The ArcView Group said.
Gaining Approval from Nasdaq
Receiving approval from the Nasdaq would legitimize media companies such as MassRoots, but the process can easily take up to a year. Companies also have to demonstrate that they are generating revenue and the approval process for uplisting also takes four to six weeks, said Jason Spatafora, co-founder of Marijuanastocks.com and a well-known Miami-based cannabis trader and investor known as @WolfofWeedST on Twitter. Getting approval may not occur because of the low price of the stock.
"I would short MassRoots at $1.50 and now it's under $1," he said.
A handful of companies with proven track records are listed on the Nasdaq, including GW Pharmaceuticals (GWPH), a U.K.–based biotech company with a cannabis-based epilepsy drug, Insys Therapeutics (INSY) , a Phoenix company known for its cancer pain management drug but is developing a cannabis-based drug for the treatment of epilepsy; Cara Therapeutics (CARA) - Get Cara Therapeutics Inc Report , a Shelton, Conn.-based clinical state biopharmaceutical company that develops and commercializes pain relief drugs; and Zynerba Pharmaceuticals (ZYNE) - Get Zynerba Pharmaceuticals Inc Report , a Devon, Pa.-based company focused on developing and commercializing synthetic cannabinoid therapeutics.
Being cleared to list on the Nasdaq appears to be a decent path to legitimizing a cannabis company, but many management teams are "lacking execution and a good business model," said Robert Hunt, a partner at Tuatara Capital, a New York-based largest private equity fund dedicated to the legal cannabis industry in N.Y.
"Many companies lack enough revenue and are not acquiring enough customers to generate sales," he said. "The most successful ones are private."
Several industry insiders said off the record that they believe that authorization for MassRoots to be listed on the Nasdaq remains highly unlikely. One cannabis investor said MassRoots faces several issues, including its "immense burn rate," going public on the OTC market prematurely and needs to boost its revenue by seeking different methods of advertising.
"Listing on the Nasdaq is not a clear way to monetize and they are taking on debt and the trading of their stock is too thin," Hunt said. "Their management team is also too inexperienced."
The social network formed in 2013 has 775,000 users and 380,000 followers on Instagram, but generated a net loss of $8 million while its revenue was a scant $213,963 for 2015. The company only started generating revenue through advertising last August. The proceeds of the offering would be used to repay its debt, develop new products and expand its user base.
Another investor said that MassRoots did not meet Nasdaq's criteria of enough unique shareholders and that gaining approval is "nearly impossible."
Other Methods
Other cannabis companies are choosing the route of buying shell companies and going public through a reverse merger which often involves taking on additional debt the business accrued, said Spatafora.
"It will be a losing battle," he said. "The debtholders know they will not be paid back and they will sell and sell the stock."
Companies which chose to list on the OTC do not have a clear advantage against private ones. The only advantage is achieving additional liquidity and this strategy can fail if the share price does not remain stable, said Hunt.
"This is a lack of sophistication by the operators who are convinced by others that being public is in their best interests," he said. "Many of them lack a large enough reserve of cash on hand."
Too many companies remain thinly traded and others undergo periods of extreme daily volatility. The majority of the 350 cannabis-related businesses are traded on the OTC with 195 of them that participate in the sector, said Eddie Miller, CEO of InvestInCannabis.com, a New York City-based cannabis technology investor.
One blatant issue is that the majority of the companies have relatively low market capitalizations and low daily trading volume, increasing the risk for investors, he said.
Private investment opportunities are also available for investors who want to refrain from trading marijuana stocks on the OTC or Nasdaq. Cannabis companies can now participate in crowdfunding since the JOBS Act of 2012 paved the way for mainstream everyday consumers to make smaller investments in various industries.
Med-X, which works on compound identification and extraction of the identified cannabidiol (CBD) compounds for the medical industry, is paving the path for additional cannabis-related companies to employ crowdsourcing as a means to raise capital.
"Anyone who is at least 18 years old with an income of over $4,200 annually can purchase 700 shares of our stock for $420," said Matthew Mills, COO of Med-X.
While the private sector appears to be a better bet, the market remains extremely saturated and choosing the right product or technology remains tricky, said Spatafora.
"Most investments are for accredited investors, but now with Regulation A+, the landscape is changing," he said. "The minimum investment is typically $25,000 to $50,000 and these are usually long-term positions."
Crowdfunding is a good mechanism for "average Joes to invest a small amount of money," Spatafora said. "It is unfair for 99% of investors not to be able to participate."
Investors need to stick to focusing on companies with real products and not theoretical ones like a marijuana breathalyzer, he said.
Many cannabis businesses can only survive if they are acquired by a large, more established company, Spatafora said. Entrepreneurs must be realistic and have at least $5 million in investments because a crop that is attacked by spider mites will set a company back by 90 to 120 days and can have no tax advantages.
Starting on a smaller scale and making a vaporizer liquid a city brand first helps them establish a foothold.
"You get people talking about it there and then find people in other states that can carry it," he said. "Some of them have no business being a standalone company. There aren't any established brands right now."
The elections later in 2016 will become a tipping point for the rate of growth in the sector, said Hunt.
"This year is going to be the watershed moment for the industry," he said. "Too many states have medicinal markets in place and also rely on the tax revenue generated. The federal government can't turn their back without a massive backlash on the state level."