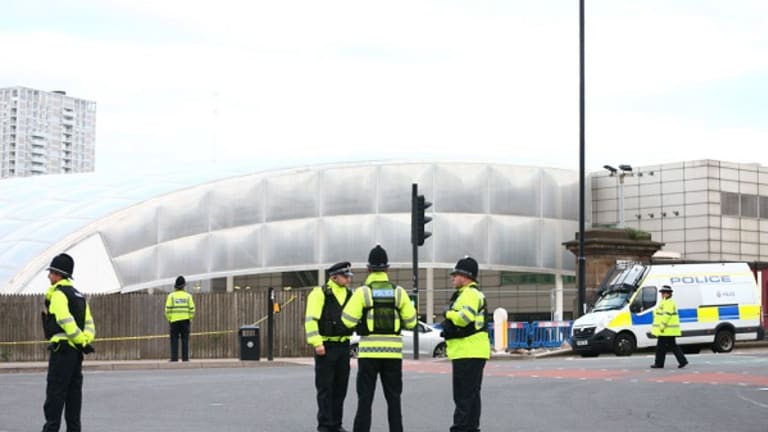 Manchester Bombing: Death Toll Rises to 22, Police Consider Attack a 'Terrorist Incident'
The deadly attack at an Ariana Grande concert at the Manchester Arena late Monday has now claimed 22 lives and is being treated as a terrorist incident, police have confirmed.
Greater Manchester Police have arrested a man in connection with last night's deadly terrorist attack at the conclusion of an Ariana Grande concert that has left 22 people dead and injured at least sixty others.
In a statement released shortly after news of the arrest, Islamic State terrorists, known as ISIS, claimed responsibility for the attack that took place at the Manchester Arena, around 160 miles northwest of London, at 10:33 pm local time, vowing that "what comes next will be more severe".
Police say the attacker died at the scene of the incident, which took place around 10:33 BST Monday at the end of a pop concert in central Manchester, about 160 miles north west of London. The attacker used a self-detonating explosive in the 21,000-seat capacity arena, police said, and noted that inquiries at this stage are focused on whether he acted alone or with the assistance of others.
"We have been treating this as a terrorist incident and we believe, at this stage, the attack was conducted by one man," Greater Manchester Police Chief Constable Ian Hopkins said in a statement. "The priority is to establish whether he was acting along or part of a network."
"We would ask people not to speculate on his details or share names," Hopkins said. "There is a complex and wide-ranging investigation underway. Our priority is to work with the National Counter Terrorist Policing Network and U.K. intelligence services to establish more details about the individual who carried out this attack."
U.K. Prime Minister Theresa May said police have identified the attacker although they have not yet disclosed a name.
The attack claimed the lives of 22 people, the police said, and has injured as many as 60 more. A police spokesman said he could not provide details as to the ages of the victims, but conceded that children may have been among the dead or wounded as a result of the atrocity.
May has suspended her election campaign, the Conservative Party said, and she will chair a meeting of the Cabinet Office Briefing Room -- known as COBRA -- at 09:00 BST to coordinate the government's response.
She said  that Britain's terrorism "threat level" will be reassessed over the coming 24 hours.
"We are working to establish the full details of what is being treated by the police as an appalling terrorist attack," the prime minister said in a brief statement Tuesday. "All our thoughts are with the victims and the families of those who have been affected."
The incident is the deadliest terrorist attack on British soil since July 2005, when Muslim extremists killed 52 people with three separate suicide bombs across London's transport system at the height of the morning rush-hour commute. 
Read More Trending Articles:
Top 10 Cheap Classic Cars to Invest in for Big Gains With Your Delayed Tax Refund Check