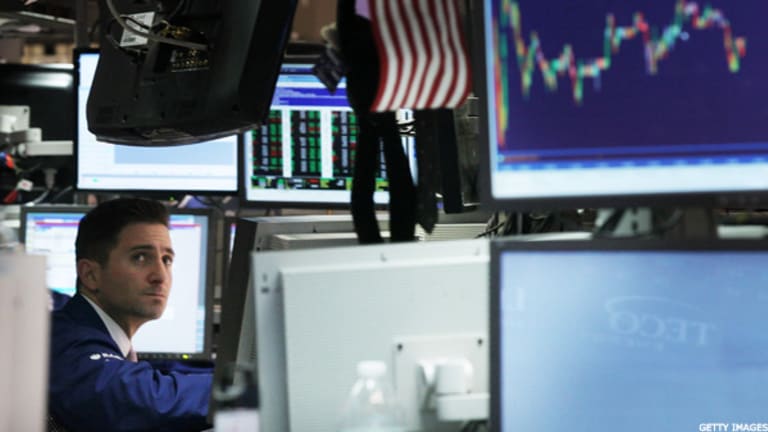 Make a Play for Ellie Mae
This maker of mortgage-processing software has an alluring product for small and mid-sized lenders.
NEW YORK (Real Money) -- Unless you're a mortgage professional, you've probably never heard of Ellie Mae (ELLI) . But if the name sounds familiar, it's because it's a play on government-sponsored enterprises involved with home loans, Fannie Mae (FNMA.OB) and Freddie Mac (FMCC.OB) .
Ellie Mae, however, is a $325 million private technology company that provides software solutions for the residential mortgage industry. I'm not sure why a company would want to associate itself with Fannie Mae, which just about blew up the world, but it is a catchy name.
The company operates the Ellie Mae Network, which is one of the largest electronic mortgage origination networks in the U.S. Operational since 2000, it connects mortgage originators, bankers, brokers and service providers, helping automate much of the origination and funding of residential mortgages.
The Pleasanton, Calif., company was founded in 1997 and serves nearly 4,000 customers and 50,000 users, representing more than 20% of total U.S. mortgage loan volume in the U.S. Co-founders Sigmund Anderman and Limin Hu are deeply involved in the company's direction as chief executive and chief technology officers, respectively. Anderman founded several housing related companies prior to Ellie Mae, while Hu's background includes more than two decades of software and business development work.
Since the mortgage crisis of the past few years, there has been an abundance of focus and increased scrutiny on the residential mortgage industry. As any homeowner can attest, the mortgage process was always quite laborious and paper intensive, but now that lenders are required to generate even more disclosures and documentation, automating the process has become a top priority.
The company's solutions include electronic document management, customized partner websites, compliance management, income verification, and a number of other customizable add-on solutions. Ellie Mae estimates it is only servicing about 2% of a total $2.5 billion addressable market, indicating a huge opportunity to convert users not yet utilizing its products.
The flagship Encompass platform is the leader in the loan origination software (LOS) sector, accounting for 40% of the market share by volume. Despite mortgage volume declines since 2009, the company has been able to drive revenue growth of more than 47% during that time frame. This is a result of multiple growth drivers targeted at over 7,500 mid-sized mortgage-generating units and nearly 110,000 industry professionals.
Additionally, Ellie Mae has a pricing solution that makes it attractive to large regional banks, as well as the local single-branch credit union. The majority of its new deals are software-as-a-service (SaaS) sales that are entirely Web-based with no large upfront software or equipment costs.
The services are offered as either a standard subscription or a success-based pricing solution. The latter option requires customers to pay only upon completion of a successfully closed mortgage loan with low monthly minimums, creating very little price opposition for smaller lenders.
Ellie Mae targets the middle market, as many of the largest lenders in the sector have their own in-house systems, but smaller participants who can't afford to build out their own proprietary software packages need to reduce the time and costs necessary to take a residential mortgage from the initial application through the closing process.
Of the hundreds of thousands of U.S. residential originations in 2011, about half were handled by the retail branches of the top 20 banks, often referred to as mega-lenders. Local banks, credit unions, independent agents, and savings and loans, all of which are Ellie Mae's primary target market, handle the other half. So there is a ton of opportunity for the company to grow its business.
Shares of Ellie Mae priced at $6 in April last year, but really began to take off in 2012, more than doubling in price. It reported outstanding first-quarter results earlier this month, as revenues nearly doubled to $20.9 million. Earnings rose to $0.20 per share compared with a loss of $0.09 a year ago. The company was able to increase users to its Encompass online solution by 18,000 users while also increasing revenue per user.
Ellie Mae has shown a penchant for thriving in less than ideal mortgage market conditions, so any improvement in the sector over the next couple of years could spur this leader to surprising heights. This is another stock to consider on big dips over the summer.
At the time of publication, Markman had no positions in the stocks mentioned. Jon Markman is editor of the independent investment newsletter The Daily Advantage.