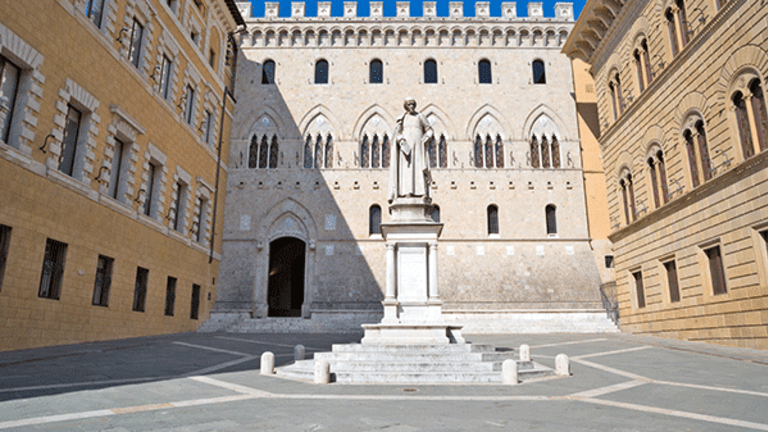 Major Bank Monte dei Paschi Capital Raise Fails -- Set to Be First Failure Since Crisis
Nationalization now appears the only option for the Tuscan lender after it was unable to attract an anchor investor.
Monte dei Paschi (BMDPY) , the flailing Italian lender, said Thursday its capital-raising attempt has failed, paving the way for nationalization, which would mark the first major bank failure in Europe since the financial crisis.
The lender raised around €2 billion ($2.1 bn) in new capital from a month-long debt-for-equity swap this week, but it was still €3 billion short of the number it needed to keep regulators at bay.
It said in a statement late Thursday it hadn't been able to find a so-called anchor investor, such as a sovereign wealth fund, to back it and so the capital raise had failed because small- and medium-sized institutions were unwilling to participate.
The Tuscan lender was instructed by the European Central Bank to reduce the amount of nonperforming loans on its balance sheet by the end of the year or face a so-called resolution -- otherwise know as an orderly winding up at the hands of regulators. 
Monte Paschi announced in July that it would sell a €27 billion portfolio to satisfy the ECB's requirements, but that it would need to raise capital at the same time in order to repair its capital buffer, which was damaged by losses sustained earlier in the year and was expected to take a further hit after the NPL sale. 
Monte Paschi stock fell close to 10% Thursday, to a record low of €14.66, before paring losses. It closed more than 7% lower, at €15.08.
The failed capital raising now clears the way for an all-out nationalization of the bank, which will likely mean imposing losses on bondholders, if the rescue is to be compliant with European Union rules, and could further complicate the political landscape in Europe.
The Italian parliament approved €20 billion of new borrowing to fund a banking-sector clean-up Wednesday, which press speculation suggested, was the result of expectations that the capital raise would fail.
Monte Paschi did not give details of the steps that it will take next and did not immediately respond to a request for comment.