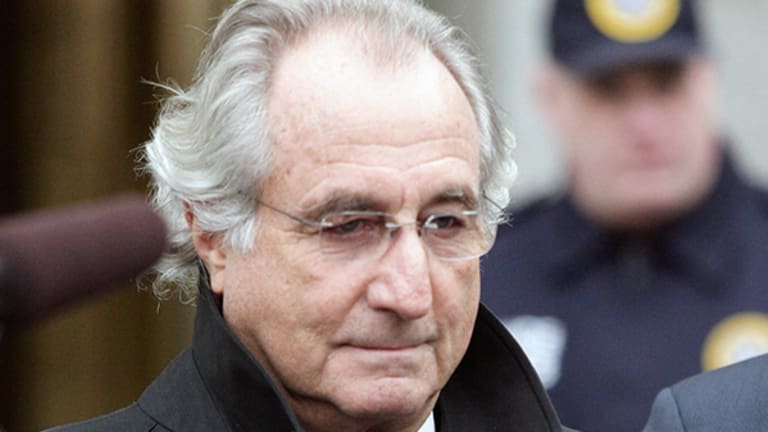 Madoff Deferred Prosecution Would Tighten Noose Around JPMorgan's Neck
JPMorgan's mounting legal problems could give the firm and its CEO Jamie Dimon little margin for error.
NEW YORK (TheStreet) - JPMorgan Chase (JPM) faces a deferred prosecution agreement with the Justice Department and a possible criminal admission of guilt for its role as Bernie Madoff's banker, according to a detailed report from The New York Times.
The report states that the Federal Bureau of Investigation and the U.S. attorney's office in New York are focusing on whether or not JPMorgan adequately aired its concerns to authorities about Madoff's investing activities, which were later discovered to be a Ponzi scheme that caused tens of billions of dollars in investor losses.
The inquiry could lead to a deferred prosecution agreement between JPMorgan and the Department of Justice, which would stay criminal charges against the nation's largest bank by assets so long as it remains compliant with the law. Such a settlement, nevertheless, would give JPMorgan little room for further error as the bank tries to extricate itself from an onslaught of regulatory and legal inquires into its mortgage origination, securitization, trading and hiring practices.
According to the Times report, the bank could also face an even more burdensome Madoff-related regulatory backlash.
Prosecutors are weighing a criminal charge against JPMorgan for prospective violations of the Bank Secrecy Act (BSA), which requires firms to report suspicions of fraudulent activity such as Madoff's Ponzi scheme. Emails disclosed in litigation brought forward by Irving Picard, the trustee seeking to recover Madoff investor funds, indicate some officials at JPMorgan had qualms over the Madoff firm's opaque accounting practices. However, the bank doesn't appear to have expressed its concerns to any governmental regulators, a possible BSA violation.
A BSA action would likely target JPMorgan's main national banking subsidiary. Earlier in October, JPMorgan Chairman and CEO Jamie Dimon relinquished his chairmanship of the subsidiary. The Times report indicates the Madoff probe may not lead to criminal charges against JPMorgan.
In Madoff-related litigation, JPMorgan has maintained it acted in good faith as the jailed money manager's longtime banker. Emails seeking additional comment weren't immediately returned.
JPMorgan has disclosed the DoJ's ongoing inquiry of its banking relationship with Madoff in recent quarterly reports.
"The Firm is also responding to various governmental investigations relating to Madoff, including by the Department of Justice and other regulators," JPMorgan said in a second quarter filing with the Securities and Exchange Commission.
The bank has also settled complaints with U.S. regulators that may be germane to any ongoing Madoff probe.
In 2011, JPMorgan paid $88.3 million to regulators for what the government called "egregious violations" in its dealing with countries sanctioned by the U.S. government's Office of Foreign Assets Control. Those violations included hundreds of millions of dollars in wire transfers to Cuba, millions in loans to Iran and wire transfers to Sudan.

At the beginning of 2013, the bank also signed a consent order with the Federal Reserve and the Office of the Comptroller of the Currency to remedy deficiencies in the bank's compliance with anti-money laundering and Bank Secrecy Act regulations. In that consent order, the bank neither admitted nor denied guilt
Joshua Rosner, a banking analyst at Graham Fisher & Co., raised the question in a March report titled "JPMorgan Chase: Out of Control" of whether the firm's OFAC, Fed and OCC settlements left open the prospect that the government would continue to investigate the bank's activities surrounding Bernie Madoff.
The analyst questioned whether JPMorgan's January 2013 consent order related to violations identified in its OFAC settlement or whether regulators decided the bank's errors were more pervasive.
"If, on the other hand, the recent consent orders relate to violations other than those identified in the OFAC settlement it seems plausible that JPMorgan could have been found to have violated AML/BSA regulations related to its role in the recent Vatican Bank scandal, a drug cartel money-laundering scheme, or even tied to the Madoff bankruptcy," Rosner wrote.
An intensifying Madoff-related probe could put JPMorgan and Dimon in a regulatory straight jacket that would possibly mirror the tenuous standing of Swiss banking giant UBS (UBS) and British conglomerate HSBC (HBC) in the United States.
Both UBS and HSBC have reached deferred prosecution agreements with the DoJ over their respective compliance with U.S. tax law and with anti-money laundering compliance.
In UBS's case, the firm is being stayed from charges of defrauding the Internal Revenue Service of billions of dollars in tax revenue through illegal shelters and transfers the Swiss bank set up for U.S. clients. The firm paid significant monetary penalties and has little room to miss compliance requirements. It also agreed to disclose the names of thousands of U.S. banking customers who had sought to illegally shelter their money from tax authorities.
HSBC's deferred prosecution centers on the bank's failure to maintain an effective anti-money laundering program in the U.S. and its alleged complicity in allowing drug cartels to transact through a Mexican subsidiary. The firm was also found to have permitted hundreds of millions of dollars in financial dealings between the U.S. and countries sanctioned by OFAC such as Cuba, Iran, Libya, Sudan, and Burma and paid a settlement amount of nearly $2 billion.
JPMorgan Chase is responding or cooperating on regulatory inquiries into the firm's mortgage securitization business, its employment and business relationships in Hong Kong, its forbearance practices for loans on residential properties in Superstorm Sandy FEMA-designated counties in New York State, and the firm's foreign exchange trading practices, according to SEC filings.
JPMorgan also has disclosed ongoing litigation surrounding its trading of auction rate securities, its acquisition of investment bank Bear Stearns, an inquiry into its $6.2 billion Chief Investment Office trading loss, a criminal inquiry tied to swap contracts the bank sold to the City of Milan, its trading of energy and credit default swap contracts, and a probe by global regulatory authorities into the firm's trading of short term interest rates such as  the BBA's London Interbank Offered Rate (LIBOR).
Earlier in October, reports emerged that the bank is nearing a prospective $13 billion settlement with the DoJ, the Federal Housing Finance Agency and the New York State attorney general related to its mortgage origination and securitization activities.
It remains unclear whether or not JPMorgan or any of its officials will be forced to offer admissions of guilt.
That litigation relates to hundreds of billions of dollars in mortgages securities that JPMorgan and firms the bank acquired such as Washington Mutual and Bear Stearns sold to U.S. housing authorities such as Fannie Mae and Freddie Mac prior to the collapse of the housing market.
JPMorgan is also battling private litigation on mortgage securities it sold to investors. The language of any potential settlement with the government could have relevance to the firm's ancillary private litigation.
The firm is battling regulatory inquests on many fronts and it continues to suffer from stagnant growth and weak macroeconomic fundamentals in the U.S. JPMorgan has so-far been limited in discussing its ongoing litigation, however, it did downplay expectations of share buybacks and increased dividends through year-end.  In that sense, it is JPMorgan's legal issues which may carry investors attention through 2013 and early 2014.
JPMorgan shares were down less than 1% in early Thursday trading to $52.26.
Written by Antoine Gara in New York