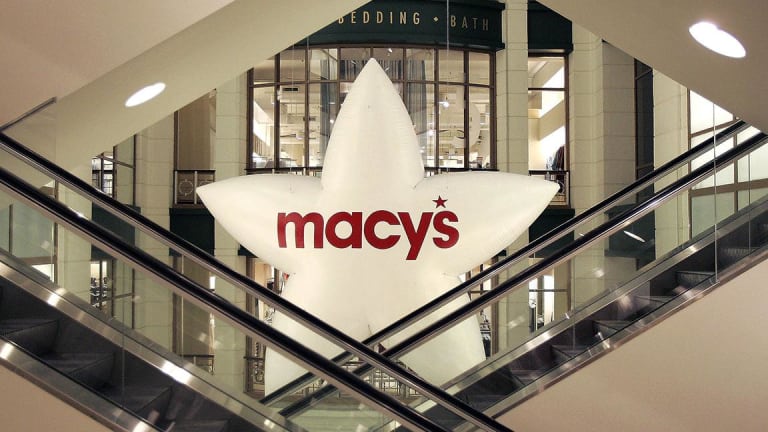 Macy's Shares Plummet on Decline in Total Sales for Quarter
Shares of the department store chain were down more than 16% on Wednesday, Aug. 15.
Shares of the department store chain were down more than 16% on Wednesday, Aug. 15.
Sometimes an earnings beat isn't good enough.
Macy's Inc.'s (M) - Get Report shares plummeted Wednesday, Aug. 15, and closed down more than 16% to $35.15. The department store's shares were down 4.4% to $39.99 before the opening bell. 
"While there are good reasons for the slowdown in sales growth, and although underlying performance is respectable, the decline in total sales and the virtually flat comparable numbers look bad. This is likely spooking some investors and has raised questions over how sustainable Macy's recovery is," Neil Saunders, managing director of GlobalData Retail, told TheStreet after the earnings call. 
"There is also a sense that this was an easy period of trading thanks to a number of favorable economic factors and the view is that Macy's has not fully capitalized on it. Investors realize that Macy's has a lot more work to do before it is back to full health. This means that they are not as willing to give the group the benefit of the doubt when growth slides. In addition to the above, there may be some sell-off after the share price inflation over the past three months."
Sales for the second quarter of 2018 came in at $5.57 billion, down 1.1%, compared with net sales of $5.64 billion in the second quarter of 2017. Analysts polled by FactSet Research Systems Inc. predicted $5.55 billion in sales. Earnings per diluted share also beat the consensus estimate -- Macy's reported EPS at 70 cents compared with an estimate of 50 cents.
Macy's beat estimates in same-store sales: They came in up 0.5%, whereas consensus estimates predicted a decline of 0.9%.
Macy's on Wednesday also raised guidance for fiscal 2018 and now expects adjusted earnings per diluted share of $3.95 to $4.15, excluding anticipated settlement charges related to the company's defined benefit plans as well as impairment and other costs. The company expected total sales to range from flat to a 0.7% increase compared with 2017. Macy's estimated comparable sales on an owned plus licensed basis would go up between 2% and 2.5% for the second half of 2018, which works out to a yearly upswing of 2.1% to 2.5%.
"Macy's Inc. delivered strong performance in the first half of the year, and we are pleased to report our third consecutive quarter of comparable sales growth. Macy's, Bloomingdale's and Bluemercury all performed well. It is encouraging to see the continued strengthening of our brick & mortar business, where we saw trend improvements across the portfolio, led by our Growth50 stores," Macy's chairman and CEO Jeff Gennette said in a statement. "The combination of healthy stores, robust e-commerce and a great mobile experience is Macy's recipe for success."
Why Jim Cramer's Action Alerts PLUS owns Kohl's (KSS) - Get Report and Nordstrom (JWN) - Get Report .