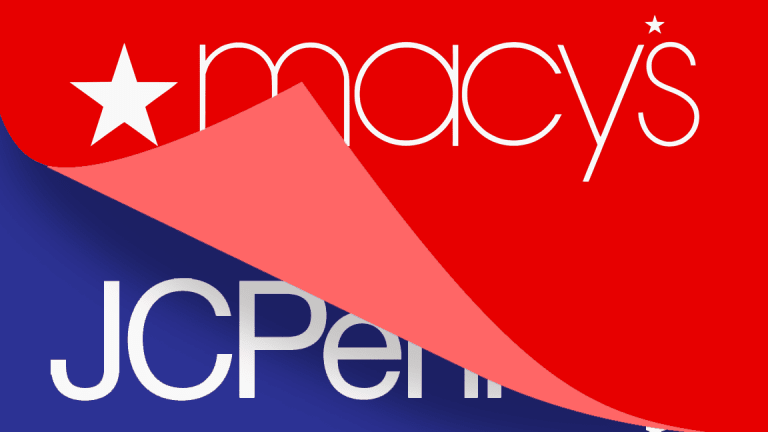 Macy's Vs. J.C. Penney: Which Department Store Is Just Trying to Survive?
With age, comes wisdom, sometimes. Macy's is the older sister (159 years) to J.C. Penney (116), yet there was more than age at play in this week's earnings reports for each.
With age, comes wisdom, sometimes. Macy's is the older sister (159 years) to J.C. Penney (116), yet there was more than age at play in this week's earnings reports for each.
With age, comes wisdom, sometimes.
Macy's  Inc. (M) - Get Report is the older sister (159 years)  to J.C. Penney Co. (JCP) - Get Report (116), yet there was more than age at play in this week's earnings reports of each. As each retailer starts to look toward the holiday season, one clearly has the wind at its sails while the other is hoping it catches a strong gust soon.
The Elder 
The occupant of Herald Square has been struggling of late, distinguished much more by store closings and employee layoffs than on solid earnings. Yet on Wednesday, a surprise, to the delight of Wall Street. Macy's reported a strong first quarter, which shone all the more brightly because of its past weaknesses. 
Macy's adjusted earnings came in at 42 cents a share for the first quarter, besting FactSet analysts' expectation of 36 cents. It delivered $5.5 billion in revenue, which beat forecasts of $5.4 billion. Comparable store sales on an owned and licensed basis grew 4.2% in the quarter. With that, the retailer also raised guidance for the year and now expects adjusted earnings between $3.75 and $3.95 a share for fiscal 2018, which would represent as much as about 5% growth from the previous year and a 20-cent increase from previous 2018 estimates.
Total sales are expected to range from a 1% decline to a 0.5% increase in fiscal 2018, Macy's said. Comparable sales on an owned plus licensed basis are expected to increase between 1% and 2%.
"Structurally and strategically, we believe Macy's remains in the earlier innings of a 'do-it' or 'lose-share' and profitability transformation," wrote Cowen & Co. analyst Oliver Chen in a note. "Plenty of strategies are still in testing mode particularly the learnings from 'Growth 50,' we believe these stores will heighten fashion and curation, increase service levels, and integrate traffic driving services and convenience factors."
Chen added that Macy's has beefed up its product and category momentum of late, too. It also has found some early success with a new loyalty program.
Growth 50 is a Macy's program involving 50 stores across the country. The pilot program for it is at a Woodbridge, N.J., store, which features in-store mobile checkout and enhanced lighting, among others features. The goal is to take what works in Woodbridge and eventually roll it out to hundreds more stores next year.
Also showing a commitment to innovation is Macy's recent purchase of a 2,000-square-foot New York City store called STORY, which changes its offerings frequently similar to how an art gallery varies its exhibitions. Macy's hired STORY's founder, Rachel Schectman, as an executive whose mandate is to partner with brands and improve in-store experiences.
Still, not everyone on Wall Street is convinced Macy's is back in a big way. 
"We think these strategies are all positives, but it is unclear how much of a benefit they will add," says Morgan Stanley analyst Kimberly Greenberger. "We do not question Macy's ability to execute their initiatives, but we wonder if these strategies will be enough to fully counter the ongoing decline in store traffic."
But hey, at least Macy's is in better shape right now than mall rival J.C. Penney.
The Younger 
J.C. Penney blamed its weak quarter on the weather. Yet, that excuse only carries so much weight, analysts say. The lasting challenges for J.C. Penney have to do with its inventory mix, particularly for plus-size women, that isn't selling, a slow roll-out of its new appliance business, pitting it in direct competition to Sears Holdings Corp. (SHLD) , and problems with its website, due to supply chain issues.
Those missteps showed in the quarter.
J.C. Penney posted an adjusted loss of 22 cents a share on revenue of $2.58 billion. The FactSet consensus was for a loss of 23 cents and sales of $2.61 billion. Same-store sales were up 0.2%, missing FactSet's consensus of 2.1% growth.
While J.C. Penney expects full-year same-store sales from flat to up 2%, it anticipates adjusted earnings per share to be a loss of 7 cents to earnings of 13 cents. The previous guidance was for earnings of 5 cents to 25 cents.
"Women's apparel continues to be a headwind for J.C. Penney, as the company's inability to get the correct merchandise and drive full-price sales has been a weight on results for many quarters over the last year," wrote analyst Brill Dreher of Susquehanna Financial Group, in a note. "Given that this is J.C. Penney's largest category, the weakness there has more than offset strength that they have shown in other areas of the business (namely Sephora, Salons, and the newer appliance business)."
Some J.C. Penney stores have within them a Sephora makeup store or a Salon beauty shop.
Adds Greenberger, "All in, we view this as a disappointing quarter given the favorable calendar shift (we estimate a 100 basis point benefit to comps), less bad -1.5% industry wide store traffic, strong consumer confidence, and greater spending across retail in general."
On the upside, J.C. Penney is trying to attract former customers of retailer Bon-Ton, which filed Chapter 11 in February and is liquidating its stores, and Sears, which is crawling toward bankruptcy. Dreher interprets J.C. Penney's move into appliance sales as a plus, a way to stand out within the department store sector.
TheStreet presents on May 22: "How to Stomach Market Volatility." Hosted by Fisher Investments, the exclusive live webinar will give you the tools to successfully navigate market volatility and discuss why having a wealth manager is more critical than ever before. Quickly register for the event here.