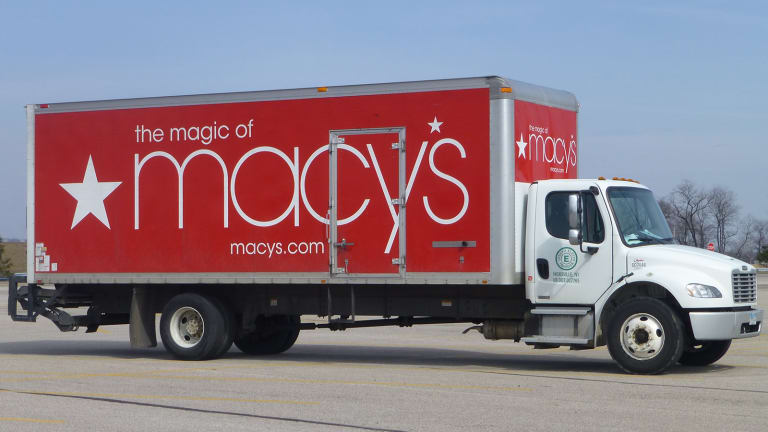 Macy's Gives Hint of Future Plans With $270 Million Real Estate Deal
The department store retailer announced a deal to sell off some valuable property in Brooklyn, but the news was overshadowed by sluggish earnings.
Updated to include comments from Macy's CFO on the quarterly earnings call.
NEW YORK (TheStreet) -- While its latest earnings may have disappointed investors,  Macy's (M) - Get Macy's Inc Report gave a strong hint of things to come with a lucrative deal to sell off some of its valuable real estate holdings.
On Wednesday, the department store retailer announced an agreement to sell a 378,000 square foot location in downtown Brooklyn, N.Y. to real estate developer Tishman Speyer. Macy's will receive $170 million in cash, and an additional $100 million over the next three years to be used as a contribution toward renovating the store.
"The move enhances shareholder value, and helps us build for the future," said Macy's CFO Karen Hoguet on a call with analysts. Hoguet added the decision was a byproduct of rising real estate values, and some "interesting transactions" in the department store space this year.  One of those "interesting transactions" was likely Sears Holdings Corp. (SHLD)  decision to form a real estate investment trust (REIT), which raised considerable money for the struggling retailer.   
Under the agreement, Macy's will continue to own and operate the first four floors and lower level of the store, which will be reconfigured and remodeled. Tishman Speyer will use the portion of the site that Macy's will not retain to develop into approximately ten floors of mixed use space. The two companies will work together to recreate and shrink the store.
Work begins in the spring of 2016, and is scheduled to be completed by the fall of 2018.
Macy's signaled it may not be done exploring creative ways to extract value from its real estate holdings, a nod that it's bending to activist pressure.
"In light of current market conditions, the company has retained specialized real estate advisors, in addition to financial, legal and tax advisors, to intensely study its real estate portfolio to determine where opportunities exist that would further enhance the value of the company," said Macy's in a statement. On CNBC Wednesday morning, Macy's Chairman and CEO Terry Lundgren said it's actively working with Green Street Advisors on the review process.
With Macy's sales and earnings under pressure this year due to a sluggish U.S. economy, activists have lined up to pressure the company to spin off the company's real estate holdings and boost the stock price.
"We believe there is an opportunity to create two leading companies while maintaining the dividend," Starboard Value CEO Jeff Smith said at the Delivering Alpha investment conference on Jul. 15.
One of those companies would be the retail store operations, the other a separate holding company for Macy's valuable real estate. Smith, the most prominent big investor to come out in favor of Macy's spinning off its real estate, said he believes the stock would be worth $125 a share if the retailer took undertook such a tactic. Shares are currently trading at about half that.
According to a Reutersreport on June 2, multiple unnamed hedge funds have amassed stakes in Macy's in recent months, and have held conversations with management about a possible real estate spin-off.
On May 13, TheStreethighlighted the prospect of such a real estate transaction. "We are studying various transactions and their pros and cons", Macy's Chief Financial Officer Karen Hoguet said on the company's first-quarter post-earnings conference call.
On Wednesday, however, Macy's real estate move was overshadowed by disappointing second quarter sales and guidance, with shares down almost 4% in early morning trading. Macy's reported earnings per share of $0.64, falling well short of forecasts for $0.75.
"We are disappointed in our second quarter results, which were impacted by a variety of factors, both internal to the company and in the macroeconomic environment", said Lundgren in a statement. The longtime Macy's chief pointed to weak sales at tourist locations such as New York City's Herald Square due to the strengthening of the U.S. dollar. On a call with analysts, Hoguet noted sales of fashion jewelry, watches and housewares were particularly weak. 
Hoguet stressed Macy's will seek to improve its watch offerings and the physical presentation of watches in the store, while enhancing the selling techniques of employees  The company is also committing more floor space to wearable devices, notably from FitBit (FIT) - Get Fitbit, Inc. Class A Report.
News of the watch initiatives come on the heels of disappointing second quarter sales by watchmaker Fossil (FOSL) - Get Fossil Group, Inc. Report, and persistent industry weakness due partly to the arrival of the Apple Watch from Apple (AAPL) - Get Apple Inc. Report and a lack of compelling new fashions.
Full year same-store sales for Macy's are now seen unchanged, compared to a prior forecast for 2% growth.
The company maintained its full year earnings per share guidance of $4.70 to $4.80.  But that was due to a $250 million gain on the sale of the real estate in downtown Brooklyn, which was not factored into previous calculations.