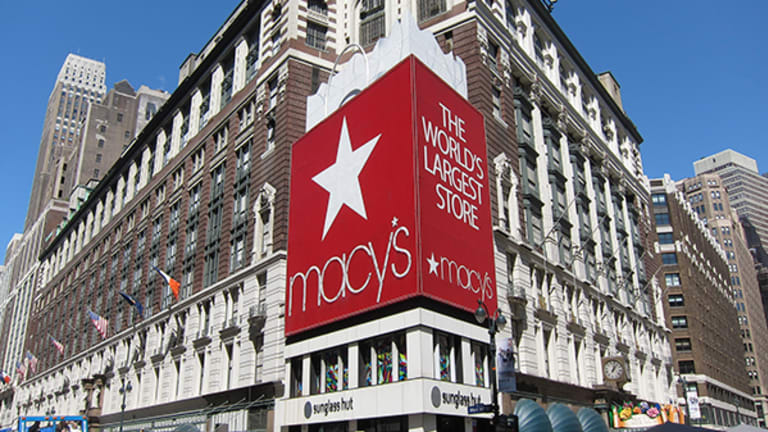 When it reports second-quarter earnings on Aug. 11, Macy's (M) - Get Macy's Inc Report will probably continue to show a drop in sales and earnings.
But while everyone infers that it isn't a great idea to buy into an apparently shrinking, old-fashioned, traditional retailer that can't compete in the new era of ecommerce and mobile commerce, a quiet revolution is going on inside Macy's.
Let's first review the fundamentals.
Macy's has a market capitalization of $10.14 billion. With the most recent net earnings at nearly $1 billion or $995 million for past 12 months, the stock is selling at a market-cap-to-net-earnings-ratio or the equivalent of the price-earnings ratio of nearly 11.
This looks quite cheap, but there are a few adjustments to make.
First, because there is significant debt, rather than consider market cap, let's look at the enterprise value, which adds the net debt -- i.e., total debt-cash ratio -- to market cap. When using enterprise value, the earnings have to be earnings before interest and taxes adjusted for taxes.
Using the EV-to-tax-adjusted EBIT, provides an effective P/E ratio of about 14, which translates to an earnings yield of 7.3%, of which the dividend yield is 4.6%. This is a good earnings stream for a long-term holder of the stock, assuming that the dividend stream holds up.
The second adjustment should be for future earnings. Given that the trend is that traditional, brick-and-mortar retailers are losing sales to online retailers, it is likely that sales, and with it the earnings of traditional retailers, could continue dropping.
Although some might consider the reports of the death of traditional retailers as highly exaggerated, even if we go by some of the report, it is projected that sales will continue dropping.
Let's take one of the most pessimistic projections, which predicts sales falling by an 8.5% compound annual growth rate until 2020, which provides a revenue figure of $17 billion in 2020. With that, of course, earnings would fall, too.
Assuming that Macy's management is rational, its executives would be able to reduce the company's fixed costs in proportion to this drastically lower revenue so that they are able to maintain operating income margins at the current level. This assumes that the most recent quarterly results are anomalous and that the company will be able to bring the costs down over the five-year period.
This will provide an EBIT of $1.2 billion an an EV-to-tax-adjusted EBIT, or effective P/E of 22, i.e., a 4.5% earnings yield. This worst-case scenario still isn't too bad if most of the earnings are paid out as dividends.
Even if this turns out to be true, then Macy's is sitting on huge underutilized real estate assets. The company owns or has a long-term lease on more than 100 million square feet of retail space. Even at a price of $100 per square foot for the retail space, it is valued at more than $10 billion.
Another way to look at it is: The notional annual rental on this asset is about $1 billion (average $10 per square foot per year). Assuming that this rent-generating real estate is put into a separate structure as a real estate investment trust, this can provide a separate validation valuation to the real estate, anywhere from $10 billion to $30 billion-plus, the higher end based on retail REITs such as General Growth Properties and Simon Property.
If such a separation of real estate into a REIT is carried out, the rentals will have to be paid out of the operating earnings because the real estate would no longer owned by the retail operation. However, the rentals paid would be mostly a notional entry if Macy's continued being the majority holder of the REIT and hence received the dividends back from the REIT.  
Something similar has already happened at Sears, and the resulting REIT is Seritage. Yes, Warren E. Buffett has invested in it.
Next, is the online business hidden inside Macy's. Although Macy's doesn't breakout the revenues from online separately, it looks like it could be anywhere between $3 billion and $6 billion-plus.
A price-sales ratio of 1.5 to 3 on this provides a valuation of $5 billion to $18 billion-plus. Definitely, the online retailers (macys.com and bloomingdales.com) hidden inside Macy's are pretty substantial and valued in the several billions.
Finally, there is Macy's credit card business, which generates earnings of nearly $800 million resulting in a business worth of about $8 billion or so.
All in all, Macy's has a number of very large businesses hidden inside it, and all investors have to pay for those is about $17 billion. The extras such as the hidden REIT, the online retail business and the credit card business themselves are north of $23 billion and could be as high as $50 billion to $60 billion.
And then there is the traditional retailing business with annual revenue of between $11 billion and $15 billion. That business could still have anywhere from $500 million to $1 billion in earnings and a conservative valuation of $5 billion-plus.  
Who wants to unwrap this Macy's gift?
The author and the clients of ArthVeda Capital hold shares of Macy's.