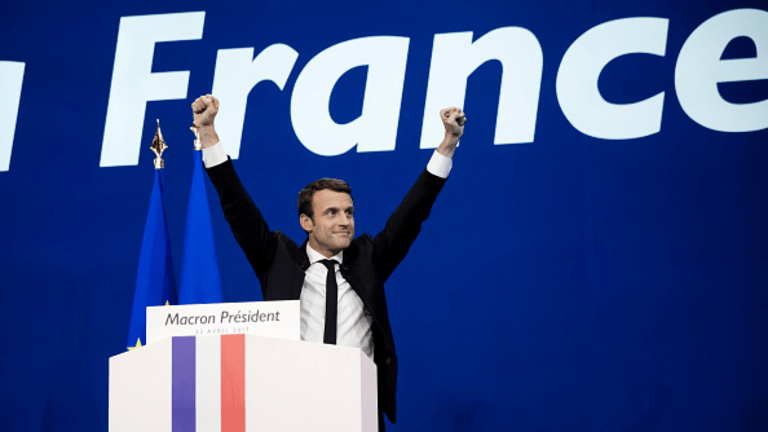 Macron's Debate Win Over Le Pen Means It's Time to Stock Up on France
This may turn out to be a good opportunity for investors to gain long-term exposure to French stocks.
Last night's debate between the two French candidates who will face each other in Sunday's runoff was unusually bitter for a country more accustomed to polite disagreement. According to opinion polls (if you believe them), centrist candidate Emmanuel Macron won the debate over extremist Marine Le Pen.
"Your strategy is simply to tell a lot of lies and list everything that doesn't work in this country, but you don't propose any solution," Macron told Le Pen. In turn, she accused him of being "flat on his stomach," prostrate in front of Germany, the trade unions and the banks, dubbing him the candidate of "savage globalization."
If this coming Sunday's election is really a choice between breaking up the eurozone and the European Union or further integration, it looks like integration is winning.
In a poll by Elabe quoted by Reuters, 63% of viewers believed Macron was more convincing than Le Pen in last night's debate. In surveys questioning voters about their intentions, he is projected to win Sunday's vote by a margin of 20 percentage points.
The Sentix institute's sentiment index, released earlier in the week, showed that the percentage of investors expecting a breakup of the euro had fallen to 13.6% at the end of April from 18.7% at the end of March. For France, the probability of exiting the euro fell to 3.5% compared to a high of 8.4% in February.
European markets liked the debate, too, judging by their strength in early-morning trading. France's CAC-40 hit its highest level since January 2008, while Germany's DAX hit a new record high.
Still, investors should remember the lessons of Brexit and the victory of Donald Trump: both unexpected, both deeply divisive. Macron is not the winning candidate until the results have been counted.
If he does win, there will be a period of hope that he can bring in reforms, and this will likely boost French stocks. Additional tailwinds could come from an eurozone economy that is now growing at a faster pace than the U.S. and the U.K. (take that, Brexit!).
How to play a Macron victory? Equity strategists at Societe Generale have a "very French basket" of stocks that would benefit the most from his victory due to his electoral program involving deregulation of the labor market and corporate tax cuts to 25% from the current 33.3%.
In the industrials sector, they include Thales (THLEY) , Vinci (VCISY) , Eiffage (EFGSY) , Saint-Gobain (CODGF) and Air France-KLM (AFLYY) . In the auto and consumer sector, the strategists recommend Renault (RNSDF) , Peugeot Citroen (PUGOY) , Carrefour (CRRFY) and TF1 (TVFCF) .
Among financials, they recommend BNP Paribas (BNPQY) , Credit Agricole (CRARY) and Icade, which is only listed in Paris. They also like Internet and telecommunications services provider Iliad ILIAY and utility firm Veolia Environment (VEOEY) .
Plus, small- and mid-cap French companies, which are more domestically oriented, would benefit if Macron manages to push through a more pro-business environment. For investors who are not afraid of risk and are seeking long-term exposure to France, this could turn out to be a very good opportunity to stock up.
(This article originally appeared at 9:00 ET on Real Money, our premium site for active traders. Click here to get great columns like this from Antonia Oprita, Jim Cramer and other writers even earlier in the trading day.)
Employees of TheStreet are restricted from trading individual securities. Societe Generale is an investment bank and may hold positions in some, or all, of the securities mentioned in this article.