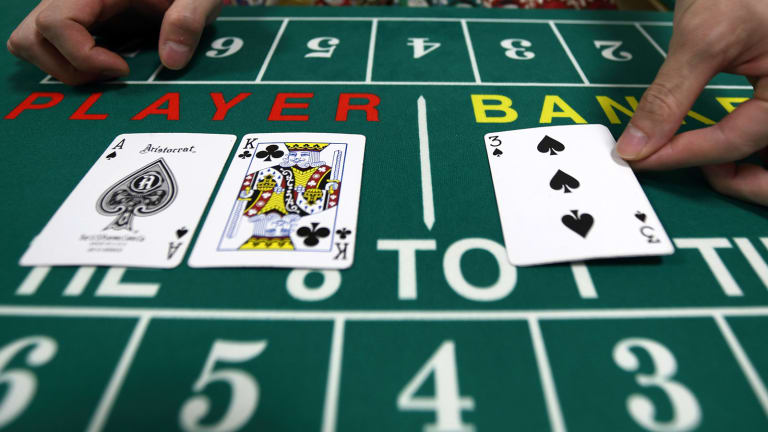 Macau Casino Stocks a Losing Bet on Monday as Revenue Falls Again
High prices and tighter government regulations are crimping business.
NEW YORK (TheStreet) -- Macau casino stocks were in the red on Monday on news that casino revenue for the Chinese peninsula has dropped 37.1% in May from a year ago.
The latest results mark the 12th straight month of revenue declines for Macau's casinos, although the latest number beat analysts' estimates of a 38.5% revenue drop.
Still, casino operators, including Las Vegas Sands (LVS) , MGM (MGM) and Wynn Resorts (WYNN) , are working on over $20 billion worth of new construction.
The slowdown was also seen elsewhere as the hotel occupancy rate was 79.4%, down 5.9% from last year.
Macau's casinos have also been hit by Beijing's new smoking ban regulation and the government's attempts to turn the gambling hub into more of a conference location. However, attempts to rebrand the gambling center don't appear to have taken off. The latest results show that the number of attendees for conferences, meetings and exhibitions is down 16% during the last 12 months.
In February 2014, Macau's gambling revenue soared by around 40%. Now gamblers and tourists are being put under pressure by China's crackdown on corruption.
Macau Chief Executive Fernando Chui released a new column to communicate his thoughts to the people, the first of which was titled "Stay calm and peaceful to observe trends with wisdom."
Changes in Macau have included tighter visa restrictions for visitors and the government keeping a closer eye on UnionPay debit cards. Also, gamblers have been complaining that prices in Macau were becoming too high, as many hotel room costs and minimum bet requirements were pricing out budget tourists.
The Chinese government has continued to place emphasis on Macau's diversification away from gambling. Galaxy Entertainment Group (GXYEY)  opened a new flagship location in the area last week but was forced to restrict the number of gambling tables.