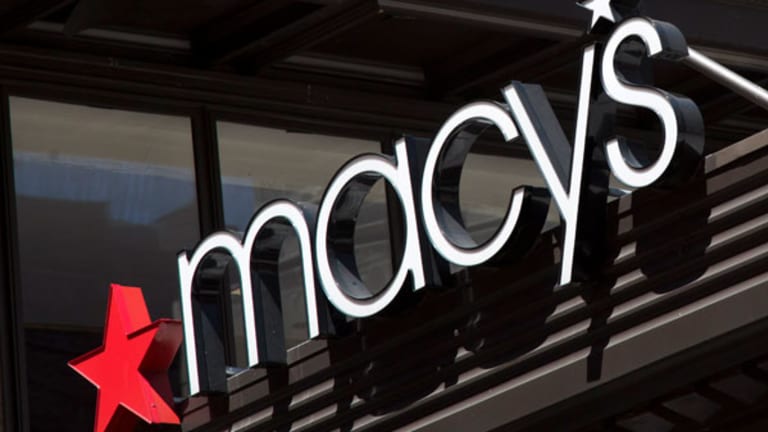 M, JWN, FB, AMZN: Jim Cramer's Views
Jim Cramer shares his views on crunch time for retail and scarcity value. Macy's, Nordstrom, Facebook and Amazon.com are among the stocks discussed here.
NEW YORK (Real Money) -- Jim Cramer shares his views every day on RealMoney.Click here for a real-time look at his insights and musings.
Winners and Losers in Retail So Far
Posted at 5:11 a.m. EDT on Tuesday, Nov. 24, 2015
The stock of Macy's  (M) - Get Macy's Inc Report went up yesterday because it got cold just in time. Same with Nordstrom (JWN) - Get Nordstrom, Inc. Report. I went to these stores this weekend and they were crowded with people actually trying on coats! They better, because all you saw were coats when you went into them.
This is crunch time for retail and, while we can hear all we want about Growth Seekerportfolio name Amazon.com (AMZN) - Get Amazon.com, Inc. Report -- and I think Amazon's amazing as you know from FANG, which also includes Action Alerts PLUS names Facebook  (FB) - Get Meta Platforms Inc. Class A Report and Google  (GOOGL) - Get Alphabet Inc. Class A Report, as well as Netflix (NFLX) - Get Netflix, Inc. Report  -- people still go to the mall. Sure, not like the old days, but there are plenty of shoppers who like to try things on in traditional fashion. They just aren't motivated if it is too warm.
I think the stock of Macy's last week got washed out to the point that it can be traded. I don't think it can go back to the $60s, but I think that activist pressure and cold weather can put a bid underneath.
Same with Nordstrom, which was particularly clueless on the conference call, but still has a heck of a franchise, one that's not been Montgomery Ward-ed by any means. I am not as certain about Target  (TGT) - Get Target Corporation Report, if only because the on-line surprise and the 1-2% comp store projections are just not good enough. I had thought that we were seeing a classic under-promise to over-deliver situation of some magnitude, but that was simply not the case.
There are plenty of anomalies here. Last week I told you that I thought there was nothing wrong at all with L Brands (LB) - Get L Brands, Inc. Report and they are just being their old cautious selves. Looks like that's the case.
After big moves up, TJ (TJX) - Get TJX Companies Inc Report and Ross (ROST) - Get Ross Stores, Inc. Report are resting, but I think both can go higher.
I am surprised that Wal-Mart's (WMT) - Get Walmart Inc. Report not been able to mount at least some of an offensive higher, given that it is down 30% for the year.
But that's because this is a market that loves to reward winners and endlessly punish losers, and the winners are Home Depot (HD) - Get Home Depot, Inc. Report, Lowe's  (LOW) - Get Lowe's Companies, Inc. Report and Costco (COST) - Get Costco Wholesale Corporation Report. Given the paucity of data points ahead, you have to figure that these are going to be go-to for the rest of the year, except perhaps the day before December employment figures and the day of the Fed meeting. They just have too much going for them not to be.
I wish it weren't so narrow. But that's just how things are shaking out for now. Home Depot crossing $130 and change is, in retrospect, a statement that this company's value is much higher than people think, even as it isn't adding stores.
Most chains have both new stores and better sales. This one's doing it only with the latter, which makes it an even more amazing story.
At the time of publication, Action Alerts PLUS, which Cramer co-manages as a charitable trust, was long FB, GOOGL, TGT and COST.
Here's the Real Difference Between FANG and Square
Posted at 6:06 a.m. EDT on Monday, Nov. 23, 2015
The economic psychology behind the run in Action Alerts PLUS portfolio name Facebook  (FB) - Get Meta Platforms Inc. Class A Report, Growth Seeker portfolio holding Amazon.com (AMZN) - Get Amazon.com, Inc. Report, Netflix (NFLX) - Get Netflix, Inc. Report and Google  (GOOGL) - Get Alphabet Inc. Class A Report, or Alphabet, should become a case study in how stocks don't necessarily divorce themselves from the fundamentals as much as develop a scarcity value that can't be trumped by the four walls of the spread sheet.
They become something akin to modern art or professional sports teams, valuations which, while they can't be explained by simple numbers, can be examined from the point of view that there just aren't that many of them to go around.
Last summer I had a discussion with an NFL team owner, one I consider among the brightest around. We were talking about how the price of an NFL team just keeps going higher and I postulated that at a certain point there would be a peak valuation.
He questioned my judgment. He said that I should examine last summer's $2 billion purchase of the Los Angeles Clippers by Steve Ballmer and what that meant for the price of the NBA in particular and sports teams in general. He mentioned that the Clippers were a mediocre team, but that Ballmer, by dint of his investment in Microsoft (MSFT) - Get Microsoft Corporation Report stock from ages and ages ago in addition to his initial holdings, had the money to snap up the franchise for what looked to be an outrageous sum, especially when you consider that if he had held that amount of Microsoft stock he would have had a $400 million gain on the investment, not including dividends.
However, he couldn't pass it up, because of the scarcity value. They just don't come up for sale very much. They are, he said, like classic paintings. Their availability, or lack thereof, sets the price.
In that sense it's a bit like the Reclining Nude by Modigliani, sold at auction for $170 million. Modigliani won't be making any more Reclining Nudes any time soon.
Which brings me back to the psycho-economic value of FANG. It isn't just that all of these companies are doing very well. It's that no other recent vintage company or internet iteration is really challenging them for supremacy.
Think about it. What has Facebook done in the last few years? How about spend its way into an unassailable and ridiculously profitable enterprise made up of your content? Facebook is simply the most sophisticated delivery system of yourself. The only potential challenger out there was Instagram, and it bought that, too, for the chump change of one billion dollar three years ago. Maybe Snapchat comes on. However, can it really come on at the last price of $16 billion? We don't need another Facebook; we have one already.
At various points, we thought that other companies could challenge Amazon, particularly Wal-Mart (WMT) - Get Walmart Inc. Report, with its giant infrastructure and far-flung supply chain. What we learned this year is that even a company with billions at its disposal couldn't do it. Wal-Mart will spend to try to, but even its efforts are half-hearted or it wouldn't be spending $20 billion to buy back stock at the same time. Amazon never bought back stock, it bought distribution. That was worth a heck of a lot more.
We keep hearing there's a challenger to Netflix. In fact, the stock got hammered when Hulu said something about something recently. But it's 15 points since then. It also dropped on some story about its domestic sub growth being stymied by a payment processing issue. However, being on the board of a subscription company I can attest to the same issue. It was true, and the stock's run is right, particularly because it has another hit on its hands, Narcos.
Finally, there's Alphabet. How many companies tried to dominate search since the dotcom era began? Which one keeps pulling away? How many companies tried to solve the algorithm of advertising? How many did with programmatic selling? Just one. Now, because of its unique structure, Alphabet can spend all it wants on next generation internet while finally monetizing YouTube, which, I can add, has been a pathetic parody of a multi-billion dollar opportunity.
Meanwhile, how about all of these unicorn challengers? Other than Uber and Airbnb, I don't see a lot of stock market value to what's out there. I just see a lot of Squares (SQ) - Get Square, Inc. Class A Report, which are total commodities that can come public only at much reduced valuations and then languish anyway.
They aren't scared. They are glutted. Remember the term pyscho-economic. It explains FANG and it explains Square: too many of one, too few of the other.
At the time of publication, Action Alerts PLUS, which Cramer co-manages as a charitable trust, was long FB and GOOGL.