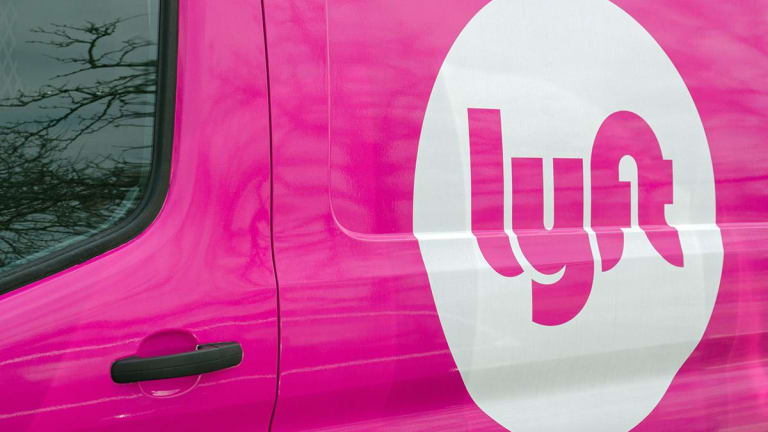 Lyft Climbs After Upgraded to Buy from Hold by Loop Capital
An analyst at Loop Capital upgrades the ride-sharing company's stock to buy from hold, citing higher revenue growth potential.
Lyft (LYFT) - Get Report   climbed 3% to $47.85 Monday after analyst from Loop Capital upgraded the stock of the ride-sharing company to buy from hold with a $62 price target.
Analyst Jeffrey Kauffman pointed to the San Francisco-based company's higher revenue growth potential and expectations of it reaching profitability a year sooner than he previously expected. Kauffman said business fundamentals for the company appear to have improved since its initial public offering.
He also said that the "accelerated lock-up expirations" and investor preference of GARP over high-growth stocks has created a "compelling opportunity" for Lyft shares.
The upgrade comes on the same day rival ride-share company Uber (UBER) - Get Report saw its shares fall after transport authorities in London revoked the company's right to operate in the British capital. Last month, Lyft posted revenue of $955.6 million for the quarter, ahead of analysts' estimates of $915 million. The company reported a loss of $463.5 million, or $1.57 a share, narrower than estimates of a loss of $1.66 compiled by Refinitiv, and $1.59 compiled by Zacks Investment Research.
Transport for London, the city's legal authority on all matters in the sector, said Uber was not "fit and proper" to hold an operating license in the capital, citing what it called a "pattern of failures" by the company that put the city's 3.6 million customers at risk.
Uber is Real Money's Stock of the Day.
In the upcoming quarter, Lyft forecast revenue of $975 million to $985 million and an adjusted EBITDA loss of between $160 million and $170 million vs. its prior guidance of $240 million to $245 million.
Analysts had been forecasting sales of $942.9 million and a loss of $258.5 million. The company said it expected to be profitable on an adjusted EBITDA basis in the fourth quarter of 2021.